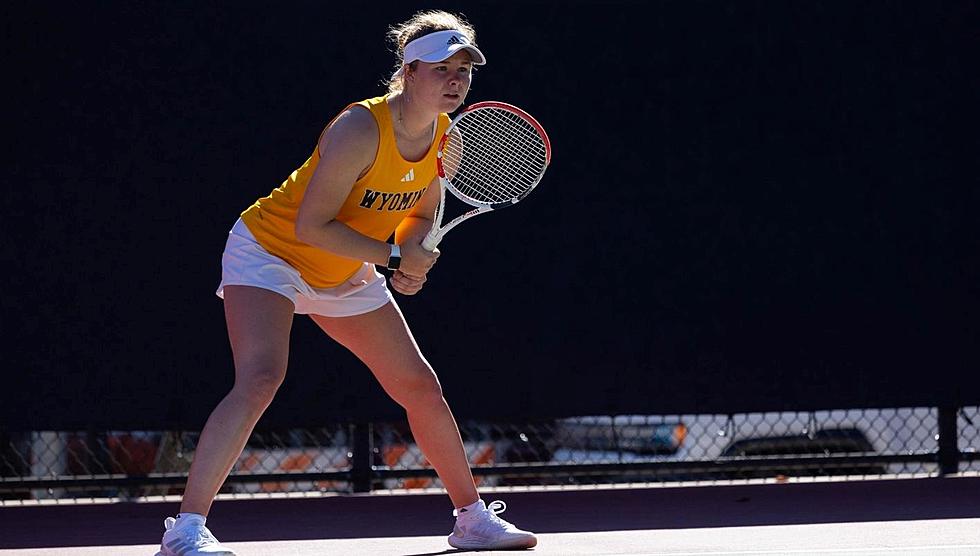 Wyoming's Noesjka Brink Claims ITA Mountain Regional Crown
For the first time since 2011, the Wyoming Cowgirl tennis team has an ITA regional champion as Noesjka Brink took home the singles crown Sunday behind the strength of a come-from-behind, three-set victory./ UW courtesy photo
* University of Wyoming press release
SALT LAKE CITY, Utah – For the first time since 2011, the Wyoming Cowgirl tennis team has an ITA regional champion as Noesjka Brink took home the singles crown Sunday behind the strength of a come-from-behind, three-set victory.
Brink rallied Sunday to defeat Utah's Marcela Lopez in a thriller. After dropping the first set 6-4, Brink bounced back to take the next two sets 6-4 and 6-3 to come away with the Mountain Region crown.
Brink joins the doubles team of Veronica Popovici and Simona Synkova as the only winners of regional titles in program history. Popovici and Synkova won the doubles title in 2011.
Next up, Brink will travel to San Diego November 1-5 for the ITA National Fall Championships. Brink will be one of 32 singles players at the event and one of just 16 regional champions.
How did she get here?
Brink advanced to Sunday's ITA Mountain Regional Singles Final Sunday as she picked up her fifth win of the week Saturday at the Mountain Regional Championships hosted by the University of Utah. Brink also punched her ticket to the ITA Fall National Championships at the beginning of November after her 6-1, 6-3 victory over Utah's Kaila Barksdale.
Brink headlined another six-win day for the Cowgirls at the tournament. Wyoming tallied a pair of doubles wins and three other singles wins Saturday.
In doubles action, the teams of Serina Abriola and Adel Ismagulova and Violetta Borodina and Sophie Zehender both picked up wins. Abriola and Ismagulova were victorious 6-3 over Ava Neyestani and Dolavee Tumthong of Northern Arizona. Borodina and Zehender won 6-4 over Anya Nelson and Carri Hayes of Colorado. Borodina and Zehender close their week going 3-1 at the regional.
Besides Brink's win, the Cowgirls got wins from Jeselle Ante, Abriola and Ismagulova. Ante defeated BYU's Pope in a thriller, 6-4, 5-7 and 10-3. Abriola also got a super set victory, winning 6-3, 4-6 and 10-6 over Nelson of CU. Ismagulova rounded-out the three-set thrillers, winning 3-6, 6-4 and 10-8 over UNLV's Matovic.
Brink will be UW's lone match Sunday. Brink will face another Ute in the title match, Marcela Lopez at 10 a.m.
It was another day of action and another day with a victory from Brink Friday at the ITA Mountain Regional tournament. Brink has now advanced to Saturday's semifinal round after a three-set battle Friday.
Brink defeated Denver's Andrea Beltran 6-4, 5-7 and 6-4. Beltran entered the tournament as the No. 8 seed. Brink will now face Utah's Kaila Barksdale, the No. 4 seed. Brink improves to 8-2 this fall for the Cowgirls.
The Cowgirls got five other victories on the day, besides Brink's efforts. Wyoming began the day with a pair of victories in the doubles back draw. The team of Serina Abriola and Adel Ismagulova defeated the duo from Colorado, Nelson and Hayes, 6-4. The other doubles win came from Jeselle Ante and Nikol Dobrilova, as they defeated Montana's Oosterbaan and Goheen, 7-5.
The three singles wins came from Ante, Abriola and Violetta Borodina. Ante beat Isabella Flodin of Air Force, 6-0 and 6-3. Abriola picked up a 6-2, 6-1 win over Kezos of Utah Tech. Borodina also got a win over Utah Tech, winning 6-1 and 6-3 over Ana Gutierrez Sampere.
Day four at the regional continues Saturday for the Cowgirls.
Brink continued her torrid start the 2023-24 campaign Thursday at the ITA Mountain Regional, hosted by the University of Utah. Brink won a pair of singles matches on the day and has now advanced to Friday's quarterfinals.
Brink notched a pair of hard-fought, straight-set wins Thursday. She began the day with a 7-6 (7-5) and 6-4 win over Boise State's Pauline Ernstberger. Brink then closed the day out with a 7-5, 6-4 win over Katherine Jhang of New Mexico. Brink has already won one title this fall, winning the Jon Messick Invitational earlier this month.
The doubles team of Violetta Borodina and Sophie Zehender also advanced Thursday. The duo will play in the Round of 16 Friday after recording an 8-3 victory over Grace Haugen and Rosie Sterk of Montana. The tandem of Borodina and Zehender are also looking for their second title this fall. The duo won the Bedford Cup to begin the fall slate.
The Wyoming Cowgirl tennis team opened play at the ITA Mountain Regional tournament Wednesday, hosted by the University of Utah. The day was highlighted by a pair of main draw singles wins and a doubles victory.
The day began with doubles play as the team of Violetta Borodina and Sophie Zehender continued their strong play this fall as a duo. The tandem defeated Asem Shoybek and Stefanya Shalakhova from Idaho State, 8-4. The two will now face Grace Haugen and Rosie Sterk of Montana.
In singles play, the Cowgirls got a total of three victories with two in the main draw and one in the "B" draw. In the main draw, Brink and Zehender picked up the UW wins. Brink defeated Colorado's Pia Rebec 6-2 and 6-4. Zehender, meanwhile, earned a hard-fought victory over Nevada's Marlene Foerster, winning 4-6, 6-2 and 6-3.
Lucia Malinak got the third win on the "B" side as she conquered Sicely Ferriera of Weber State, 6-3, 6-2. The trio of Cowgirls will play in the Round of 32 Thursday.
How Many Medals Have Wyoming-Born Athletes Won at the Olympics?
Wyoming
isn't represented on
Team USA
for the 2020 (in 2021) Olympics in Tokyo. But, athletes born in Wyoming have competed for the gold a handful of times over the last century.
According to the folks at
BeenVerified.com
, seven Wyoming-born Olympians have competed on the world's largest stage.
Since the 1932 LA games, these competitors earned four Olympic medals; one gold, two silver, and a bronze. Wrestling, Track and Field, and Rowing are the evens where Wyoming-natives have shined.
- How Many Medals Have Wyoming-Born Athletes Won at the Olympics?