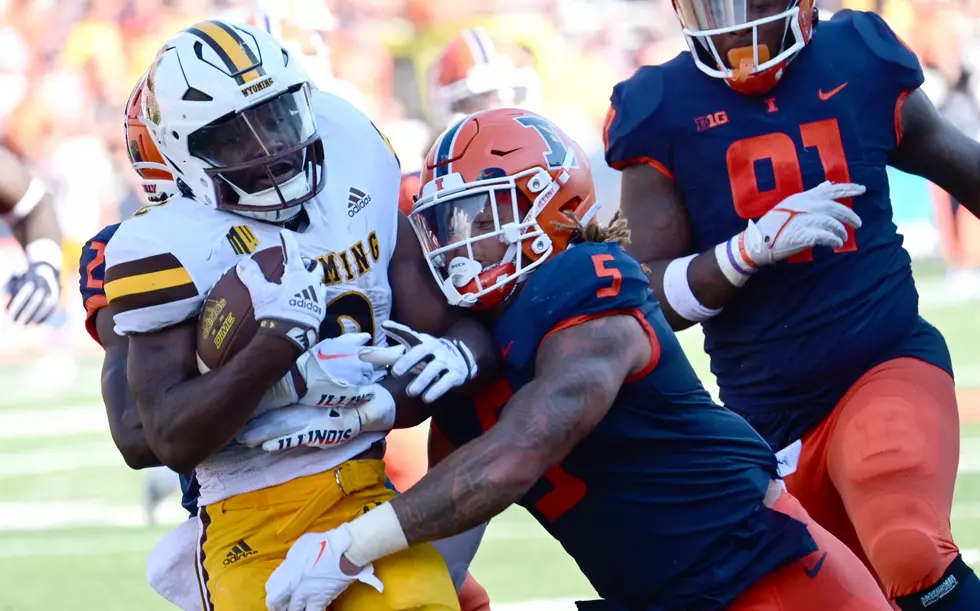 Wyoming's Titus Swen Leading Rusher in College All-Star Game
CHAMPAIGN, IL - AUGUST 27: Illinois linebacker Calvin Hart Jr (5) tackles Wyoming running back Titus Swen (2) during a college football game between the Wyoming Cowboys and the Illinois Fighting Illini, August 27, 2022, at Memorial Stadium, Champaign, IL. Photo by Keith Gillett/Icon Sportswire via Getty Images),
LOS ANGELES, Calif., -- Trailing by two with just 2:18 remaining in regulation, the American squad was in need of a spark.
It found one. His name is Titus Swen.
The former Wyoming running back broke off consecutive runs of 23 and 24 yards, setting his team up at the National 9-yard line. A handful of snaps later, South Dakota placekicker Eddie Ogamba split the uprights from 24 yards out to give the American team a 19-17 victory in the annual NFLPA Collegiate Bowl Saturday inside the Rose Bowl.
Swen accounted for 49 of the team's 57 total yards on that game-winning drive. The junior running back led all rushers with 73 yards on just eight attempts. That's an average of 9.1 yards per carry. Swen also caught four passes for 22 yards in the victory.
The Fort Worth native rushed for 1,039 yards and found the end zone on the ground eight times last fall while helping lead the Cowboys to a 7-6 overall record. His top rushing output came in a November meeting with Boise State in Laramie. That night inside War Memorial Stadium, Swen gashed the Broncos for a career-high 212 yards and a touchdown in a 20-17 setback.
In his first season as the unquestioned starter in the Pokes' backfield, the 5-foot-11, 206-pound back eclipsed the 100-yard mark three times, including a 160-yard, three-touchdown performance in a victory over Utah State.
Swen capped his career on the high plains with 2,161 rushing yards and 16 touchdowns.
Swen is the sixth former Wyoming player to compete in this all-star showcase, joining Mike Purcell, Lucas Wacha, Rico Gafford, Nico Evans and Tyler Hall.
Swen's college career ended on a sour note when he was dismissed from the program for a violation of team rules after the regular-season finale. He briefly entered the NCAA Transfer Portal before eventually entering his name in the upcoming NFL Draft.
What they are saying about Swen:
Ageless Tashaun Gipson on the brink of Super Bowl appearance
Former Wyoming football player Tashaun Gipson can punch his ticket to the Super Bowl Sunday if his San Francisco 49ers can upset the top-seeded Eagles in Philly
Former Wyoming walk-on Marcus Epps leaving his mark in the NFL
Former Wyoming football player Marcus Epps has been an iron man for the top-seeded Philadelphia Eagles this season and is now one win away from the Super Bowl