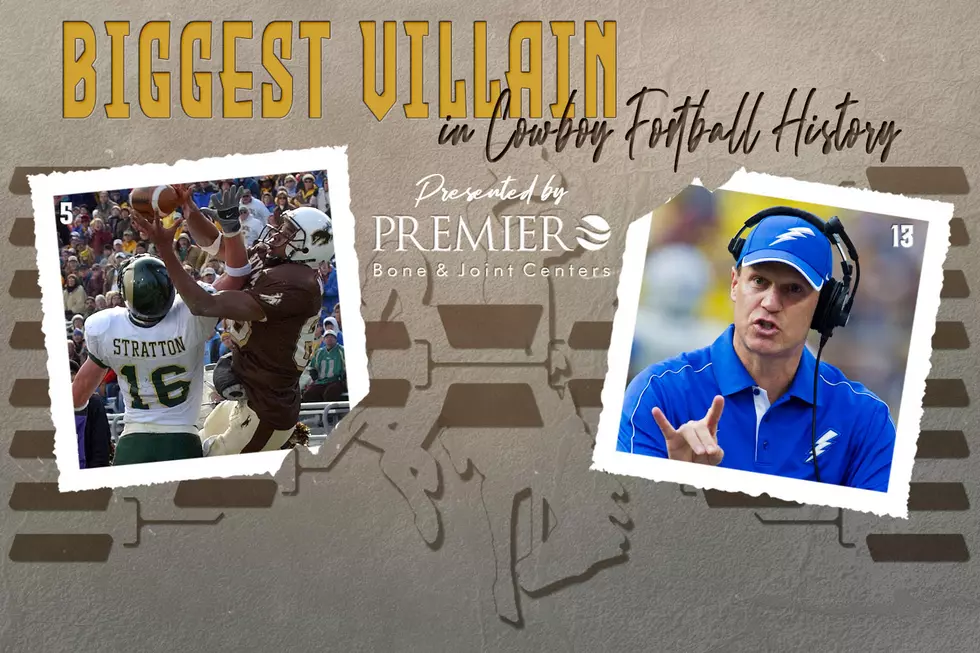 Wyoming's Un-Sweet 16: No. 5 Local Turncoats vs. No. 13 Troy Calhoun
Jen Kost graphic
LARAMIE -- There's a few things that can land you on a list like this one.
Beating Wyoming with regularity certainly makes you a thorn in the side. Making stupid decisions will also draw the ire of fans. Being an all-round jerk will do it, too.
This is our version of the Un-Sweet 16, pitting the biggest villains in Wyoming Cowboys football history against one another and eventually crowning the worst of the worst. This won't be our opinion, it's yours. You can vote for who will advance to the next round by clicking on the box at the bottom of this page.
We did our best to round up the ultimate enemy of the Cowboy State. We reached out to people in the know, from different decades of UW football. Don't be surprised to see plenty of rivals on this list.
Here's today's matchup:
No. 5 Wyoming Turncoats vs. No. 13 Troy Calhoun
Is there really anything more frustrating than watching a Wyoming native play his college football anywhere but Laramie?
Taven Bryan (Casper) suited up at the University of Florida before becoming a first-round selection of the Jacksonville Jaguars in 2018. He's now in Cleveland. Adam Archuleta (Rock Springs) spent his college years at Arizona State before enjoying a seven-year career as an NFL safety.
Boyd Dowler was the 1959 NFL Rookie of the Year. The Cheyenne High School graduate, who was born in Rock Springs, snagged a 62-yard touchdown from Bart Starr in the first quarter of Super Bowl II. He's a member of the Green Bay Packers Hall of Fame and was named to the NFL's 1960s All-Decade Team.
He attended the University of Colorado.
Now, I'm sure these guys all had their reasons for not choosing UW. I'm sure some would immediately say, 'well, those are big schools.' Heck, maybe UW didn't choose them? Things happen.
Nonetheless, when you're from the least-populated state in the nation, it's not ideal to watch talent stroll past the border.
You know what's even worse? When guys play for the Cowboys' traditional rivals.
We're looking at you Ben Stratton (Colorado State/ Cheyenne), Dane Stratton (CSU/ Cheyenne), Clint Oldenburg (CSU/ Gillette), Mike Vomhof (CSU/ Gillette), Bob Vomhof (CSU/ Gillette), Zane Beadles (Utah/ Casper), Brett Keisel (BYU/ Greybull), Brady Poppinga (BYU/Evanston), John Chick (Utah State/ Gillette) and Chris Cooley (Utah State/ Powell). There are others, too.
Now, I'm sure those guys all have their reasons for leaving, too. Cooley, for instance, wanted to go to UW. He grew up listening to the Cowboys on the radio from his childhood home in Park County. During high school, he remembers sending VHS tapes to then-head coach Vic Koenning. There was no response.
He went on to become a third-round selection in Washington. The tight end hauled in 33 touchdowns during his nine-year NFL career.
You can listen to our podcast with Cooley right HERE.
But is there anything worse on a football field than witnessing a Wyoming native raise the Bronze Boot over his head after beating the Pokes?
That's the very definition of villain, right?
MORE UW FOOTBALL NEWS:
* Bielema knows who his starting QB will be ... but he's not telling
* Q&A with Wyoming defensive coordinator Jay Sawvel
* Wyoming's Keonte Glinton stepping into 'prime position' this fall
* Wyatt Wieland's confidence growing with each grab
Our No. 13 seed is none other than Air Force head coach Troy Calhoun.
Now, maybe you don't like Calhoun because of his quirky personality or the way he dances around questions and rarely gives a straight answer. He definitely has no desire to label UW a rival. He told me so in Las Vegas in 2021.
He's also a pest because he's continued the Falcons' tradition of slamming that trademark option right into defenders' lower extremities.
Also, let's be real, he wins a heck of a lot more than he loses. Not so much against the Cowboys, though he does hold a winning record of 8-6 overall.
The real reason you might have disdain for Calhoun is what happened late in the fourth quarter of a 28-27 Air Force victory inside a drizzly War Memorial Stadium.
Starting quarterback Connor Dietz was allegedly dinged up after a play inside the Pokes' 10-yard line. He walked nearly 20 yards toward the visiting sideline before taking a knee. Trainers took several minutes to assess the situation.
During that extended stop in play, which also saved Air Force a valuable timeout, by the way, back-up signal caller Kale Pearson took plenty of snaps under center on the Falcons' bench. The staff worked up the perfect play.
Heck, they had the time, right?
Pearson entered the game (an injured player has to leave the field for at least one play), took one snap and cruised around the edge and into the end zone on a naked bootleg. Air Force pulled off the win, but UW head coach Dave Christensen was none too thrilled with what he called a "fake injury."
"There was nothing wrong with that player except that his helmet came off," Christensen told the media postgame. "And I have a real problem with that.
"In this game we're supposed to be ethical and that's not ethical. I don't know what they teach at Air Force, but I'm not going to teach that to my kids. I want my guys to get off the field when they're hurt, and we don't want to stop the game."
That's not all Christensen said.
As he approached Calhoun for the postgame handshake, he exploded into a tirade for the ages. The video is no longer available on YouTube, but just imagine a man in a camo hat dropping tons of F-bombs and coining the phrase that will live in infamy forever: "Yeah, right, look at me, Mr. F------- Howdy Doody!"
Calhoun responded to the outburst in his press conference.
"It's probably not a conversation that I'd have with my mom," he said. "Not that kind of dialogue."
Christensen was suspended for one game and fined $50,000.
The following season inside Falcon Stadium, Christensen got his revenge -- and then some -- hammering the Falcons, 56-23. Smith threw for 373 yards and four touchdowns and added another 138 on the ground to break the school record for yardage in a single game.
He even had enough energy to give Christensen a symbolic Gatorade shower after the final whistle.
So, who do you dislike more? Vote here:
University of Wyoming's Top 50 Football Players
The rules are simple: What was the player's impact while in Laramie? That means NFL stats, draft status or any other accolade earned outside of UW is irrelevant when it comes to this list.
This isn't a one-man job. This task called for a panel of experts. Joining 7220's Cody Tucker are Robert Gagliardi, Jared Newland, Ryan Thorburn, and Kevin McKinney.
We all compiled our own list of 50 and let computer averages do the work. Think BCS -- only we hope this catalog is fairer.
Don't agree with a selection? Feel free to sound off on our Twitter:
@7220sports
- #Top50UWFB
- University of Wyoming's Top 50 Football Players