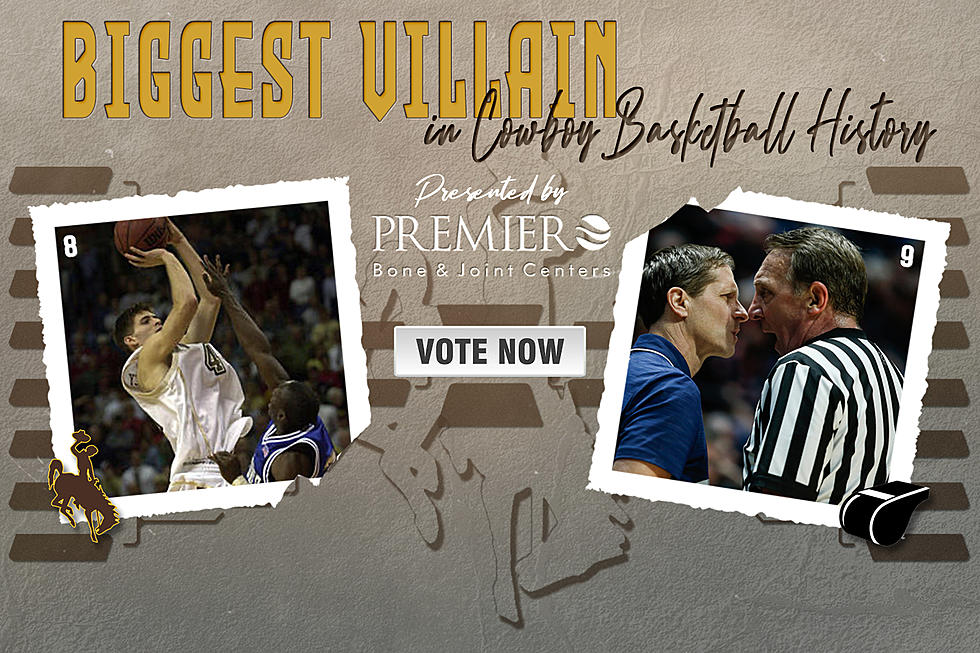 Wyoming's Un-Sweet 16: No. 8 Key Injuries vs. No. 9 MW Officials
We've witnessed a few Wyoming careers gets derailed on that side of the court inside of the Arena-Auditorium. We've also seen plenty of head-scratching calls from league officials./ Jen Kost graphic
LARAMIE -- There's a few things that can land you on a list like this one.
Beating Wyoming with regularity certainly makes you a thorn in the side. Making stupid decisions will also draw the ire of fans. Being an all-round jerk will do it, too.
This is our version of the Un-Sweet 16, pitting the biggest villains in Wyoming Cowboys basketball history against one another and eventually crowning the worst of the worst. This won't be our opinion, it's yours. You can vote for who will advance to the next round by clicking on the box at the bottom of this page.
We did our best to round up the ultimate enemy of the Cowboy State. We reached out to people in the know, from different decades of UW hoops. Don't be surprised to see plenty of rivals on this list.
Here's today's matchup:
No. 8 Key Injuries vs. No. 9 Mountain West officials
We had to throw in a curve ball during this series, right?
Well, here it is.
When it comes to key injuries, Wyoming, unfortunately, has had some memorable ones. You don't have to go too far back in history to find an impactful one, either.
The Cowboys were receiving preseason Top-25 votes. The league's media and coaches said Jeff Linder's squad would likely finish second, behind only San Diego State. Andy Katz, a national college basketball figure, even said UW could be a "dark horse" in the NCAA Tournament and make a run to the Final Four.
We all know what happened next.
Graham Ike, the Mountain West's Preseason Player of the Year, never stepped foot on the court thanks to a lingering right foot issue. Initially, he was supposed to miss 6-to-8 weeks. Turns out the 6-foot-10, 255-pound sophomore had already played his final game in a Wyoming uniform the previous March.
Here are some high-profile names who have suffered season-ending injuries in Laramie. Avert your eyes if you have a weak stomach: Larry Nance Jr., Ugo Udezue, Queint Higgins, Mike Jackson, Afam Muojeke, Hunter Maldonado and, arguably the worst of them all, Marcus Bailey.
If you have followed this program since the late 90's, that's an image that won't leave your head. Coming off an upset victory over Gonzaga in the Big Dance a year prior and returning a majority of its roster, the Pokes were primed to make another run at a league title and a trip to March Madness.
That all but died on a Thursday night inside the Arena-Auditorium when Bailey went in for an uncontested layup in a rout of South Carolina.
After a 7-2 start and wins over Texas Tech and USC, Wyoming capped its conference season with an 8-6 mark and earned an NIT berth.
"He'll have surgery here soon and get off to a new challenge," UW head coach Steve McClain told the AP back in 2002. "This really hurts him because he's a Wyoming kid and grew up wanting to play Wyoming basketball. He had the passion to play here."
There is a ton of talent in that list above. Udezue graced the pages of Sports Illustrated after netting 20.5 points per night as a sophomore. Higgins is still widely regarded as the biggest recruit in program history. Nance still plays in the NBA today, suiting up for the New Orleans Pelicans.
Oh, what could have been.
MORE UW ATHLETICS NEWS VIA 7220SPORTS:
* UW hoops great Theo Ratliff gets call to Alabama Hall
* Want to watch Josh Allen crush some dingers?
* 100 Wyoming student-athletes honored at Stole Ceremony
* Wyoming wideout patiently carving out his role
Admit it, you have a story. We all do. We love to bring them up, too. It's likely the ultimate excuse for why your team lost in the first place.
I'm talking about blaming the officials, of course, a favorite pastime of all sports fans.
Names like Dave Hall, Verne Harris and Randy McCall stir certain emotions.
I asked a handful of longtime UW supporters if they had a story they wanted to share in this space. What games were most impacted by the zebras? Most said inconsistency overall, not a certain instance, has been the main issue. One reader pointed toward Wyoming's 1994 matchup with Cincinnati.
LaZelle Durden scored a career-high 45 points that Saturday night in Laramie, the final three coming at the free-throw line after his desperation heave at the buzzer fell short. Wyoming's LaDrell Whitehead was called for a foul and Darden was perfect at the stripe, giving the nationally-ranked Bearcats the 81-80 victory.
Remember that one?
The doozy that always sticks out to me was in the 2018 home meeting against Border War rival Colorado State. That afternoon in Laramie, a combined 56 fouls were called, 34 alone on the Rams, who pulled off a 78-73 win.
Wyoming attempted 42 free throws. CSU, 29. It was an unwatchable embarrassment from start to finish.
Let's hear your story in the comments, I'm sure you have one -- or 10.
WYOMING'S UN-SWEET 16 SERIES:
Monday: No. 1 Reid Family vs. No. 16 Paco Larsen (Reid Family moves on with 95.5% of the vote)
Tuesday: No. 2 Danny Ainge vs. No. 15 Antonio Davis (Ainge moves on with 93.4% of the vote)
Wednesday: No. 3 Rick Majerus vs. No. 14 David Turcotte (Majerus moves on with 92% of the vote)
Thursday: No. 4 Frank Arnold vs. No. 13 Lee Cummard (Arnold moves on with 74.8% of the vote)
Friday: No. 5 Larry Eustachy vs. No. 12 Joe Scott (Eustachy moves on with 58.1% of the vote)
Monday: No. 6 Michael Smith vs. No. 11 Norm Ellenberger (Smith moves on with 61.4% of the vote)
Tuesday: No. 7 Rafael Araujo vs. No. 10 Petie Gibson (Araujo moves on with 94.8% of the vote)
University of Wyoming's Top 50 Football Players
The rules are simple: What was the player's impact while in Laramie? That means NFL stats, draft status or any other accolade earned outside of UW is irrelevant when it comes to this list.
This isn't a one-man job. This task called for a panel of experts. Joining 7220's Cody Tucker are Robert Gagliardi, Jared Newland, Ryan Thorburn, and Kevin McKinney.
We all compiled our own list of 50 and let computer averages do the work. Think BCS -- only we hope this catalog is fairer.
Don't agree with a selection? Feel free to sound off on our Twitter:
@7220sports
- #Top50UWFB
- University of Wyoming's Top 50 Football Players