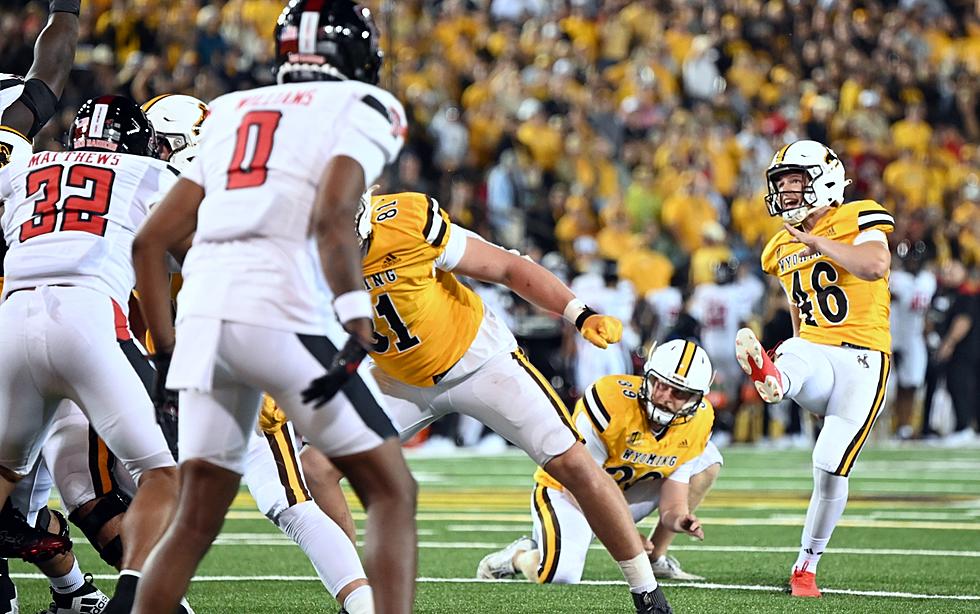 Adversity, Until Now, Hasn't Been Part of John Hoyland's Story
John Hoyland boots through one of his two field-goal attempts during a double-OT win over Texas Tech in the 2023 season opener./ DJ Johnson photo
LARAMIE -- The question was met with a slight eye roll. A perplexed look followed. There were even a couple of scoffs of loyal defiance.
The subject: All-American placekicker John Hoyland.
The inquiry: Will you talk to him about his recent struggles?
"I have not, Nope," Wyoming quarterback Andrew Peasley said moments after a 34-27 loss to Air Force in Colorado Springs. "(There's) nothing to be said to him. He's a great kicker, we all know that. He missed two field goals. Who cares? Yeah, he's a good kicker -- won't change my mind."
"I mean, we know John," linebacker Easton Gibbs added. "We all have full faith in that guy. You know, he's one of the best kickers in the country -- and we know that. He's a very even-keeled guy, too. He doesn't get too high or too low and I think that's what you want in a kicker. So, it's great to have him as a weapon on our team and we just have to keep trusting and rolling with him."
No one is mashing the panic button quite yet, especially the man himself.
He has only missed three kicks all season. He's 9-of-12 and has twice connected from 56 yards out in victories over Texas Tech and Portland State. That's tied for the fourth furthest in the FBS. He was named the Mountain West's Special Teams Player of the Week after drilling both of his attempts and three extra points in that 35-33 double-overtime upset over the Red Raiders.
So, what's the big fuss all about?
Hoyland's three misses have been consecutive. He only missed three all of last season.
A 47-yarder sailed wide right late in the fourth quarter of a narrow 24-19 win over No. 24 Fresno State. Both of his tries in that loss to the Falcons -- the first from 45, the second from 52 -- were also pushed high and to the right of the upright. A fourth-quarter extra-point attempt was also blocked.
The Cowboys, fittingly, lost by seven.
While most of this roster and staff agreed this was the perfect time for a bye week, the Broomfield, Colo., product has mixed feelings.
"It's good to have the time to fix some things that you've developed over the course of the season, but at the same time you want to go out there and you want to help your teammates," Hoyland said. "You don't want to end it like the last game, so I'm just looking forward to, in a few days, going out there and just start hitting like myself again."
How will he fix this?
Pushing the ball for a right-footed kicker, Hoyland added, is not the worst scenario. He said most would consider that a "good miss." In other words, it's fixable.
"You just have to time up your hips a little bit better," he said.
What about the mental aspect of kicking?
"I hit a good ball, it just sometimes they don't make it. You give it a chance and it just doesn't go in," he continued. "So, I was in a good headspace coming (out of Air Force), but seeing everyone in the locker room, that's always tough."
MORE UW FOOTBALL NEWS VIA 7220SPORTS:
* Wyoming Cowboys in the NFL: Week 7
* Wyoming High School playoffs shouldn't conflict with Border War
* Around the MTN: Panic time on Montezuma Mesa?
* UW Difference Makers Campaign nears completion
* Wyoming Football: News and notes ahead of Boise State
* 7220sports.com Kickoff Show: Cowpokes need to regroup, refocus
* Wyoming's Craig Bohl remembers the late Paul Roach
* Wyoming Cowboys in the NFL: Week 6
* Wyoming, Boise State kickoff time set
* Wyoming Football: News and notes ahead of bye week
During his postgame press conference just inside the tunnel of Falcon Stadium, Craig Bohl was brief when asked about Hoyland.
"I'll encourage him," Wyoming's head coach said after an extended pause.
After watching the film, Bohl said he would spend some extra time with his kicker. After all, he's in charge of that position group. Hoyland said Bohl did speak with him last week. The message: confidence.
"He took me aside and just said any resources that I need, that he'll be able to provide, that he will," he said. "He's been a big help in all of this."
Adversity hasn't been an issue for Hoyland since arriving on campus as an unknown walk-on in the fall of 2020.Bohl loves to tell the story about how he didn't even know the then-freshman's name when the Cowboys opened that Covid-19 shortened campaign at Nevada.
That all changed after he nailed all four of his attempts, including a 42-yarder to send the game into overtime.
Hoyland was one of just 32 nationwide to be named a Freshman All-American. He led the country in field goals made per game with 2.17. He missed just one kick all season -- a 36-yard try against Hawaii on a frigid night in Laramie -- and was true on all 16 of his extra-point attempts. He followed that up with a 10-for-14 season and connected on 22-of-25 in 2022.
That trademark smile still creased Hoyland's face on Monday afternoon in Laramie. His laid-back demeanor, still prevalent. He went home during the off week and "unplugged," he said, getting away from the game for a couple days. Like his teammates, Hoyland is embracing the stretch run ahead, beginning with a trip to Boise State this Saturday.
The Cowboys control their own destiny. A Mountain West title is still in reach with five games to go.
Hoyland hopes to play a major role in that. So do the other guys in that locker room, the ones who wonder why anyone is questioning their kicker in the first place.
"You know, that's a big part of it. On Sunday, I was just like, I let those guys down," he added. "But them, coming up to me and saying, 'Hey, we got your back and we know you're going to win some games for us.' That's really huge. It's going to be great taking the field."
PRESS PASS: Roaming The War
Wyoming Cowboys vs. Montana State Bobcats
Gallery Credit: DJ Johnson/ 7220sports.com
-PRESS PASS: Roaming The War