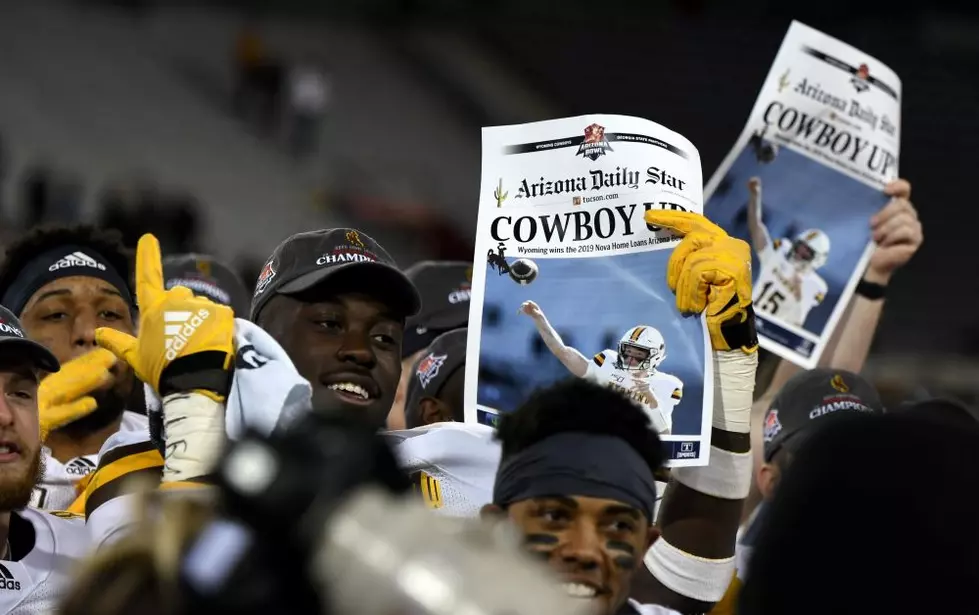 Behind the numbers: Arizona Bowl Edition
frontpageUSE
TUCSON, Ariz., — In this new series we will examine a few numbers that stand out from the game we just witnessed. That was a 38-17 win over Georgia State in the Arizona Bowl Tuesday afternoon in Tucson.
Sometimes they won't be fun ones. Other times, you will be downright giddy.
So, let's get started.
204
For the second time this season, Wyoming running back Xazavian Valladay eclipsed the 200-yard mark in rushing. Tuesday, he did it on just 26 carries. The sophomore also led the Cowboys in receiving with 90 yards on three catches. That will earn you an Arizona Bowl Offensive MVP award.
11
Speaking of MVP's, senior safety Alijah Halliburton earned the defensive award after an 11-tackle performance against the Panthers. Halliburton also picked off his second career pass in the second quarter. He finishes the season with a team-leading 130 tackles.
3
Levi Williams, starting his first collegiate game, threw three touchdowns in the first half against GSU. Austin Conway, Valladay and Ayden Eberhardt were all on the receiving end of those. Wyoming hasn't had a three-touchdown day from a quarterback since Josh Allen did it against Central Michigan in the Famous Idaho Potato Bowl in 2017. The last signal caller to throw three in one half was also Allen during that season. He threw four against New Mexico in the first half for a 42-3 rout.
53
Williams didn't just use his arm in this one. The big Texan also rushed for 53 yards on 12 carried, including a long of 20. Williams also scored on the ground from six yards out to all but ice this one.
8
That's how many receivers caught passes from Williams Tuesday in Tucson. Only Valladay had more than one reception as the Cowboys threw for a season-high 234 yards.
2
Ryan Galovich punted just twice for the Pokes Tuesday. Why is that significant? Late in the second quarter, Galovich was roughed after his first punt of the game. That turned a 4th and 16 into an automatic first down. Three plays later Williams hit Eberhardt for a momentum-shifting 51-yard touchdown strike.
53
Senior placekicker Cooper Rothe absolutely hammered a 53-yard field field goal through the uprights in the first quarter. That was a career long for Wyoming's all-time leading scorer.
7
Logan Wilson, one of the most decorated players in Wyoming history, capped his career with seven tackles and a tackle for loss in his final games as a Cowboy. The Casper native was a three-time team captain and Craig Bohl says is proof that Wyoming natives can play and excel at this level.
70
Dan Ellington led the Panthers in rushing with that many yards tonight on just 14 carries. He also scored a touchdown. It was one of the more gutsy efforts you will see on a college football field. Ellington played in this one with a partially torn right ACL.
36,892
That was the paid attendance inside Arizona Stadium Tuesday. A majority of the stands was filled with brown and gold. Wyoming sold out it's ticket allotment of 5,000 during the first week of sales.
4
That's how many straight seasons the Cowboys have been bowl eligible. Three times they played in a bowl. They are 2-1 in that span.
16
Wyoming has played in this many bowl games in its history. With the victory over GSU, the Cowboys' record moves to 8-8. Tuesday's win was the second largest margin of victory in UW lore. Only the 37-14 win over Central Michigan outdid this one.
2
Wyoming has now won two straight bowl games. The last time that was accomplished was in 2004 and 2009. That was an upset win over UCLA in the Las Vegas Bowl followed by a 35-28 double overtime victory over Fresno State in the New Mexico Bowl.
1976
That's the last time a Cowboys team has won on this field. That was a 26-24 win over the Arizona Wildcats. Fred Akers was the Cowboys coach back then. The Pokes lost back-to-back Copper Bowls in Tucson in 1990 and 1993.
8
That's how many wins the Cowboys have in 2019. Wyoming hasn't won eight games in a season since 2017. Before that, it was 2011.
36
That's how many wins Craig Bohl has since coming to Wyoming in 2014. His overall record is 36-40 in Laramie. That includes just six wins in his first two seasons. Since, Bohl is 30-22 with three bowl appearances.
11
Wyoming converted on 11-of-17 third-down attempts against the Panthers. That, according to GSU head coach Shawn Elliott, was a back breaker.
1
The Cowboys committed just one penalty in the Arizona Bowl. That was a 10-yard holding call. GSU had five for 56 yards.
6.2
That's how many yards per rush the Pokes averaged against a GSU defense that gave up nearly 212 on the ground per outing.
1
The Panthers converted on just 1-of-4 fourth-down attempts against the Cowboys. Wyoming stuffed GSU on the one-yard line late in the third quarter.
This week's Behind the Numbers feature is brought to you by AARP Wyoming, and speaking of numbers, The U.S. Census Bureau is currently recruiting for 500,000 temporary  2020 Census Jobs across the country. Thousands will be hired to support their communities and get paid while doing it. Apply online at 2020census.gov/jobs