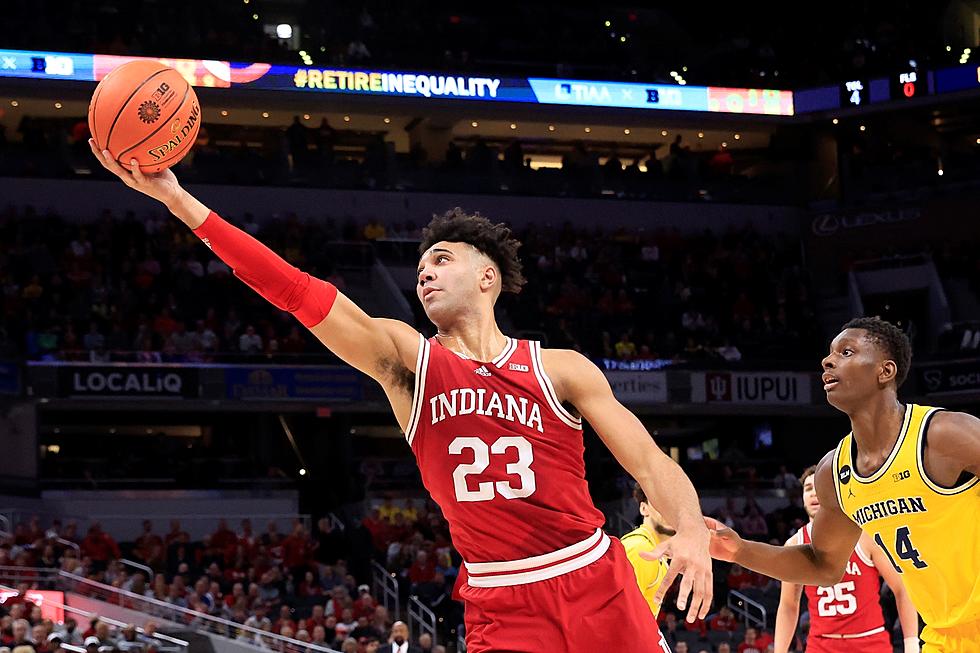 Behind the numbers: Indiana Hoosiers
INDIANAPOLIS, INDIANA - MARCH 10: Trayce Jackson-Davis #23 of the Indiana Hoosiers takes a shot in the game against the Michigan Wolverines during the Big Ten Tournament at Gainbridge Fieldhouse on March 10, 2022 in Indianapolis, Indiana. (Photo by Justin Casterline/Getty Images)
LARAMIE -- Bobby Knight. Isaiah Thomas. Calbert Cheaney. Candy striped warm-up pants. Five national championships.
That's Indiana basketball.
Well, that's what it was, anyway.
Today, it's those same colorful britches. The banners of old still hang in the rafters of Assembly Hall. Trayce Jackson-Davis, Race Thompson and Xavier Johnson now take center stage for Mike Woodson's Hoosiers.
Indiana and Wyoming will square off Tuesday in the First Four in game in Dayton, Ohio. The winner, the No. 12 seed, will travel to Portland 48 hours to face off with No. 5 St. Mary's.
Tipoff is set for 7:10 p.m. inside UD Arena.
Let's get to know a bit about the Cowboys' foe:
3-0
That's Indiana's record all-time against Wyoming. The latest meeting came back in 1999. Wyoming fell 99-80 in Bloomington.
40
That's how many NCAA Tournament appearance the Hoosiers have made in their history. This will be the school's first trip to the dance since 2016. This will UW's 16th trip to March Madness, the last time coming back in 2015.
20-13
The Hoosiers record in 2021-22, including a 9-11 mark in Big Ten play. IU had four Quad-1 victories this season, knocking off Ohio State and Purdue. Wins over Michigan and Illinois in the conference tournament bolstered the Hoosiers' resume. Indiana was 4-8 against the Quad 1 and 4-4 in Quad 2. They are No. 39 in the NET rankings. UW is No. 50 in the NET and also claimed four Quad-1 wins.
71.5
That's the number of points per game the Hoosiers net, led by their forward Jackson-Davis, who pours in 18.1 a night. IU's scoring offense ranked 11th overall in the Big Ten and 158th in the nation. Jackson-Davis is the fourth-leading scorer in the conference.
MORE UW HOOPS NEWS:
* Pokes, Hoosiers to battle in Dayton Tuesday night
* 'This is genuinely a dream come true'
* Maldonado: 'He was going to do big things here and he has'
* Does UW need to win in Vegas to punch ticket to NCAA Tournament?
65.9
Indiana's defense only allows that many points per outing. That ranks it seventh in its conference and 80th overall.
11.9
Woodson's guys turn the ball over that many times a night. That's middle of the pack in the Big Ten.
202
That's the number of 3-pointers the Hoosiers have sank on 596 attempts. That ranks them 258th in the country out of 358 teams. Johnson hits on 39% of his shots from deep.
45.9%
That's Indiana's field-goal percentage. Jackson-Davis, once again, leads the way with 58.9%.
628
That's how many free-throw attempts IU has made this season. Like Wyoming, the Hoosiers make plenty of hay at the stripe. UW has shot 651 of those. Johnson hits nearly 80% from the line for Indiana.
36.3
That's how many rebounds per game Indiana snags, including more than nine offensive boards an outing. Jackson-Davis averages 8.2 per and Thompson hauls in 7.6.
0
That's how many times Jackson-Davis fouled out this season while playing more than 32 minutes per game. The 6-foot-9 sophomore averages 2.4 blocks per game.
4
That's how many times Johnson has eclipsed the 20-point mark this year. He scored a season-high 24 in back-to-back games in late February, both wins over Maryland and Minnesota.
5
That's how many double-doubles Thompson has landed this season. His best outing came in a 17-point, 12-rebound outing at Syracuse.
3
That's how many Hoosiers are averaging double-digits scoring a night. Guess who?
Wyoming Cowboys football players in the NFL: Then and now