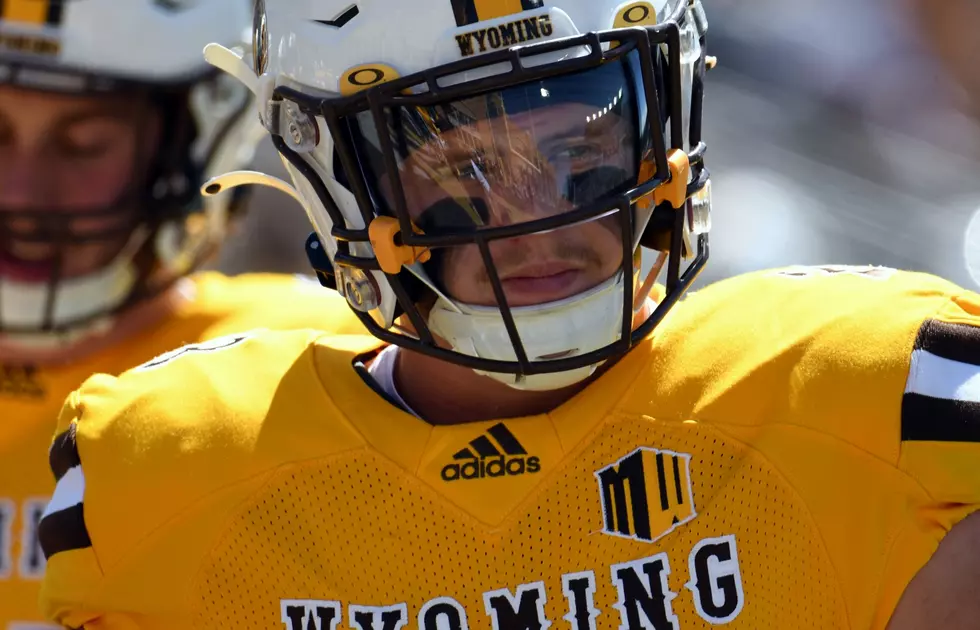 BREAKING: Easton Gibbs out tonight against Air Force
Wyoming's sophomore middle linebacker to miss Air Force game with illness, according to a source familiar with the situation./ DJ Johnson photo
LARAMIE -- Wyoming will have to take on the nation's leading rushing attack without one of its star defenders.
Middle linebacker Easton Gibbs was a late scratch from Friday night's tilt with the Falcons because of an illness, according to a source familiar with the situation.
The 6-foot-2, 230-pound sophomore has a team-best 26 tackles, including a sack, a forced fumble and a recovery. The California product pounced on a loose ball in the end zone for a touchdown in a Week 2 victory over Tulsa.
Gibbs finished with five tackles, including one for loss, in a 24-14 loss to Air Force last October in Colorado Springs.
MORE UW FOOTBALL NEWS FROM 7220SPORTS:
* Gear up for gameday: Air Force
* Wieland looking for elusive win over hometown team, little brother
* How do you limit Air Force's vaunted triple-option attack?
Redshirt freshman Read Sunn will likely get the start against Air Force, a team that averages better than 508 yards per game on the ground. Sunn is a 6-foot-2, 227-pound Wasilla, Alaska product. He has two tackles to his credit this season.
Sophomore Shae Suiaunoa will start on the weakside. He has 21 tackles, two sacks and an interception through the Cowboys first three games. The Houston-area product is a first-year starter on the outside, sliding into the role when Gibbs was moved to the middle this offseason.
The Cowboys will also be without starting right tackle Frank Crum, who suffered an undisclosed injury in the second quarter of last Saturday's 33-10 victory over Northern Colorado. UW head coach Craig Bohl said the 6-foot-7, 315-pound junior was "day to day" during his Monday press conference.
Caden Barnett will step into the starting lineup against the Falcons. The redshirt freshman from Justin, Texas, has appeared in two games this fall.
Barnett and Sunn are making their first-career starts.
The other linebackers on the roster are: Cole DeMarzo (Soph, 6'4" 228, No. 25), Cayden Hawkins (Frosh, 6'3" 185, No. 49), Tommy McEvoy (R-Fr., 6'2", 213, No. 50), Sam Scott (R-Fr., 6'2", 231, No. 32), Connor Shay (Soph., 6'2", 227, No. 33), Nic Talich (R-Fr., 6', 217, No. 41), Brent VanderVeen (R-Fr., 6'2", 223, No. 47), Micah Young (R-Fr., 6'2", 210, No. 58)
Wyoming Cowboys football players in the NFL: Then and now