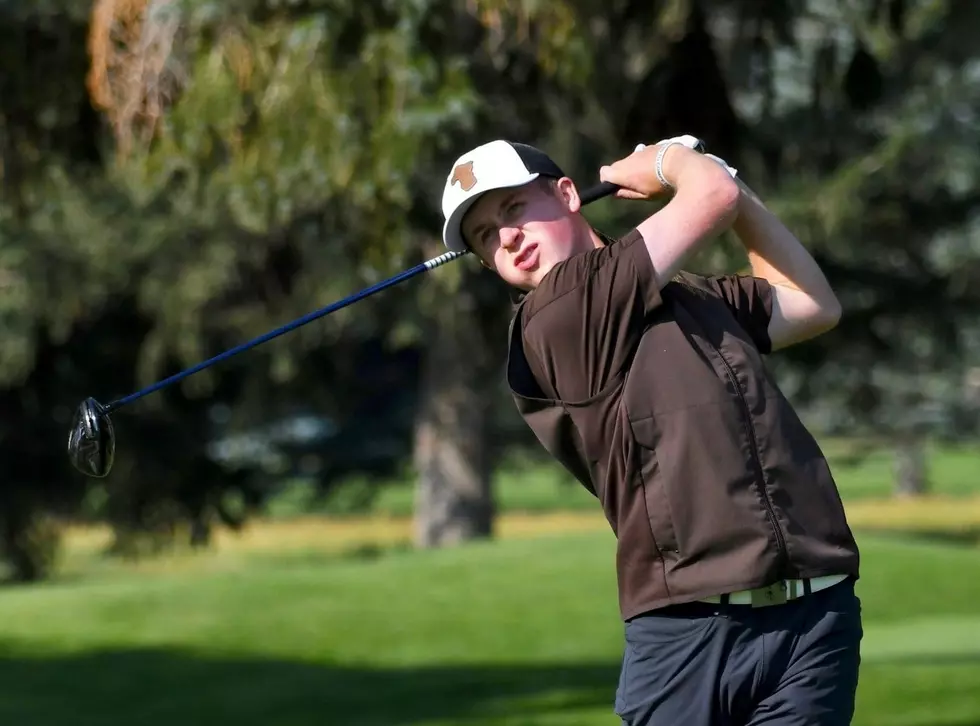 Cowboys Tied for the Team Lead at Mark Simpson Colorado Invite
The Wyoming Cowboys shot the best round of their 2022 fall season, firing an opening round of 271 (-9) and maintained that strong play midway through the second round on Monday afternoon before play was suspended due to lightning and heavy rain./ UW courtesy photo
* University of Wyoming press release
Boulder, Colo., --  The Wyoming Cowboys shot the best round of their 2022 fall season, firing an opening round of 271 (-9) and maintained that strong play midway through the second round on Monday afternoon before play was suspended due to lightning and heavy rain.
The Cowboys will enter Tuesday's final day of competition tied for first place at seven-under par with Rice University.  Individually, UW sophomore Jaren Calkins is tied for the individual lead at -4.
When Monday's second round was suspended at 5:45 p.m., the 16 teams competing had between 6 and 10 holes to complete in their second round. That round will be continued starting with a 7:30 a.m. shotgun start on Tuesday morning followed immediately by the third and final round.
Calkins is tied with Henry Daley of Rice, Brady McKinlay of Utah Valley and Mikkel Schmitt of Louisiana-Monroe for first place at -4. Calkins is joined in the Top 20 by three of his teammates. Sophomore Kristof Panke will enter Tuesday's play tied for seventh at -2. Junior Jimmy Dales is tied for 10th at -1, and sophomore Patrick Azevedo is tied for 17th at Even par.
"We had a good start this morning, and we were able to continue that into the afternoon round," said Joe Jensen, UW Director of Golf. "Tomorrow, we just need to continue that confident play. 
"We have a lot of golf left tomorrow, and we need to maintain the rhythm and the attitude we had on Monday and play with the same energy. The energy of the entire group has been good." 
Panke made a hole-in-one in Monday's opening round, knocking it in the cup on the 198-yard, par three sixth hole. Dales posted two eagles on Monday. His first eagle came in the opening round when he recorded a 3 on the 585-yard, par-five second hole. Dales followed that up with a 2 on the 476-yard, par-4 10th hole in the second round.
Senior Tyler Severin rounded out the scoring for the Cowboys as a team. He is tied for 47th at +4 entering Tuesday's play. Three other Cowboys are playing as individuals.  Sophomore Cade McLaughlin is tied for 31st at +2. Fellow sophomore Aidan Mann is tied for 47th with Severin at +4, and senior Kirby Coe-Kirkham is one stroke back at +5 and is tied for 57th.
The Mark Simpson Colorado Invitational is being played at the Boulder Country Club, which measures 7,110 yards and plays to a par of 70.
Team Standings
1.   Wyoming, U. of                   -7
      Rice                                    -7
3.   Colorado                            -5
      Arkansas State                    -5
5.   ULM                                   Even
6.   Utah Valley                         +4
7.   Washington State                +5
8.   Boise State                          +7
      Texas El Paso                       +7
10. Grand Canyon                     +8
11. Kansas City                         +10
      Nevada +10
13. Denver                                +11
14. Utah State                          +15
15. Northern Colorado              +23
16. Southern Utah                     +26
Wyoming Team Members
T1              Jaren Calkins           -4
T7              Kristof Panke          -2
T10             Jimmy Dales            -1
T17             Patrick Azevedo      Even
T47             Tyler Severin           +4
Wyoming Individuals
T31             Cade McLaughlin    +2
T47             Aidan Mann            +4
T57             Kirby Coe-Kirkham  +5
Code Of The West: Wyoming State Code of Ethics
"The Code of the West" was declared the official state code of Wyoming, and the act was signed into law on March 3rd, 2010. Wyoming is the first state to adopt a code of ethics. The legislation chose ten ethics derived from the book "Cowboy Ethics" by James P. Owen