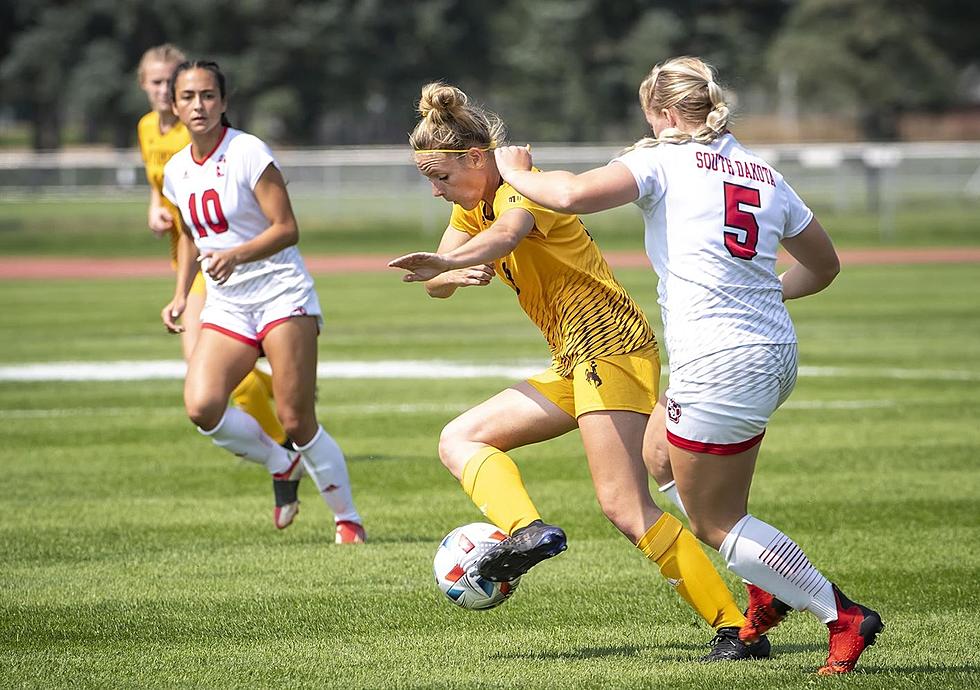 Cowgirl soccer signs coast-to-coast collection of talent
Cowgirl soccer inks eight players from seven different states in recent recruiting class./ UW courtesy photo
* University of Wyoming Athletics media relations release
LARAMIE -- Over 3,000 miles stretch between Cumberland, Rhode Island, and Puyallup, Washington. It would take one nearly two full days of non-stop driving to traverse that distance in a car.
Those two locations represent just a fraction of the University of Wyoming soccer team's signing class. It's a coast-to-coast collection of eight future Cowgirls that head coach Colleen Corbin is quite excited about.
"We have a lot of different types of players from many different parts of the country," Corbin said. "They are all very high-quality humans that are going to add to our culture and the dynamic that we have on our team already. They will all help our team grow both on and off the soccer field.
"We are excited to get them here in Laradise."
Seven different states are present among the eight signees. Some hail from as far east as Rhode Island and New York while others come from Pacific coast states of Washington, Oregon and California.
A couple call Colorado home and another boasts a bevy of collegiate playing experience. Together, the future UW student-athletes possess skill, heart and personalities that'll add to an already existing eclectic roster.
"We've been very intentional about recruiting across the country," Corbin said. "Having influences from different backgrounds and different upbringings, challenges people to see the world differently and see the game differently. We are excited to get these personalities and stories and backgrounds into our team and see how that influences our culture in the future."
Below is a list of the signees…
Ally Beavers (Puyallup, Washington)
Beavers is a defender from the Tacoma area. She played high school soccer at Puyallup High School and competed in club ball for Washington Premier FC.
"One of Ally's biggest assets is her ability to play out of the back," Corbin said. "She tackles hard. She's gritty. She's a wonderful human. We are excited to get her personality into our already eclectic backline and see what her defensive presence as a centerback does for our team."
Lily Brongo (Spencerport, New York) 
Brongo is a defender from the Buffalo area. She played her high school ball at Spencerport High School, while competing in club soccer for WNY Flash Academy.
"Lily is fast, strong, competitive and dynamic," Corbin said. "She has the ability to play a couple different positions out wide, so we are excited to see where she fits in the best. Either way, we know she's going to bring an edge that is going to elevate the group as a whole."
Finley Crabtree (Portland, Oregon)
Crabtree is a goalkeeper that played in net for Ida B-Wells-Barnett High School. She played club soccer for Northwest Elite FC.
"She's the type of goalkeeper that has the ability to cover a large majority of the goal strictly because of her size," Corbin said. "She very much wanted to be in Wyoming. Her parents are alumni, she has ties to this part of the country, so she will be passionate about being here. It's going to be fun to see how being in a collegiate environment helps her become a more competitive goalkeeper."
Maddie Dion (Cumberland, Rhode Island)
Dion is a goalkeeper from just north of Providence. She played high school ball for Cumberland High School and club ball for Scorpions SC.
"Maddie is a very intellectual goalkeeper that reads the game well and is very intentional about what she does," Corbin said. "She wants to be at Wyoming and for us to get a kid from Rhode Island who's excited for Laradise, that's a pretty unique situation. I'm excited for her get here and learn and to grow and add depth and value to our goalkeeping group."
Allyson Fischer (Colorado Springs, Colorado) 
Fischer is a goalkeeper who played high school soccer at Pine Creek High School. She played club ball for Real Colorado.
"Fish is confident, she's a great human, she's vocal, she's athletic and she's very coachable," Corbin said. "She's very open to feedback and excited to learn. She's been committed to UW since she was a freshman, so I know she's excited to finally get to Laramie and live out that dream. We are excited for her to add to the depth of our goalkeeper group."
Alyssa Glover (Englewood, Colorado)  
Glovers is a midfielder from the Denver area. She played high school ball at Cherry Creek High School and played club ball for Colorado Rapids Youth Soccer.
"Alyssa is a brilliant attacking player," Corbin said. "She can score goals from pretty much anywhere. She's also the nicest kid. She is so sweet but is fierce on the soccer field, and she's a great leader. We are excited to get her into our midfield group."
Miyuki Schoyen (Salisbury, Maryland)  
Schoyen is a goalkeeper who played her first three years of collegiate soccer at Drexel University. She transfers to Wyoming after playing in 24 games as a Dragon, compiling a GAA of 1.28.
"Miyuki brings a lot of maturity and leadership into a young goalkeeper group, and that's going to be super beneficial for us," Corbin said. "She's also very coachable. One of the reasons she wanted to come to Wyoming is because she has aspirations to play professionally. We are excited to help her grow and challenge her in ways she may or may not know she needs to be challenged."
Jessie Stonehouse (Santa Rosa Valley, California)
Stonehouse is a defender from the Los Angeles area. She played high school soccer at Chaminade College Preparatory and club ball at LA FC.
"Jessie is a natural-born athlete," Corbin said. "She's got great size. As a centerback in the Mountain West, she's going to give us some advantage physically, which is nice. Her distribution is great. We are excited for her to fit into our system, help us play out of the back and help us be an offensive threat out of the back."
What Does a $25 Million Wyoming House Look Like?