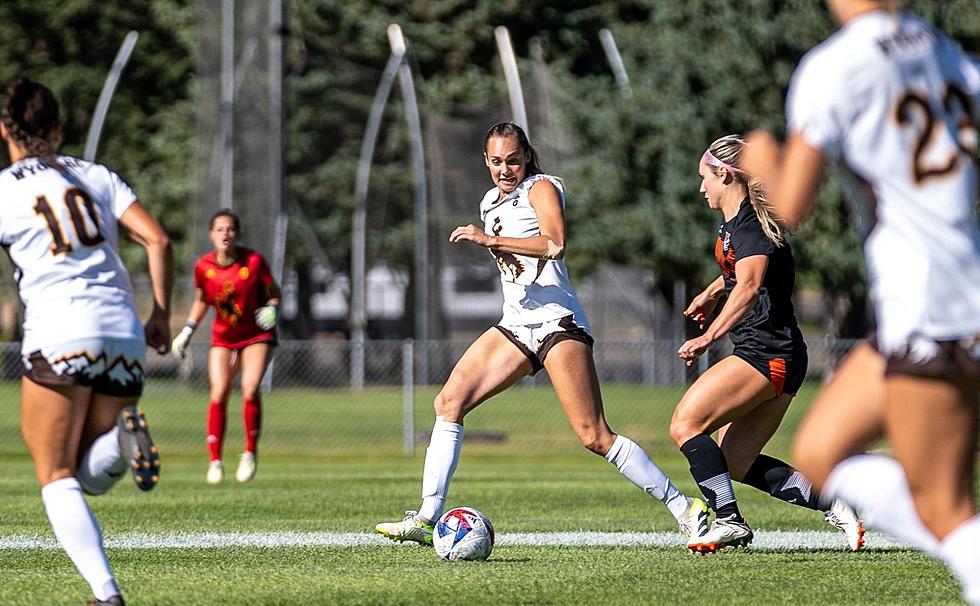 Soccer Ready for Final Mountain West Conference Road Trip
Loss drops Wyoming to 4-4-3 overall and 0-3-0 (0 points) in Mountain West Conference play./ UW courtesy photo
* University of Wyoming press release
LARAMIE -- The University of Wyoming soccer team takes to the road for the final time in Mountain West Conference play this season.
The Cowgirls travel to San Diego State on Thursday for an 8 p.m. contest at the SDSU Sports Deck before going to New Mexico on Sunday for a 1:30 p.m. game at the UNM Soccer Complex.
Both games carry quite a bit of weight. With just three matches left on the slate, the Cowgirls need to accumulate points to propel themselves into a conference tournament that includes only the top six in the final standings.
Wyoming holds a 6-6-4 overall record and a 2-5-1 (7 points) mark in league action, which positions them ninth. It's a two-way tie for sixth right now between New Mexico and UNLV, which have nine points each.
The Aztecs are currently tied for the lead in the conference at 11-3-2 overall and 6-1-1 (19 points) in league. They've only lost once at home and are unbeaten at the SDSU Sports Deck in conference.
"We know the road is hard, and we know the road only gets harder," head coach Colleen Corbin said. "We have to stay focused, and we have to keep our head down."
Wyoming is fresh off its most-complete performance of the season. The Cowgirls downed Colorado College, 5-0, on Sunday in Laramie in what marked their largest margin of victory in a conference game in program history.
"It was a great step forward in the right direction," Corbin said. "It's a great confidence boost, and yes, it's great for the kids to see how great they can be and how good they really are. But we have to believe that is the type of team we can be all the time, and we can't be satisfied."
Four different Cowgirls scored against the Tigers, one of them being Jamie Tatum. That gave her 25 scores for her career, which vaults her to first, alone, in program history.
Maddi Chance represented the player with a pair of goals Sunday. That gave her five for the season, which ties her with Alyssa Glover for tops on the team.
Haley Bartel received the start at goalkeeper and logged the first shutout of her career. She's started seven games this season and has allowed 10 goals with 23 saves for a GAA of 1.43.
Denise Castro paces potent San Diego State offense with eight goals this season. Three other players have scored five times in 2023, while another four have a pair of scores.
Alexa Madueno has started all 16 games at goalkeeper for San Diego State. She's allowed 17 goals with 79 saves for a GAA of 1.10 with four shutouts.
The Aztecs lead the all-time series with Wyoming, 18-7-2. The Cowgirls, however, have claimed three of the last four meetings, the most recent one being a 1-0 victory in the 2022 Mountain West Tournament semifinals.
Sophia Roberts leads New Mexico with thee goals to her name. A trio of other Lobos have found the back of the net twice this season.
Alli Davis has started all 14 games in net for New Mexico. She's yielded 16 goals with 58 saves for a GAA of 1.23 with three shutouts.
The Lobos lead the all-time series with Wyoming, 20-9-6. New Mexico has won five of the last six matchups with last year's meeting ending in a 1-1 tie in Laramie.
Following the road trip, the Cowgirls close the regular season at home. They host Colorado State on Oct. 26 at 3 p.m. at the Madrid Sports Complex.
From Bison to Triceratops - All of Wyoming's Official Things
Every state in our nation has chosen things that represent the state in one way or another to be official state things. Like a flower, or animal.
Wyoming
is no different.
The Equality State, or the Cowboy State, depending on which state slogan you want to go with, has a state flower. But did you know we also have a state tree and a state fish? Yes, we even have a state code.
To be an official thing, a member of the state legislature must write and submit a bill to the legislature declaring that a thing will be the official state thing. Then the legislature votes to pass the bill, or not, if it passes, the governor signs the bill into law and we have a new official state thing.
Here is what we have so far, all of Wyoming's official things. Now you can win big on Wyo Trivia Night if that's a thing that exists.
Gallery Credit: Ben Kuhns
- From Bison to Triceratops - All of Wyoming's Official Things