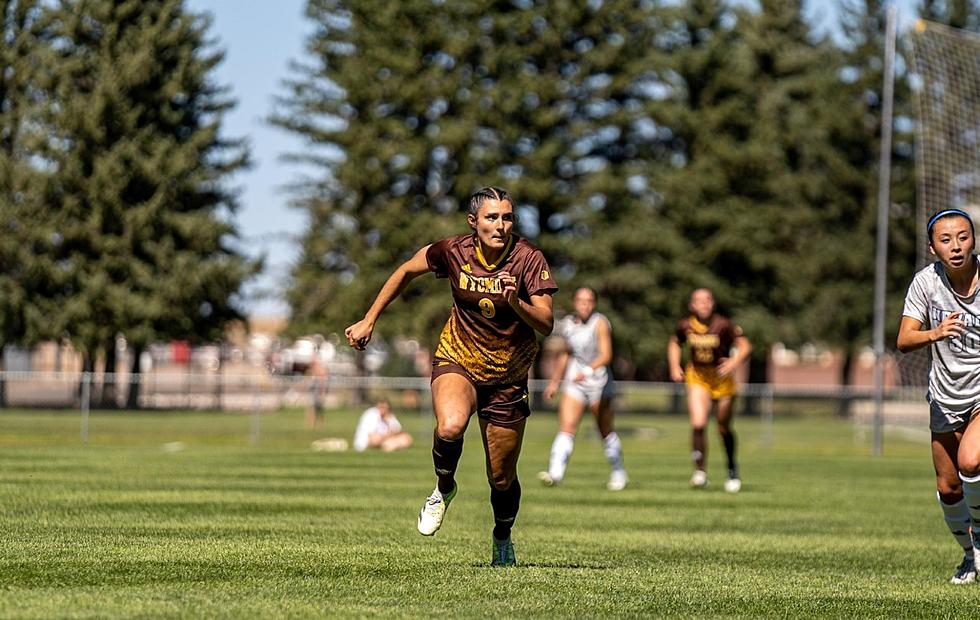 Cowgirls Rally for 1-1 Draw Against Air Force
The University of Wyoming soccer team needed points going into its match against Air Force. The Cowgirls are in need of a late-season push and that began with needing a result inside the Indoor Practice Facility on Thursday. / UW courtesy photo
* University of Wyoming press release
LARAMIE -- The University of Wyoming soccer team needed points going into its match against Air Force. The Cowgirls are in need of a late-season push and that began with needing a result inside the Indoor Practice Facility on Thursday.
A late goal from Jazi Barela made that a reality. She netted Wyoming's lone goal in the 76th minute, as the Cowgirls drew with Air Force, 1-1.
"The belief and the buy-in was huge today," head coach Colleen Corbin said. "I felt like everyone made a difference. I'm proud of them today."
The result pushed Wyoming to 5-6-4 overall and 1-5-1 (4 points) in Mountain West Conference play. Air Force moves to 5-7-2 overall and 2-3-2 (8 points) in league.
A couple victories are still required for the Cowgirls to vault their way back into conference tournament contention. The top six in the final standings are awarded a spot in the postseason, and with four games to go urgency is needed from Wyoming.
"We've talked about selling our souls to the soccer gods the next two weeks," Corbin said. "We have to do everything in our power to control our destiny, and that's all we can do. "We have to keep showing up. We have to keep playing for each other. We have to keep buying into our identity."
As for Thursday's match, Wyoming created a good amount of scoring opportunities. They fired 15 shots, Air Force had 18, however, eight of those Cowgirl shots were on target as opposed to just six for the Falcons.
"Air Force plays an unorthodox formation, so we tinkered and played around with some stuff, and I felt like it was super effective," Corbin said.
Air Force got on the board first in the 14th minute. The Falcons' leading scorer, Mia Otero, netted a goal, unassisted, that gave her team the early edge.
It remained that way until Barela. He fourth goal of the season, this one assisted on by Nikayla Copenhaver, gave the game its final tally.
Wyoming goalkeeper, Miyuki Schoyen, was credited with five saves, while her counterpart, Sydney Davis, made seven. Alyssa Bedard, Alyssa Glover and Jamie Tatum paced the Cowgirls with three shots apiece.
Wyoming is back in action Sunday. The Cowgirls host Colorado College at 1 p.m. at the Madrid Sports Complex.
From Bison to Triceratops - All of Wyoming's Official Things
Every state in our nation has chosen things that represent the state in one way or another to be official state things. Like a flower, or animal.
Wyoming
is no different.
The Equality State, or the Cowboy State, depending on which state slogan you want to go with, has a state flower. But did you know we also have a state tree and a state fish? Yes, we even have a state code.
To be an official thing, a member of the state legislature must write and submit a bill to the legislature declaring that a thing will be the official state thing. Then the legislature votes to pass the bill, or not, if it passes, the governor signs the bill into law and we have a new official state thing.
Here is what we have so far, all of Wyoming's official things. Now you can win big on Wyo Trivia Night if that's a thing that exists.
Gallery Credit: Ben Kuhns
- From Bison to Triceratops - All of Wyoming's Official Things