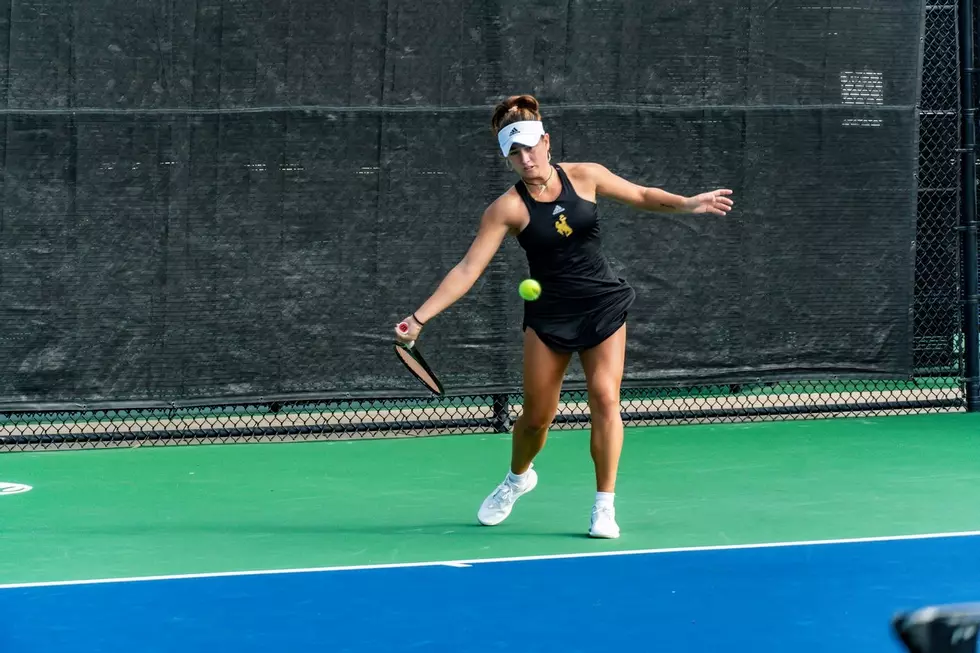 Cowgirl Tennis Drops 4-2 Battle at Colorado
The Wyoming tennis team opened dual action Saturday down in Oklahoma. The Cowgirls opened dual action with a 6-1 loss against Louisiana Tech at the Tulsa Hurricane Invitational. UW also played the singles portion of its matchup with Omaha Saturday afternoon and will conclude that match Sunday before finishing with host-Tulsa./ UW courtesy photo
* University of Wyoming press release
BOULDER, Colo., -- The Wyoming Cowgirl tennis team battled hard, but ultimately came up short in a 4-2 loss at Colorado Sunday. The Cowgirls jumped out to an early 2-0 lead in the match before the Buffaloes (8-5) rallied to win the next four matches to secure the victory.
The Cowgirls (4-8) opened the match by securing the doubles point, winning at the No. 1 and 2 spots. The team of Ana Fernandez and Sophie Zehender were victorious, 7-5 at the first position while Violetta Borodina and Maria Oreshkina won at No. 2, 6-3.
"I thought we came out and played our style of doubles," said Head Coach Dean Clower after the match. "Ana and Sophie have really become a force at the No. 1 spot. Violetta and Maria have started to gel and have carried us at the No. 2 spot. In singles, we had the momentum and were up in two of the three matches, but as a team, we didn't finish them. Colorado had a lot to do with that, so congratulations to them. We need people to step up at other positions, besides the usual student-athletes who have been getting us wins."
Zehender got the win at the No. 1 singles spot, 6-4 and 6-1 to give the Cowgirls a 2-0 lead in the match. CU then won the next four to secure the match victory. Oreshkina won the first set at No. 2, 6-2 before dropping the next two sets, 6-2 and 6-0. After losses at the third through five positions, the Buffaloes secured the match.
Fernandez was leading her match at the No. 6 spot, 7-5 and 3-2 before the match was called after Colorado won the match.
"Today was a battle but nothing impossible to overcome in the future," said Zehender afterwards. "We need to be more process oriented and play for each other, rather than be worried about winning or losing."
Next up, the Cowgirls return home for the first time in a month as they host Creighton March 18 for a noon matchup in Laramie.
Wyoming at Colorado
3/12/23 in Boulder, Colo.
Colorado 4, Wyoming 2
Doubles competition
1. Ana Fernandez/Sophie Zehender (WYO) def. Balzert/El Sayed (CU) 7-5
2. Violetta Borodina/Maria Oreshkina (WYO) def. Stanjevic/Ventura (CU) 6-3
3. Puzak/Tokac (CU) def. Adel Ismagulova/Lucia Malinak (WYO) 6-4
Singles competition
1. Zehender (WYO) def. Balzert (CU) 6-4, 6-1
2. Ventura (CU) def. Oreshkina (WYO) 2-6, 6-2, 6-0
3. Stanojevic (CU) def. Brink (WYO) 6-2, 7-6
4. El Sayed (CU) def. Borodina (WYO) 6-0, 7-6
5. Tokac (CU) def. Dobrilova (WYO) 6-1, 6-1
6. Fernandez (WYO) vs. Hayes (CU) 7-5, 3-2, unfinished
From Bison to Triceratops - All of Wyoming's Official Things
Every state in our nation has chosen things that represent the state in one way or another to be official state things. Like a flower, or animal.
Wyoming
is no different.
The Equality State, or the Cowboy State, depending on which state slogan you want to go with, has a state flower. But did you know we also have a state tree and a state fish? Yes, we even have a state code.
To be an official thing, a member of the state legislature must write and submit a bill to the legislature declaring that a thing will be the official state thing. Then the legislature votes to pass the bill, or not, if it passes, the governor signs the bill into law and we have a new official state thing.
Here is what we have so far, all of Wyoming's official things. Now you can win big on Wyo Trivia Night if that's a thing that exists.
- From Bison to Triceratops - All of Wyoming's Official Things