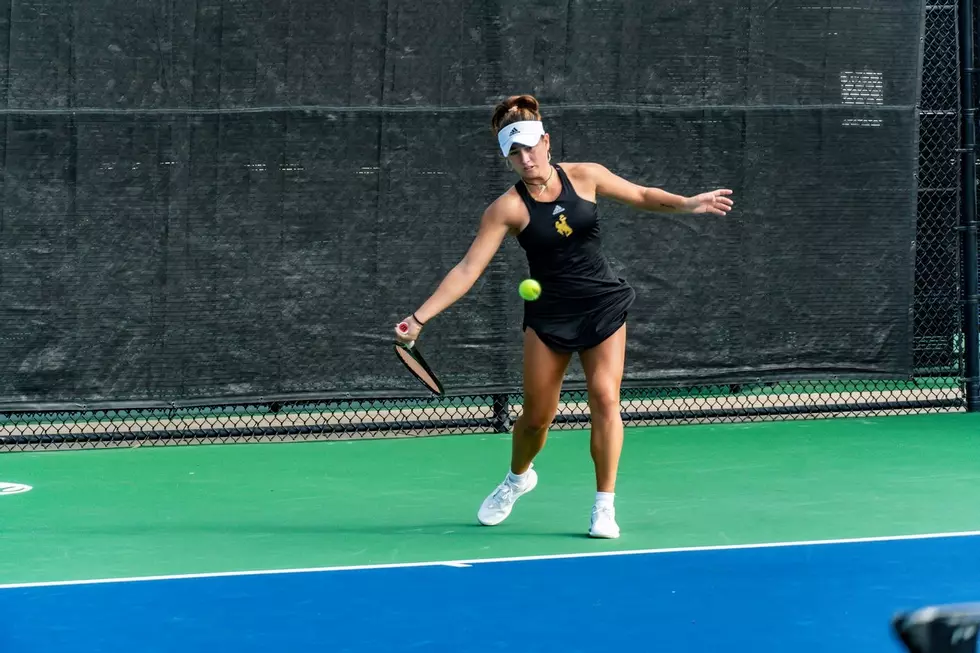 Cowgirl Tennis Opens Dual Play
The Wyoming tennis team opened dual action Saturday down in Oklahoma. The Cowgirls opened dual action with a 6-1 loss against Louisiana Tech at the Tulsa Hurricane Invitational. UW also played the singles portion of its matchup with Omaha Saturday afternoon and will conclude that match Sunday before finishing with host-Tulsa./ UW courtesy photo
TULSA, Okla., – The Wyoming tennis team opened dual action Saturday down in Oklahoma. The Cowgirls opened dual action with a 6-1 loss against Louisiana Tech at the Tulsa Hurricane Invitational. UW also played the singles portion of its matchup with Omaha Saturday afternoon and will conclude that match Sunday before finishing with host-Tulsa.
Nikol Dobrilova picked up a win at No. 5 singles for UW against LTU. Dobrilova won her matchup 6-3 and 7-6 (7-4).
The dual was much closer than the final score indicated as the Cowgirls lost a pair of three-setters in singles play as Sophie Zehender lost at the No. 2 spot, 6-1, 1-6 and 1-6 while Noesjka Brink fell at No. 3, 4-6, 6-4 and 4-6.
On the doubles' side of play, the Cowgirls lost a couple of hard-fought matchups at the first and second spots. The tandem of Ana Fernandez and Zehender lost 7-6 (8-6) at No. 1 while Maria Oreshkina and Violetta Borodina lost 7-5 at the second position.
Wyoming vs. Louisiana Tech
1/14/2023 at the Hurricane Invite in Tulsa, Okla.
Louisiana Tech 6, Wyoming 1
Doubles competition
1. Schuknecht/Dawson (LTU) def. Ana Fernandez/Sophie Zehender (WYO) 7-6 (8-6)
2. Bienzobas/Rodrigues (LTU) def. Maria Oreshkina/Violetta Borodina (WYO) 7-5
3. Romero/Vasquez (LTU) def. Noesjka Brink/Nikol Dobrilova (WYO) 6-3
Singles competition
1. Schuknecht (LTU) def. Oreshkina (WYO) 7-5, 6-2
2. Bienzobas (LTU) def. Zehender (WYO) 1-6, 6-1, 6-1
3. Dawson (LTU) def. Brink (WYO) 6-4, 4-6, 6-4
4. Nash (LTU) def. Borodina (WYO) 6-2, 6-0
5. Dobrilova (WYO) def. Rodrigues (LTU) 6-3, 7-6 (7-4)
6. Romero (LTU) def. Fernandez (WYO) 6-4, 6-4
10 Of The Most Famous Wyomingites In History
We asked our listeners to tell us who they thought was the most famous Wyomingite in History, here are the top 10 picks. NOTE: To be a Wyomingite you do NOT have to be born here, but you DO have to have lived here for at least a year.
- 10 Of The Most Famous Wyomingites In History