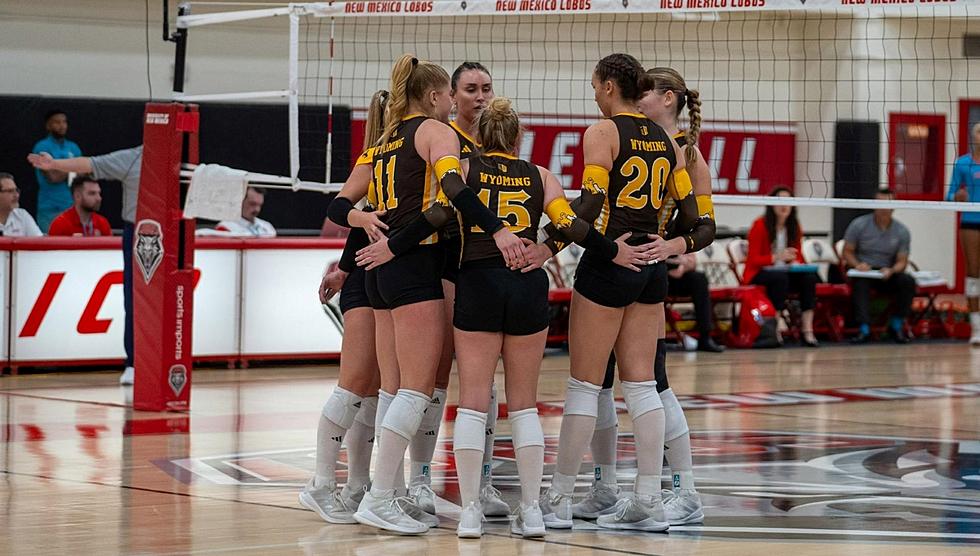 Cowgirls Battle at New Mexico But Fall in Four Sets
The Wyoming Cowgirl volleyball team fought hard on the road Thursday night but ultimately fell in four sets to New Mexico in Mountain West action. Set scores went 25-18, 24-26, 29-27 and 25-17./ UW courtesy photo
* University of Wyoming press release
ALBUQUERQUE, N.M., – The Wyoming Cowgirl volleyball team fought hard on the road Thursday night but ultimately fell in four sets to New Mexico in Mountain West action. Set scores went 25-18, 24-26, 29-27 and 25-17.
After the two teams split the first two sets, the match turned in the third set as the Lobos (13-5, 5-2 MW) pulled out the pivotal set that went to extra points, 29-27.
The Cowgirls (13-5, 2-5 MW), who trailed for most of the set and even faced three consecutive set points trailing at 24-21, fought all the way back in the third to tie things at 24-24. Wyoming even had a pair of set points of its own at 26-25 and 27-26 but three consecutive points from UNM won the set and gave the Lobos a two sets to one advantage. In the fourth, the Lobos controlled things and came away with the victory.
New Mexico out-hit the Cowgirls in the matchup, tallying a .214 hitting percentage while the Cowgirls hit just .133. UNM also had a big advantage serving, doubling up the Cowgirls in that department, 10-5. Both teams had 12 total blocks on the night.
The Cowgirls were led both offensively and defensively by Tierney Barlow who tallied a match-high 15 kills and six block assists in the loss. Barlow also hit and even .500 on the night. Rylee Schulz also finished with 10-plus kills as she notched 12. Schulz also had four total blocks against the Lobos and recorded a double-double as she added 12 digs as well. Corin Carruth, Sarah Holcomb and Paige Lauterwasser all had seven kills each.
Kasia Partyka and Sierra Grizzle also had good nights for UW despite the loss. Partyka did a little bit of everything for the Cowgirls as she led the match with 40 assists. Partyka also added six kills while hitting .417, had three block assists and added 15 digs in the contest.
Grizzle, meanwhile, set a new career-highs with 18 digs and four service aces. She also tied a career-best with seven assists. Zoee Smith and Skylar Erickson chipped in with six and five digs, respectively.
Wyoming will look to split its road trip this week as it travels to face Air Force at 11 a.m., Saturday.
10 Reasons Why You're Lucky to Be Living in Wyoming
Here Are the Top 10 Reasons Why You're Lucky to Be Living in Wyoming
- 10 Reasons Why You're Lucky to Be Living in Wyoming,