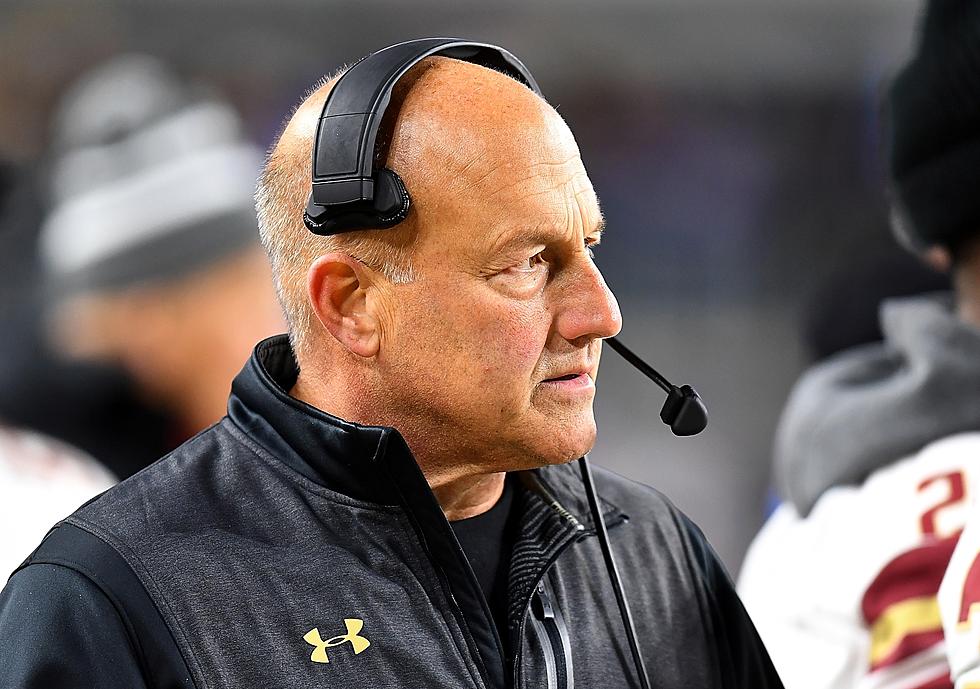 CSU's Steve Addazio no fan of losing in-state kids to Wyoming
PITTSBURGH, PA - NOVEMBER 30: Head coach Steve Addazio of the Boston College Eagles looks on during the second half against the Pittsburgh Panthers at Heinz Field on November 30, 2019 in Pittsburgh, Pennsylvania. (Photo by Joe Sargent/Getty Images)
LARAMIE -- Twenty-three current Wyoming football players hail from the state of Colorado.
Seven of those guys -- Chad Muma, Keegan Cryder, Esaias Gandy, John Hoyland, Ayden Eberhardt, Wyatt Wieland and Braden Smith -- have started this season for Craig Bohl's Cowboys.
This, of course, is nothing new. Colorado has been a breeding ground for some of the best players in UW football history.
Steve Addazio is attempting to put a halt to that.
In his second season at the helm of the Colorado State football program, the Rams head coach said -- like Sonny Lubick before him -- one of his goals is to make sure those "diamonds and gems" stay put in Colorful Colorado.
"It blows my circuits that they've got to fly people into Denver and drive them right past Fort Collins to go all the way to wherever to heck they've gone," Addazio said. "I've never been there, you know, I don't know what that's like, right? It seems like it's like another part of the world.
"So, in order to do that -- that impresses me. Like, they can go find talent and project it, and then recruit it."
MORE UW FOOTBALL NEWS:
* Cowboys in the NFL: Week 8
* Pokes news and notes
* Eberhardt's UW career likely over after 'significant knee injury'
* Quick takes: The effort is there ... the results aren't
Of course, if Wyoming's staff is recruiting a player in Colorado there wouldn't be a flight into DIA, but you get his point.
If you couldn't tell by Addazio's words, he has never been to Wyoming or Laramie before. He'll get that chance Saturday when the Pokes and Rams square off for the 113th Border War inside War Memorial Stadium.
It's that place guys like Tanner Gentry, Andrew Wingard, Mike Purcell and Eddie Yarbrough called their home field for at least four years.
Those guys are all from Colorado.
They are also currently on NFL rosters.
CSU's roster features 36 in-state players. Since Addazio arrived on campus in late 2019, he has brought in 11 of those guys. Currently, three more Colorado players have given the Rams a verbal commitment for the 2022 recruiting class, according to Rivals.com.
Wyoming, on the flip side, signed just one Coloradoan in the '21 class. That's cornerback Zaire Jackson from Parker. Bohl and Co. have two verbals so far from Colorado -- Malique Singleton (Aurora) and Cayden Hawkins (Highlands Ranch).
"Coach Lubick did that here," Addazio said, referring to CSU's former head coach keeping in-state players home. "Of course, he didn't have to drive by Fort Collins, just to Fort Collins. So, to me, (Wyoming coaches) have figured that out.
"That's what we're trying to do is find the really good players. It doesn't mean you're not going to recruit around the country -- it doesn't mean that -- but we've got to have a tremendous focus in our backyard and don't get seduced by all the other nonsense that you can get seduced by in recruiting."
Lubick, who coached at CSU from 1993 to 2007, also won with Wyoming players on his roster. Ben Stratton (Cheyenne), Dane Stratton (Cheyenne), Bob Vomhof (Gillette), Mike Vomhof (Gillette) and Clint Oldenburg (Gillette) are a few that come to mind.
Kickoff in Laramie is scheduled for 1:30 p.m. MT.
Here are the current Colorado natives on Wyoming's roster: Cameron Murray (Aurora), Esaias Gandy (Aurora), Wyatt Wieland (Colorado Springs), Zaire Jackson (Parker), Gunner Gentry (Aurora), Ayden Eberhardt (Loveland), Jeremy Hollingsworth (Longmont), Braden Smith (Lakewood), Buck Coors (Loveland), Wyett Ekeler (Windsor), John Hoyland (Broomfield), Chad Muma (Lone Tree), Teagen Liufau (Fort Collins), Jack Boyer (Arvada), Brady Bohlinger (Windsor), Zach Watts (Windsor), Mason Schultz (Aurora), Keegan Cryder (Littleton), Emmanuel Pregnon (Denver), Braden Siders (Thornton), Nick Miles (Parker), Ethan Drewes (Longmont), Ryan Marquez (Arvada)
POKES: The Seven Best Games In The History Of The Wyoming-CSU Border War Rivalry (Naturally, they were all Wyoming wins)