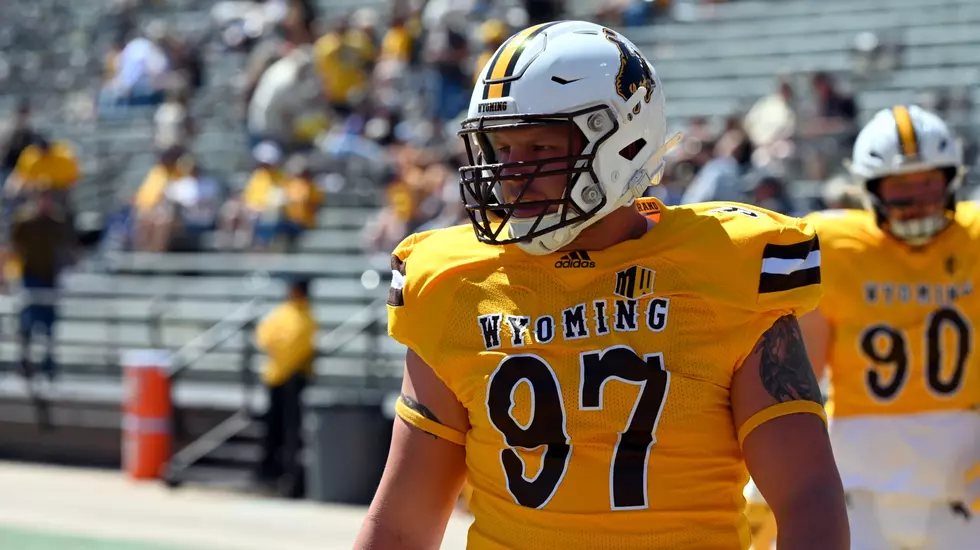 Front Range foes Wyoming, UNC to meet Saturday in Laramie
Wyoming defensive tackle Ethan Drewes transferred to UW from Northern Colorado this offseason./ DJ Johnson photo
* University of Wyoming press release
LARAMIE -- The Wyoming Cowboys will be looking for their second straight home win of the season when they host the Northern Colorado Bears this Saturday in War Memorial Stadium in Laramie.
The game will pit two schools separated by only 100 miles, but two schools that haven't played each other since 2013. Saturday's game is set to kick off at 2:00 p.m., Mountain Time.
Tickets for Saturday's Game
Tickets for Saturday's game may be purchased a variety of ways.
Fans may go online at GoWyo.com/tickets
You may emailtickets@uwyo.edu
Fans may call the UW Athletics Ticket Office at (307) 766-7220
Ticket Office staff are also available to assist fans at the main
Athletics Ticket Office located on the West Side of the Arena-Auditorium located at Willett Drive and 19th Streets on the UW campus. Prices for season tickets begin as low as $159 for adults and $89 for children ages 3-12.
Single-game tickets for the Wyoming-Northern Colorado game start as low as $30 for adults and $20 for children ages 3-12.
One of the NCAA's Longest Standing Records is Part of Wyoming-UNC Series
Prior to the last meeting between the Cowboys and Bears in 2013, the previous meeting between the two teams was back on Nov. 5, 1949, when Wyoming traveled to Greeley, Colo., to face a school that was then called Colorado State College of Education (now Northern Colorado).
The Cowboys won that game 103-0.
Those 103 points still rank as the most points scored by a Football Bowl Subdivision (FBS) team in a single game in NCAA history. Wyoming scored 15 touchdowns and 13 extra points in that game and were led by Eddie "Boom Boom" Talboom, who would go on to earn All-America honors the next season in 1950 and earn induction into the National Football Foundation's College Football Hall of Fame in 2000.
About the Wyoming-Northern Colorado Series
While the two schools have not played many games recently, they have played 26 previous times leading up to this year's game.
The first game in the series was played in 1895 with Wyoming winning by a score of 34-0 in Laramie. Wyoming leads the overall series, with 18 wins, five losses and three ties. The Cowboys have won the last eight meetings from 1937-2013.
Northern Colorado last won a game in the series on Oct. 2, 1936, by a score of 13-7 in a game played in Greeley, Colo.
In games played in Laramie, Wyoming has won 11 times, lost twice and tied three. The Pokes also have a winning record in games played on the road against Northern Colorado, with seven wins against three losses.
Andrew Peasley and John Hoyland Named Mountain West Players of the Week
University of Wyoming junior quarterback Andrew Peasley was selected as the Mountain West Conference Offensive Player of the Week and sophomore place-kicker John Hoyland was named the MW Special Teams Player of the Week this past week for their performances in leading Wyoming to a 40-37 double-overtime home win over Tulsa last Saturday.
With the Cowboys trailing by 10 points, 24-34, with 14:54 remaining in the game, Peasley guided the Cowboys on two scoring drives in the fourth quarter to send the game to overtime.
Peasley completed 20 of 30 passes (66.7 percent) for 256 yards, 2 TD passes and 0 interceptions on the day.  His touchdown passes went for 48 and 51 yards. The latter came with 6:19 remaining in the game to tie the game at 34-34 and force overtime.
He also led Wyoming in rushing with 45 yards and he accounted for 301 yards of total offense.  Peasley guided the Cowboys on six offensive scoring drives and accounted for 12 of Wyoming's 17 first downs (10 passing and 2 rushing).  He connected with eight different receivers on the day.
Peasley is a native of La Grande, Ore., where he played at La Grande High School.  He is in his first season at Wyoming after transferring from Utah State University this past offseason.
Hoyland tied a career high with four field goals in helping the Wyoming Cowboys to the victory over American Athletic Conference member Tulsa. He kicked a career long 55-yard field goal in the fourth quarter to pull Wyoming to within a touchdown at 27-34.  Hoyland also kicked a clutch 25-yard field goal in the first overtime to force a second overtime.
In the second overtime, Hoyland scored the winning field goal from 30 yards out to give the Cowboys their 40-37 win.
Hoyland was a perfect 4 of 4 in PATs and was 4 of 5 in field goals with his only miss being a 44-yard field goal that hit the right upright in the fourth quarter, but he came back to make both of his overtime field goals after that miss to secure the Cowboys' victory.
The sophomore from Broomfield, Colo., where he played at Legacy High School, earned Second Team All-Mountain West Conference honors in 2020, and he was named to the 2020 Football Writers Association of America (FWAA) Freshman All-America team.
MORE UW FOOTBALL NEWS:
* Emotional homecoming ahead for former Wyoming QB JJ Raterink
* Wyoming Football: News and notes ahead of Northern Colorado
* Tulsa torches UW secondary for 460 passing yards in loss
* Wyoming walk-on waltzes into end zone for first-career touchdown
About Northern Colorado
The Northern Colorado Bears are coached by former Denver Bronco wide receiver Ed McCaffrey, who is in his second year as head coach at UNC. The Bears' offensive coordinator is his son Max McCaffrey and UNC's starting quarterback in another son, Dylan McCaffrey. The Bears have played one game this season, losing their season opener last week by a score of 34-46 to Houston Baptist.
Wyoming Natives Play Starring Roles in Double-Overtime Win Over Tulsa
Last Saturday's double-overtime win over the Tulsa Golden Hurricane saw a number of Wyoming natives play starring roles in the Cowboys' victory.
Casper, Wyo., native Jordan Bertagnole started out the game with a huge play from his defensive tackle position as he knocked the ball out of the hands of the Tulsa quarterback on the second play of the game. The ball bounced into the Tulsa end zone and was recovered by Cowboy linebacker Easton Gibbs from Temecula, Calif.,for a touchdown to give UW a 7-0 lead. Bertagnole made a total of five tackles in the game, including 1.0 quarterback sack.
Sophomore fullback/tight end Parker Christensen from Sheridan, Wyo., caught a career high four passes for a career best 45 yards last Saturday. His long catch on the day was a 17-yard reception that helped set up a 55-yard field goal for the Cowboys that was critical in their fourth-quarter comeback. In the second overtime, Christensen caught an 11-yard pass that gave Wyoming a first down and set up the 30-yard game-winning field goal for the Pokes.
Sophomore wide receiver Will Pelissier from Big Horn, Wyo., caught a 48-yard touchdown pass in the second quarter to give Wyoming a 17-13 lead. His three receptions, 67 receiving yards and one touchdown were all career highs for Pelissier.  He also added a 19-yard run in the game. In the first overtime, Pelissier caught a seven-yard pass down to the Tulsa six-yard line to put Cowboy place-kicker John Hoyland in great position to kick a game-tying field goal.
Craig Bohl Wins 150th Career Game in Win Over Tulsa
Wyoming head coach Craig Bohl won his 150th career game as a head coach in the Cowboys' 40-37 win over Tulsa last Saturday. Bohl's overall head-coaching record now stands at 150-83 (.644) in 20 seasons as a head coach, nine seasons at Wyoming and 11 at North Dakota State.
He has guided the Wyoming Cowboys to four bowl game appearances and three bowl victories, making him the only coach in Wyoming Football history to accomplish each of those feats.
At North Dakota State, he won three consecutive Football Championship Subdivision (FCS) National Championships in 2011,'12 and '13. As an assistant coach at his alma mater, Nebraska, he was part of National Championships in 1995 and '97.
Coaching Crossover -- Alums Marty English and J.J. Raterink Now on Opposite Sidelines From Their Alma Maters
When the Cowboys and Bears kick off on Saturday, there will be two assistant coaches who are alums of Wyoming and Northern Colorado but they will be coaching on the sideline opposite their alma maters.
Wyoming Defensive Ends Coach Marty English is a 1986 graduate of Northern Colorado.  English coached at his alma mater from 1987-2002 and again from 2018-19, winning NCAA Division II National Championships in 1996 and '97. He came to Wyoming in 2003, coaching with the Cowboys from 2003-11 and now again from 2020 to the present. During his time at Wyoming, he was part of a team that won the 2004 Las Vegas Bowl, won the 2009 New Mexico Bowl, appeared in the 2011 New Mexico Bowl and won the 2021 Famous Idaho Potato Bowl.
One of the key players on Wyoming's 2004 Las Vegas Bowl Championship team was quarterback J.J. Raterink, who lettered at Wyoming from 2001-04.
Raterink, who backed up Las Vegas Bowl MVP quarterback Corey Bramlet, was part of a key play for the Cowboys in the fourth quarter. Raterink was inserted into the game at quarterback. He lateraled the ball to wide receiver Jovon Bouknight, who then threw the ball down field to Raterink, who had slipped out of the backfield, for a 22-yard TD reception to cut the UCLA lead to 21-17.
Bramlet would later throw a TD pass to tight end John Wadkowski to win the Vegas Bowl 24-21. Raterink will return to Wyoming Saturday as Northern Colorado's Quarterback Coach.
Where to Watch and Listen
Every Cowboy Football game is broadcast live on the 26 affiliates of the Cowboy Sports Network.  Announcers are Reece Monaco, Play-by-Play (1st year), Kevin McKinney, Color Analyst (25th year) and Erick Pauley, Sideline Reporter (1st year). The pregame show begins 90 minutes prior to kickoff.
The 7220sports.com Kickoff Show will air the hour prior to the UW pregame show on KOWB in Laramie or on the official app.
Saturday's Wyoming-Northern Colorado game will be televised on the Mountain West Network. Announcers will be Jacob Tobey (Play-by-play), Jared Petrino (Color Analyst) and Bridget Howard (Sideline Reporter).
Fans can watch The Mountain West Network game LIVE on your own TV through Apple TV, Android TV, Amazon Fire TV or Roku. Mobile applications are available through the iOS App Store and Google Play.
Just The Facts: Size Doesn't Matter For Wyoming's War Memorial Stadium
Did you know it would take the populations of
Gillette
(32,857),
Laramie
(32,381),
Rock Springs
(23,319),
Sheridan
(17,844) and Wright (1,200) to create a sellout inside Michigan's famed 107,601-seat
Big House
, the largest college football stadium in the nation?
For those of you not familiar with the
Cowboy State
, those are Wyoming's third through sixth most inhabited cities, along with the small mining town in Campbell County.
- Just The Facts: Size Doesn't Matter For Wyoming's War Memorial Stadium