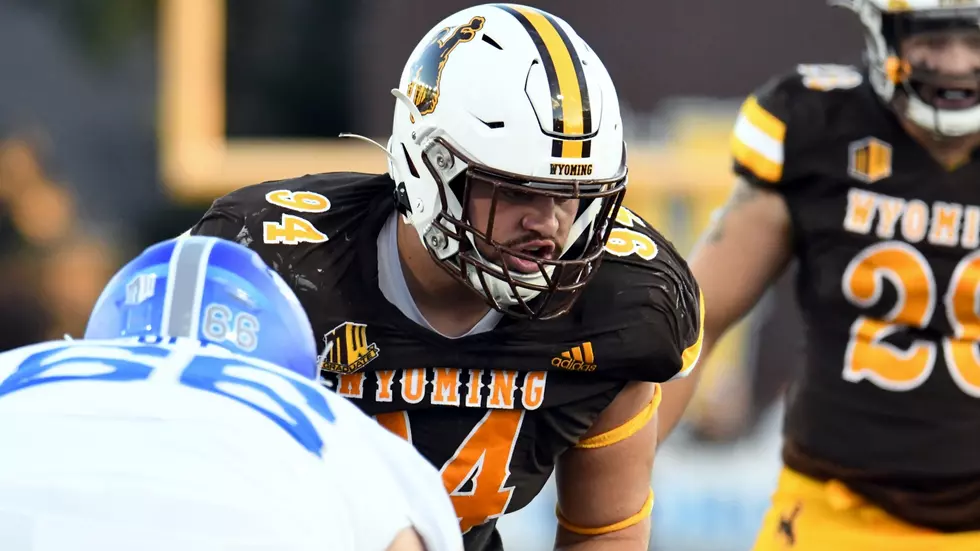 Fueling Cole Godbout's Fire 'probably wasn't the best idea'
Wyoming nose tackle Cole Godbout led the Cowboys with nine tackles in Friday night's 17-14 victory over Air Force./ DJ Johnson photo
LARAMIE -- What was the first thought that ran through Jordan Bertagnole's mind when he found out he landed on the preseason All-Mountain West's team?
"Cole should be on here before me, to be honest," Wyoming's junior defensive tackle said. "It's nice getting the accolade, but in the end, I know Cole deserves it more than I do. He's the reason that I am where I am."
A mid-season injury likely led to the voters' amnesia.
Cole Godbout missed the Cowboys' final six games thanks to a broken second metatarsal bone in his right foot. He blew through the line and was quickly in San Jose State's backfield. Just before he lunged to make the tackle, he got rolled up on.
Surgery, yeah, that was an option.
Just not for Godbout.
Natural healing, rehab and taking it slow, he said, could get him back on the field sooner. Going under the knife could've cost him the 2023 campaign.
Before the 6-foot-4, 290-pound nose tackle was forced to the sidelines, he was one of the most feared interior linemen in not only the league, but the nation. Through seven weeks, Godbout tallied 33 tackles to go along with 4.5 tackles for loss.
His best outing came in a 17-14 upset victory over Air Force. That night in Laramie he registered nine tackles, including a stop behind the line of scrimmage. The fullback dive is the Falcons' bread and butter.
Godbout played the role of green mold.
Wyoming held the nation's top rushing team to just 171 yards on 40 attempts. That's an average of just 4.3 yards per carry.
To the surprise of everyone, the book wasn't closed on Godbout's 2022 campaign quite yet. He trotted onto the field in Tucson on the final day of the year. He wasn't missing that dual in the desert with Ohio in the annual Arizona Bowl.
But was that a mistake?
Godbout limped off the field early. He wouldn't return.
"I wanted to be back, doing whatever I could," said Godbout, who said he suffered a tendon injury in his left foot due to overcompensating from his previous injury. "It sucks we didn't get the result we wanted , but I wanted to contribute in any way I can in that game.
"You know, sh-t happens."
MORE UW FOOTBALL NEWS VIA 7220SPORTS:
* Frank Crum's final ride in Laramie filled with fire, urgency
* Throwback Thursday: 'He's still my dad'
* Keany Parks: 'I feel like I belong in Wyoming'
* Q&A with Wyoming offensive coordinator Tim Polasek
* Tom Burman on realignment: 'I wish I could give you an answer'
* 'Vanilla Gorilla' locking up right tackle spot in Laramie
* Adrian Onyiego's Wyoming recruiting tale all-too-familiar
* Pokes Practice Report: Bohl 'encouraged' after Saturday scrimmage
* 'Wyoming made it easy' for Brycen Lotz to commit to Cowboys
* Wyoming in search of additional depth at defensive end spot
* Wyoming's Dawaiian McNeely to miss season with ACL tear
* Despite injuries, Buck Coors says he won't "pull up'
* Throwback Thursday: My Brother's Keeper
* DQ James' trademark smile, speed has returned
Craig Bohl wasn't going to play the guessing game of whether or not Godbout's decision to return was premature. He wanted to push, the team wanted to be aggressive, Wyoming's 10th-year head coach said.
"I think he's in a really good place right now," Bohl added.
Godbout, who is entering his final collegiate season, says he's fully healthy after sitting out spring practice. Fresh legs have followed. So has a noticeable physical transformation. The Wisconsin product is more cut than ever. He's tacked on five more pounds of lean muscle mass, Bohl said.
That's bad news for the Mountain West.
In 2021, the last time Godbout was at full speed, he racked up 70 tackles, the most by any defensive lineman in the country. He added seven tackles for loss and five quarterback takedowns.
His patented "Cotton Eye Joe" celebration dance followed each sack.
How did Godbout not land on the league's preseason award list again?
"Adding another chip to that guy's shoulder probably wasn't the best idea," UW linebacker and preseason Mountain West Defensive Player of the Year selection Easton Gibbs said. "I'm really excited to see kind of how that goes down. I'm sure he's going to be ready to roll."
"I think he's 100% getting overlooked," Bertagnole added. "I think he's going to show everybody that this year."
Godbout shrugged and said he doesn't pay too much attention to accolades. The ones they hand out at the end of the year, he said, are more important anyway.
"That's up to them. I don't really know what they look at," he said of the voters. "At the end of the day, you know, I don't care if I get any conference awards if that means we can win the conference championship, you know?
"That's why I'm here today. I think everything else will come."
University of Wyoming's Top 50 Football Players
The rules are simple: What was the player's impact while in Laramie? That means NFL stats, draft status or any other accolade earned outside of UW is irrelevant when it comes to this list.
This isn't a one-man job. This task called for a panel of experts. Joining 7220's Cody Tucker are Robert Gagliardi, Jared Newland, Ryan Thorburn, and Kevin McKinney.
We all compiled our own list of 50 and let computer averages do the work. Think BCS -- only we hope this catalog is fairer.
Don't agree with a selection? Feel free to sound off on our Twitter:
@7220sports
- #Top50UWFB
- University of Wyoming's Top 50 Football Players