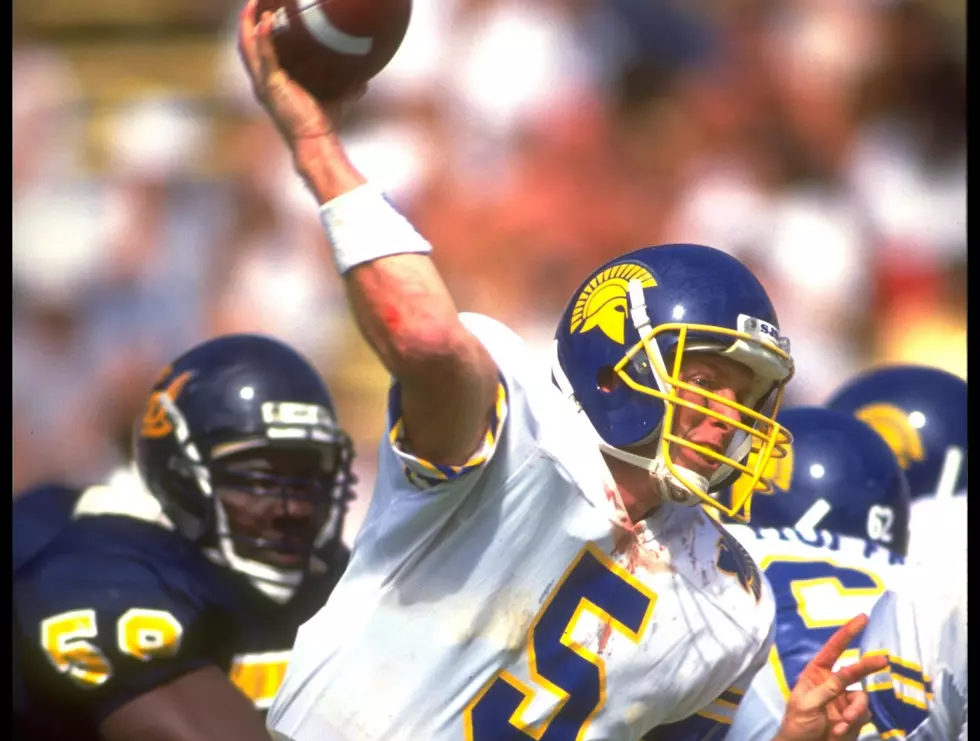 Gear up for gameday: San Jose State
5 SEP 1992: JEFF GARCIA, QUARTERBACK FOR SAN JOSE STATE, LAUNCHES A PASS DURING THEIR GAME AGAINST CAL AT MEMORIAL STADIUM IN BERKELEY, CALIFORNIA. MANDATORY CREDIT: KEN LEVINE/ALLSPORT.
LARAMIE -- How about some random facts about the Cowboys upcoming opponent and its hometown.
* Did you know San Jose is the third-largest city in California? Nearly one million people call that part of the Bay Area home. Only San Diego (1,381,611) and Los Angeles (3,849,297) have larger populations. San Jose is the 10th-largest city in the United States.
* San Jose was once the capital of California. It was also the first official city in the state.
* "The Capital of Silicon Valley", San Jose is home to the giants of innovation: IBM, eBay, Adobe, etc. Nearly 7,000 tech companies litter the landscape.
* To the surprise of no one, San Jose boasts the highest median household income in the nation.
* Here's one you might like. The local soccer stadium, home to the Earthquakes, has the largest outdoor bar in North America.
How about some famous alumni of San Jose State University?
* Stevie Nicks, lead singer of Fleetwood Mac
* Christopher Darden, Prosecutor in the OJ Simpson trial
* Kevin Pollak, actor in Casino, The Usual Suspects, A Few Good Men
* Joey Chestnut, Competitive eater
* Dick Vermeil, Hall of Fame football coach
* Bill Walsh, Hall of Fame football coach
* Tom Johnston, Founder, singer, Doobie Brothers
* Lou Henry Hoover, Former First Lady of the U.S.
How about some of the best football players to wear the Spartans' blue and yellow?
* Jeff Garcia, NFL quarterback (Knocked off Wyoming 26-24 in Laramie in 1992)
* Steve DeBerg, NFL quarterback
* David Fales, NFL quarterback (Also spent a brief time at UW)
* James Jones, NFL wide receiver
* Joe Nedney, NFL placekicker (in 1992, kicked a school record 60-yd FG to beat UW)
* Gerald Willhite, NFL running back
* Louis Wright, NFL defensive back
MORE UW FOOTBALL NEWS FROM 7220SPORTS:
* Week Five: Around the Mountain West Conference
* Know Wyoming's foe: San Jose State Spartans
* Peasley: 'We have a sincere shot to take it all the way'
* San Jose State heading to High Plains for Saturday showdown
* Wyoming Football: News and notes ahead of SJSU
* Another top-tier QB awaits Pokes this Saturday in Laramie
* MW coach hopes to make recruiting California harder on Wyoming
Here is all you need to know -- and the links -- for Saturday's tilt in Laramie:
WHO: San Jose State (2-1) vs. Wyoming (3-2, 1-0)
WHEN: Saturday, Oct. 1 at 5:30 p.m. MST
WEATHER: High of 60, low of 39, partly cloudy skies, wind at 10-20 mph, 70% chance of rain
WHERE: War Memorial Stadium, Laramie, Wyo. (29,181 capacity)
TRAVEL: WYDOT
TV: CBS Sports Network
RADIO: Cowboy Sports Network
TICKETS: Wyoming Ticket office
BOX SCORE: ESPN
ROSTERS: Wyoming / San Jose State
BETMGM ODDS: SJSU -3, O/U 42.5 (Subject to change)
HISTORY: Wyoming leads 7-5 (Spartans have won four of last five in the series)
HEAD COACHES: Craig Bohl / Brent Brennan
University of Wyoming's Top 50 Football Players
The rules are simple: What was the player's impact while in Laramie? That means NFL stats, draft status or any other accolade earned outside of UW is irrelevant when it comes to this list.
This isn't a one-man job. This task called for a panel of experts. Joining 7220's Cody Tucker are Robert Gagliardi, Jared Newland, Ryan Thorburn, and Kevin McKinney.
We all compiled our own list of 50 and let computer averages do the work. Think BCS -- only we hope this catalog is fairer.
Don't agree with a selection? Feel free to sound off on our Twitter:
@7220sports
- #Top50UWFB
- University of Wyoming's Top 50 Football Players