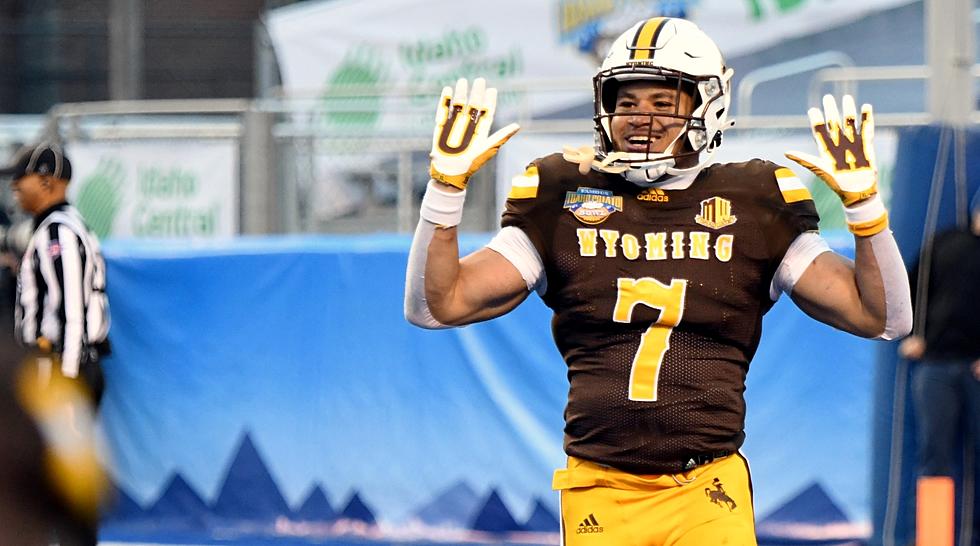 'I got a chance to live out my dream'
Trey Smith celebrates a 49-yard touchdown run in the fourth quarter of a 52-38 victory over Kent State in the Famous Idaho Potato Bowl./ DJ Johnson photo
LARAMIE -- Trey Smith knew his role would diminish last season.
After all, the graduate transfer from Louisville is 26 years old. He just wrapped up his seventh Division-I campaign. This is a young man's game. Wyoming has those in spades in the running back room.
Still, through the Cowboys' 12-game regular season slate, Smith had just nine carries under his belt for a whopping 14 yards.
That all changed late in the second half of the Famous Idaho Potato Bowl last December in Boise.
With 3:11 remaining in the fourth quarter and the game well in hand, Smith took a handoff, violently blew through a gaping hole in the Kent State defensive front, juked a jelly legged linebacker and bounced it to the outside.
Only that infamous blue turf lay ahead.
The Mississippi product coasted 49 yards into the end zone. He dropped the ball and celebrated by putting his hands on his hips and looking into the Jumbotron high above. For good measure, he blew a kiss in the direction of the nearest ESPN camera before jumping into the awaiting arms of an offensive lineman.
It was his final goodbye. A symbolic one at that.
"I knew I had to empty the tank," said Smith, who finished the game with a season-high five carries for 73 yards and that score in the Cowboys' 52-38 rout of the Golden Flashes. "I was just mad as hell. I just wanted to hit some people and let off some frustration from the season."
MORE WYOMING FOOTBALL NEWS:
* Eberhardt to play role of 'hype man' at Wyoming's NFL Pro Day
* Wyoming's spring football practice begins Tuesday
* 5 burning questions ahead of Wyoming's spring football season
* Seven Cowboys to participate in NFL Pro Day
* Trey Smith: 'He's still my dad'
The eruption that exploded from the home sideline told you all you needed to know about this touchdown. So did the smiles. And, yes, even a few tears. It was special to Smith, maybe more so for the 80-plus players who had a front-row seat to his tireless work during a forgotten final season in Laramie.
"I think about that touchdown all the time," he said. "It was a tough year. You know, I'm a competitor, too. So, you know, I always want every carry. I always want to be out there on the field. But, you know, there's a time and a place -- whenever my name is called, I'm definitely going to be ready."
Tuesday afternoon in Laramie, Smith, along with six of his former teammates ran through a series of drills and tests in front of 20-plus NFL scouts in attendance at the school's annual pro day.
With his father, Jimmy Smith, keeping a close eye, he snagged passes out of the backfield, ran a 40-yard dash and bolted around small orange cones inside the Cowboys' indoor practice facility.
He was content with his performance. After spending the previous two months training in Scottsdale, Arizona, Smith feels like he did enough to at least leave an impression.
Despite carrying the ball just 146 times for 802 yards and nine scores during his three seasons in a UW uniform, Laramie, the fans and this program have left an impression on him, too.
Sure, he was in town to show off his skills in hopes of having an NFL career like his father, but this day also served as a time for reflection. Smith took pride in watching his fellow seniors compete. He loved being back around the team and staff.
"I'm just glad to be here," he said with a smile. "I'm glad to be in this place. You know, hopefully things will turn out right and I end up in the NFL. There were some ups and downs, but in the end, the whole journey was a blast. I got a chance to live out my dream. I got a chance to have two college careers."
Nearing 27 and just a few credits shy of a master's degree, Smith said he has taken as much joy in watching the emergence of Titus Swen and Dawaiian McNeely as he has playing the game itself. He reveled in the opportunity to watch -- and sometimes block for -- Xazavian Valladay, who in 2021 became the program's second all-time leading rusher. He's excited to keep an eye on running backs that haven't yet gotten their opportunity.
And he means it.
No, no regrets," he said. "No regrets."
LOOK: Pokes' unis through the years