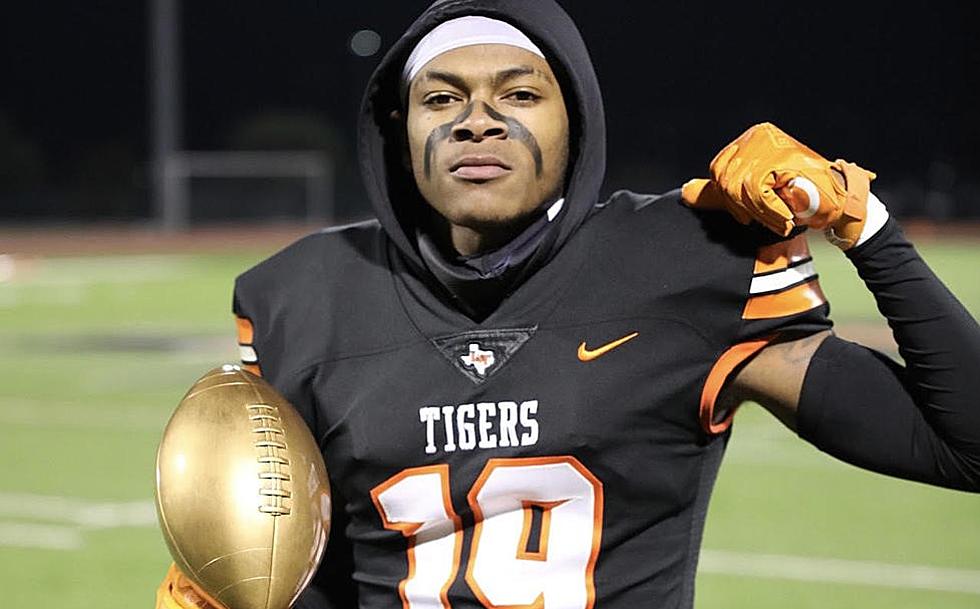 'I Think About Him A Lot'
Incoming UW football recruit, Tony Evans Jr., was fatally shot early Sunday morning in a Dallas hotel room./ Juwan Davis courtesy photo
LARAMIE -- DQ James always seems to have that trademark smile plastered across his youthful face.
Though that was the case once again Tuesday evening, his tune and demeanor quickly changed.
There's a good reason why, too.
Two years ago, on this very day, Tony Evans Jr. was shot and killed inside a Dallas-area hotel room. He was a Wyoming football recruit. He was James' teammate at Lancaster High School. The two were going to Laramie together.
"I think about him a lot," James said. "I'm going to call his parents today and check up on them. I'm going to let them know, you know, if they need anything, reach out."
Evans, a 6-foot-2, 185-pound wide receiver, was dubbed a three-star recruit by 247sports after hauling in 21 balls for 465 yards and seven touchdowns in just eight games during his junior season. He added 13 more catches for 268 yards and four scores during a COVID-19-shoretened 2020 campaign.
Northern Colorado offered him. So did Craig Bohl.
REMEMBERING TONY EVANS JR:
* BREAKING: UW football recruit fatally shot in Dallas
* Senseless tragedy, doubters motivate Wyoming running back DQ James
* Death of Tony Evans Jr. weighing on minds, hearts at UW
James, an electric 5-foot-7, 170-pound running back, originally committed to a Mountain West rival. His mind was all but made up. Evans kept badgering him, though, planting the seed and selling the Wyoming program.
The 17-year-old never made it to Laramie. James did.
"That hurts me a lot," James said in August of 2021. "We were real close teammates. He said, 'Come be a Cowboy with me.' With Hawaii, I knew my parents couldn't afford to travel out there to see me. So, I decided to go with him. He flipped me.
"I heard the news and it broke my heart. Every time I come out here I look at the sky and say 'I got you.'"
Tuesday, James was asked if he ever daydreams about what things would be like if the two Texans were sharing the same huddle again.
That grin returned.
"Most definitely," James said. "If he was here with me in Laramie, chemistry on the team would probably be a totally different vibe. Stronger."
A suspect was arrested, but the motive remains unclear.
What is apparent, James misses his friend.
MORE UW FOOTBALL COVERAGE VIA 7220SPORTS:
* Wyoming's staff sticks with Texas QB despite two ACL tears
* Wyoming's Connor Shay vying for starting linebacker spot
* Sam Scott has found a permanent home in Pokes' backfield
* Pokes Practice Report: Does Wyoming finally have cornerback depth?
* War Memorial Stadium upgrades to begin this fall
* Wyoming's newest running back looking for larger role in Laramie
University of Wyoming's Top 50 Football Players
The rules are simple: What was the player's impact while in Laramie? That means NFL stats, draft status or any other accolade earned outside of UW is irrelevant when it comes to this list.
This isn't a one-man job. This task called for a panel of experts. Joining 7220's Cody Tucker are Robert Gagliardi, Jared Newland, Ryan Thorburn, and Kevin McKinney.
We all compiled our own list of 50 and let computer averages do the work. Think BCS -- only we hope this catalog is fairer.
Don't agree with a selection? Feel free to sound off on our Twitter:
@7220sports
- #Top50UWFB
- University of Wyoming's Top 50 Football Players