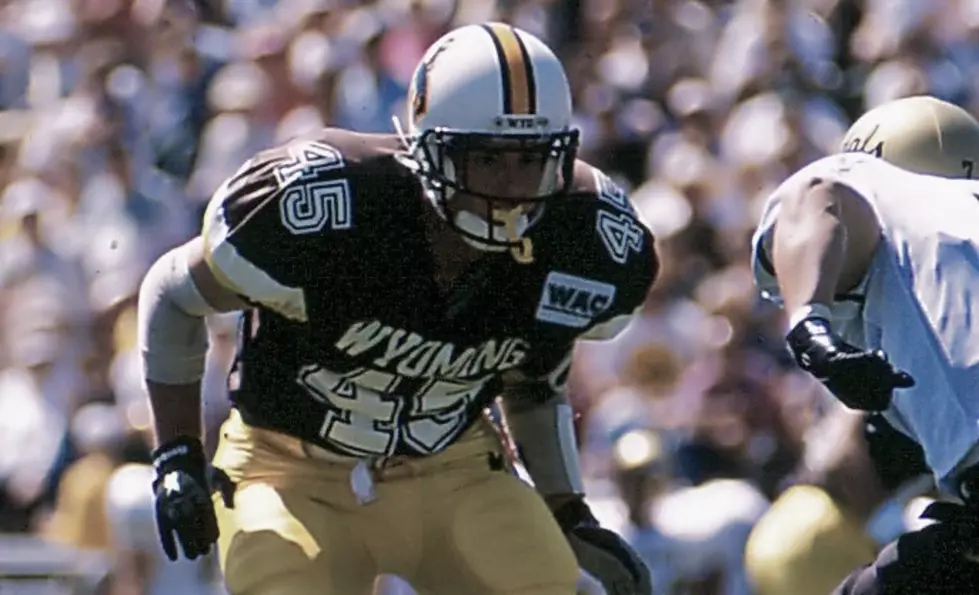 Just the facts: University of Wyoming's Brian Lee Could Pick It
Brian Lee picked off a school-record 17 passes during his four-year career in Laramie./ UW courtesy photo
LARAMIE -- It's easy to forget the name Brian Lee when you talk about the great safeties to come through the University of Wyoming.
Why?
Well, there's Tashaun Gipson, John Wendling, Chris Prosinski, Marcus Epps, Andrew Wingard, and many others, who might come to mind first.
But no one snagged interceptions at the rate of Lee, who hauled in a school-record 17 picks during his four-year career in Laramie from 1994-97. Sixteen of those came during his final two seasons.
Maybe that's why he was named a consensus First-Team All-American as a senior?
MORE UW ATHLETICS NEWS:
* Just the facts: Wyoming's bowl history
* Who doesn't love random college football rankings?
* PODCAST: Oh, what a spring game it was
* Just the facts: UW has elevation. You?
Lee, an Arvada, Colo., native, owns the top-two single-season records for interceptions with eight. Twice he snagged three interceptions in a single game (SMU in 1996, Montana in 1997). Those are both in the record books, too.
Paul Wallace is three behind Lee with 14 from 1989-1992. Mark Thomas, Logan Wilson and Wingard are all tied for third all-time with 10 interceptions.
Just for fun, let's compare that to some of the best defensive backs in NCAA history.
Bowling Green's Martin Bayless hauled in a staggering 27 interceptions in college. Names you might recognize, like Terrell Buckley (21), Ed Reed (21), Dre Bly (20) and Bennie Blades (19) all have more than Lee.
Here's some big names that don't:
Eric Allen-16
Sam Madison-16
Dennis Smith-16
Charles Woodson-16
Ronde Barber-16
Ray Buchanan-15
Steve Atwater-14
Ronnie Lott-14
Deion Sanders-14
Sean Taylor-14
Champ Bailey-8
Sure, some of those guys played just three years in college. Some also played on both sides of the ball. But when you have one more pick than a Heisman Trophy winner like Woodson, you're in rare company.
Here's how Lee stacks up against fellow WAC/ MWC foes:
Harold Lusk (Utah)-19
Gabe Franklin (Boise State)-18
Ray Jackson (Colorado State)-18
Weston Steelhammer (Air Force)-18
Darian Thompson (Boise State)-18
Eric Weddle (Utah)-18
Brian Lee (Wyoming)-17
Donte Deayon (Boise State)-17
LaVon Edwards (Utah)-17
Damontae Kazee (San Diego State)-17
Tom Rotello (Air Force)-17
Carlton McDonald (Air Force)-16
READ MORE: 13 Rock and Roll Hall of Fame Acts Have Played Cheyenne Frontier Days