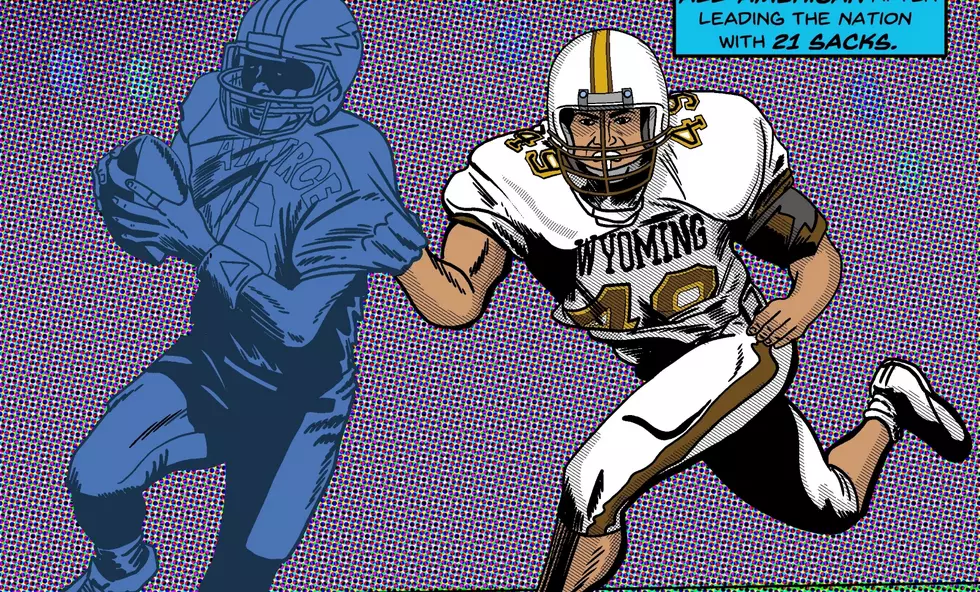 Just the facts: Dominant Donahue
Mitch Donahue was one of the most feared pass rushers in NCAA history. In fact, his sack numbers still stand up today as some of the best in FBS history./ Chad Blakely illustration
LARAMIE -- The NCAA didn't count a sack as an official stat until 2000.
That's why -- officially -- Louisiana Tech's Jaylon Ferguson currently sits atop the list after registering 45 of them between 2015-18.
As you might suspect, there are some impressive names on college football's "official" list of sack masters:
Terrell Suggs (Arizona State): 44
Von Miller (Texas A&M): 33
Myles Garrett (Texas A&M): 31
Chase Young (Ohio State): 30.5
Aaron Donald (Pittsburgh): 29.5
Khalil Mack (Buffalo): 28.5
So, what does this all have to do with Wyoming, you might be asking yourself. Did you know one of the best college players to ever get after the quarterback lined up at defensive end for the Cowboys from 1987-90?
That man is Mitch Donahue. He finished his four-year career in Laramie with a program-record 49 sacks -- including 22 as a senior -- matching the number on his Hall of Fame jersey.
If the NCAA did keep that stat, the Billings, Montana product would be right up top with some of the best to ever do it in college -- and the NFL.
JUST THE FACTS SERIES LINKS:
* Wyoming vs. Power 5
* UW has 84 NFL Draft picks. Where does that rank?
* Brian Lee could pick it
* UW has elevation. You?
* Wyoming's bowl history
By all accounts, Alabama's Derrick Thomas is the unofficial sack leader in Division-I history with 52 sacks, including 27 alone during the 1988 season. Arizona's Tedy Bruschi and Rutgers' Nate Toran also tallied 52, but unlike Thomas, it took the other two all four years to do it. Thomas spend just three seasons in Tuscaloosa.
After pouring through the official stats of all 130 FBS programs, Donahue is in rare company with some of the best in the biz. Here is the list of all Division-I players to rack up at least 40 career sacks:
Billy Jackson (Miss. State): 49
Hugh Green (Pitt): 49
Bruce Smith (Virginia Tech): 46
Tim Green (Syracuse): 45.5
Chris Slade (Virginia): 40
Jared DeVries (Iowa): 43
Simeon Rice (Illinois): 44.5
Kiki DeAyala (Texas): 40.5
Shante Carver (Arizona State): 41
BJ Cohen (Marshall): 51
Ja'Von Rolland-Jones (Arkansas State): 43.5
Charles Pickett (Troy): 43
A couple of players from Mountain West schools are in the mix, too:
Mitch Donahue (Wyoming): 49
Ron Cox (Fresno State): 50
Johnny Jackson (New Mexico): 44
Aside from those three, here are the other leaders in the MWC:
Mark Mraz (Utah State): 36
Mark Odom (Hawaii): 36
Chad Hennings (Air Force): 34
Curtis Weaver (Boise State): 34
Kabeer Gbaja-Biamila (San Diego State): 34
Clark Haggans (Colorado State): 33
Travis Johnson (San Jose State): 32
Daryl Knox (UNLV): 28
Donahue was a two-time WAC Defensive Player of the Year in 1989 and 90. The following year, he was selected in the fourth round of the NFL Draft by the San Francisco 49ers. Donahue played four seasons, capping his career in 1994 with the Denver Broncos.
Back in 2019, 7220sports.com traveled up to Billings for an in-depth interview with Wyoming's sack king that went far beyond his accomplishments on the football field. You can find that right HERE.
Here are some other stories about Donahue:
* Which Wyoming Cowboy wore it best: No. 49
* Cowboy Classics: 'I hated Air Force more than CSU'
* Is Wyoming and Air Force really a rivalry?
* Tucker: From cheers to beers, the Donahue boys are winning their battle with the bottle
And in case you are wondering what Wyoming's all-time sack list looks like:
Mitch Donahue: 49
Pat Rabold: 30
Jeff Knapton: 30
Patrick Chukwurah: 27
John Fletcher: 24
Thomas Williams: 24
David Edeen: 23
Doug Rigby: 23
Eddie Yarbrough: 21.5
Brent Schieffer: 19
Craig Schlichting: 19
The Cowboys' active leader in sacks is Garrett Crall. The super senior has 13.5 heading into the 2021 season.
UW: University of Wyoming Cowboy's Greatest Games From the First Decade of the 2000's