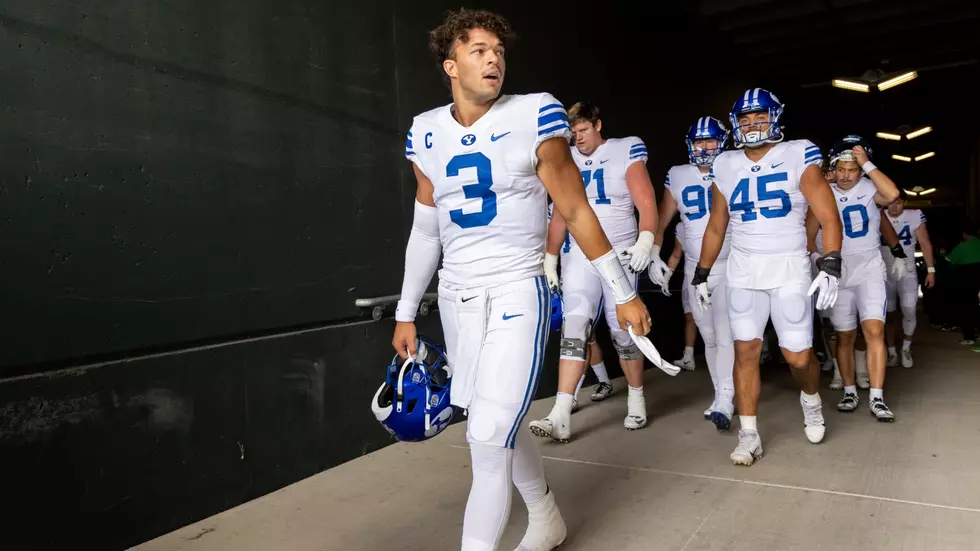 Know Wyoming's foe: No. 19 BYU Cougars
EUGENE, OR - SEPTEMBER 17: Quarterback Jaren Hall #3 of the Brigham Young Cougars walks out of the tunnel before their game against the Oregon Ducks at Autzen Stadium on September 17, 2022 in Eugene, Oregon. (Photo by Tom Hauck/Getty Images)
LARAMIE -- Surprise, surprise.
BYU has yet another dynamic player under center.
Jaren Hall, a 6-foot-1, 205-pound junior, already has 827 yards through the air after just three games this season. He is also connecting on nearly 70% of his passes and has five touchdowns to his credit.
That school always seems to have a quarterback, don't they?
"Hall, I think, is a great quarterback," Wyoming head coach Craig Bohl said Monday during his weekly press conference. "He's very accurate, he can make all the throws and he can throw on the run ... He makes really good decisions. There's just a great presence about him. Anytime you're facing a quarterback like that, that poses a big, big challenge."
The Spanish Fork, Utah product threw for 2,583 yards and 20 touchdowns while leading the Cougars to a 10-3 mark last fall. Hall isn't quite in the conversation with names like Detmer, Bosco or McMahon, among many others in Provo, but he's getting the job done.
MORE UW FOOTBALL NEWS FROM 7220SPORTS:
* Wyoming QB Jayden Clemons placed a bet on himself -- and won
* Renewed rivalry: Wyoming, BYU meet for 79th time Saturday in Provo
* GALLERY: Youthful Wyoming team beginning to emerge
* Wyoming Football: News and notes ahead of BYU
It doesn't hurt to have one of the best offensive lines in the nation aiding in those gaudy numbers, either.
As always, they're big and huge up front," Bohl said. "They've done a really good job. They get man on man."
That all starts with 6-foot-8, 305-pound tackle Blake Freeland, who, according to Pro Football Focus, is the nation's top pass blocker.
Christopher Brooks has been the Cougars' top running back through three games, averaging 5.4 yards per carry on 36 attempts. In a 50-21 season-opening win at South Florida, the 6-foot-1, 230-pound senior gashed the Bulls to the tune of 135 yards on just 13 carries. He also found the end zone once in the victory.
On the defensive side of the ball, linebacker Max Tooley leads the way with 26 tackles. He also took an interception to the house from 33 yards out in Tampa. Running mate Ben Bywater has BYU's other interception on the year and is the team's second-leading tackler with 23 stops. He's also added a sack.
"The backers are downhill," Bohl said. "They'll hit you in the mouth. They play hard-nosed physical."
Oddly, the Cougars have just five sacks on the season, three of which comes from the defensive front. That unit also has yet to force a fumble.
Kalani Sitake's defense features plenty of depth. Bohl said he lost track of all the rotation and had to lean on graduate assistants and quality control coaches to keep up with the names.
"There's just countless numbers of players that play and they're always out there," he added. "So, they have a lot of defensive players. They'll go in between a three-down look and a four-down look, which always poses problems offensively."
Surprise, surprise.
Kickoff between the Cowboys (3-1, 1-0) and No. 19 Cougars (2-1) is set for 8:15 p.m. Mountain Time and the game will be televised on ESPN2.
Here are some other things you need to know about Wyoming's Week-4 meeting with BYU:
* Head coach: Kalani Sitake (7th year at BYU) 50-30 overall record
* Offensive coordinator: Aaron Roderick (2nd year); Defensive coordinator: Ilaisa Tuiaki (7th year)
* Record in 2021: 10-3 overall
* Offense in 2022: Average 32 ppg, 435 ypg (152 rush, 283 pass)
* Defense in 2022: Allow 27.3 ppg, 283.5 ypg (161.7 rush, 178.7 pass)
* Key Returners - Offense: Jaren Hall (QB - 77-112, 827 yds, 5 TD; 23 rush, 62 yds), Christopher Brooks (RB - 36 rush, 194 yds, 2 TD), Lopini Katoa (RB - 24 rush, 93 yds, TD), Chase Roberts (WR - 15 catches, 223 yds, TD), Keanu Hill (WR - 9 catches, 123 yds, TD), Kody Epps (WR - 12 catches, 99 yds, TD), Isaac Rex (TE - 5 catches, 62 yds, TD), Blake Freeland (T), Kingsley Suamataia (T)
* Key Returners - Defense: Max Tooley (LB - 26 tackles, INT, PBU, TD), Ben Bywater (LB - 23 tackles, INT, PBU, sack), Ammon Hannemann (DB - 16 tackles), Caden Haws (DL - 11 tackles, sack)
* Overview: BYU, like always, will feature a lineup filled with big, physical veteran players. Oh, and a solid QB. That's a staple in Provo. Hall could be the best signal caller the Cowboys all season. He makes plenty of plays with that right arm, but he can also scramble, rolling up 512 career-rushing yards and adding six touchdowns. A big question heading into this one is, will injured wideouts Puka Nacua and Gunner Romney suit up against the Pokes? Those two dynamic playmakers were ruled out before a Week 2 meeting with No. 9 Baylor. That duo didn't appear in last Saturday's 41-20 setback at Oregon. "They are both practicing, and it is the same old broken record (answer)," BYU offensive coordinator Aaron Roderick told the Deseret News. "I am hopeful." The Cougars will be without another offensive weapon in tight end Dallin Holker, who decided he will enter the transfer portal after snagging five balls for 38 yards against the Ducks. BYU looks just like the BYU you remember. And LaVell Edwards Stadium is just as daunting of a venue as it ever has been. UW has lost nine straight in Provo, dating back to 1987. That's 35 years if you're keeping track at home.
* Thoughts on BYU: "You know what, I think they know (the rivalry is) there. I was not completely aware. I heard some rumblings about it and different stories, and then we played the bowl game (2016 Poinsettia Bowl). I went up to Kalani and said, 'what is the deal?' I mean, so it's on. You know, I know our fans embrace it and are excited about it, but, you know, I think it'd really be counterproductive for us to dwell on all that. They know it's a big game. It's going to be a nationally televised game, Saturday night on ESPN, so there'll be a big, big audience. It's a great opportunity for us ... They are who they are. It'll be a big, big challenge. Personally, I've not been to Provo before. I understand it's a pretty electric atmosphere. So, as a coaching staff and players, we're excited about playing. We're coming off a great win against Air Force and our motto around here is 1-0 -- get focused and it's on to the next team. So this is where we're at." -- Wyoming head coach Craig Bohl
LOOK: Pokes' unis through the years