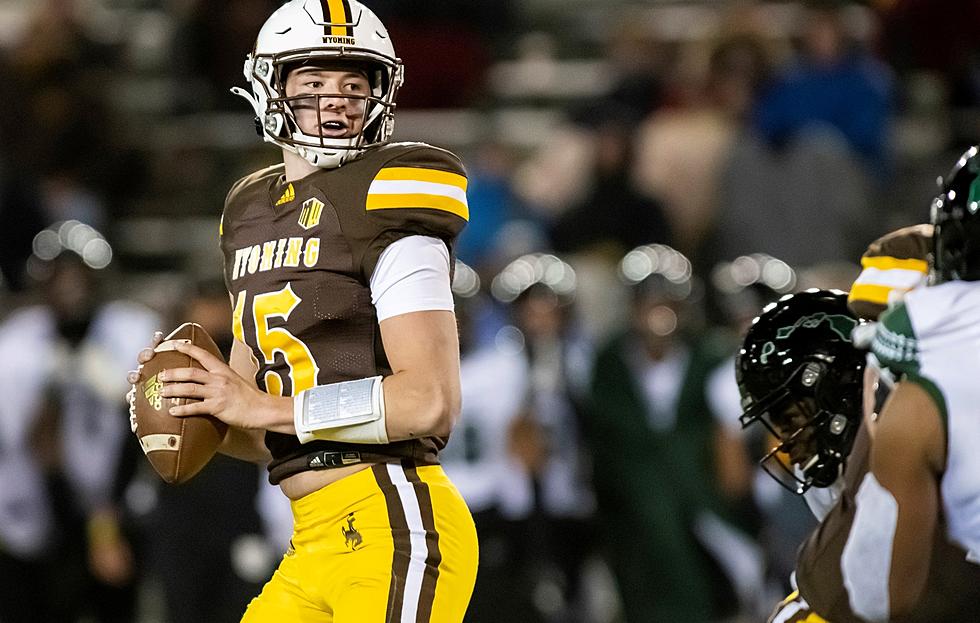 Levi Williams' smile has returned … along with his confidence
Wyoming quarterback Levi Williams admitted that his confidence waivered in 2020, but now he's back to his old self again./ UW courtesy photo
LARAMIE -- It was sunny in Laramie today.
That, admittedly was the cause of the wide grin plastered across quarterback Levi Williams' face when he met with the media Thursday evening.
That, and a good day of practice, will bring out that sort of emotion.
The freshman signal caller has become known for that smile, accompanied by his boyish looks and honest assessments of himself and his production on the field. Aside from the brutal honesty Williams showed in postgame press conferences, we didn't get to see much of spark in a virus-shortened 2020 campaign where the Texas native took the reins of the offense just four snaps into the season.
Admittedly, it was just as tough as it looked from the stands. Or better yet, television.
"To be honest with you, yeah, it did," Williams' said of losing confidence. "You know, it was a tough mental battle. And knowing, you know, what I had, I just didn't have confidence. I was like, man, I can usually make that throw like this, and I can't do that anymore. So, you know, just getting used to that."
That is an injury, one Williams sustained on a blindside sack in Week 2 against Hawaii. The blitzer came through untouched and leveled Wyoming's quarterback, driving him into the frigid, unforgiving turf.
"My shoulder was was really bad," he said. "It was out of place from Hawaii on and then it just got progressively worse. So you know, it is what it is. I played through it and I really don't regret the decision playing through it."
Williams was mum with the media about how severe the injury actually was, naturally. So was UW head coach Craig Bohl, who added doctors never thought it was serious enough to send Williams to the bench.
"He was having a hard time even moving his arm and there was some popping and cracking going on in there," Bohl said.
Because of that soreness, Williams was forced to improvise. The statistics pointed to something more than a quarterback learning on the job.
After a 321-yard passing performance on the road at Colorado State, Williams didn't complete more than eight balls in the Cowboys' final three games of the season. The low point came in the season finale when Williams was just 3-of-13 for 45 yards in a 17-9 loss to Boise State. One of those throws, a strike to Xazavian Valladay down the seam, accounted for 29 of those yards.
Williams was also sacked three times on that snowy afternoon inside War Memorial Stadium. With the Cowboys trailing by eight in the third quarter, and Williams' heels on his own goal line, he threw a pass over the middle before getting waxed by Broncos' linebacker Riley Whimpey.
Williams slowly picked himself up, brushed the snow off, and hobbled to the sideline. After another pair of unsuccessful drives, Bohl finally pulled the plug on Williams' season. Gavin Beerup finished the game under center for a second consecutive week.
Turns out, Williams also suffered a hip-pointer injury.
MORE UW FOOTBALL NEWS:
* Brian Hill inks deal with Titans
* A healthy Velzquez looking to go out on top
* Bohl: 'We're going to play a regular game'
* Titus Swen ... Wyoming's kick returner?
It was a mostly forgettable season for the guy who stepped onto center stage for his first start in the Arizona Bowl and promptly tossed three touchdowns and ran for another.
Last fall, Williams completed just under 50% of his passes. He threw for 877 yards and just a single touchdown to go along with three interceptions.
What did Williams learn about himself during the Cowboys' 2-4 campaign? I asked him that Thursday night.
"I learned that I need to control what I can control," he said. "You know, I can't do everyone's job. I can't try to fix things that someone else messed up or anything like that. So, just controlling what I can control. Having fun."
What did his head coach learn about him?
"I think maybe some of the things he did in the bowl game, we might have glossed over a little bit," Bohl said. "We really got pressed on some protection issues and accuracy. That became apparent with some decisions. I think he learned a lot. And, you know, he's continuing to learn."
Bohl said after watching tape some things became apparent when it came to Williams' confidence. There were the throws he usually makes. He wasn't. Reads in the defense that Bohl said seemed obvious, too, weren't being executed.
Williams, who said he didn't pick up a football for two weeks after the season concluded, cleared his mind with a 10-week training program. He showed up to fall camp at 240 pounds in 2020. Bohl and the weight staff thought that was too heavy. Now, Williams is around 225, he said, which has added to his mobility. He's more agile, too.
One lasting impact from a year ago, Williams said, was he developed bad habits as he adjusted to his shoulder injury. Accuracy became an issue due to comfortable arm angles. Driving the football down the field wasn't an option.
This new offensive scheme under Tim Polasek has brought added excitement. These 15 practices have served as a basic training of sorts for Williams.
"I've just focused back to the fundamentals," he said. "You know, back to taking profits, and back to being myself, which I'm excited about."
If there is one thing that stood out to Bohl in 2020, it was Williams' toughness. The stats weren't where anyone wanted them to be. The wins didn't come. It certainly wasn't for lack of trying, if you ask Williams' coach.
"He's a competitor," Bohl said. "You know, during the course of stuff, he didn't want to be complaining ... Some some guys, when they get a loose hangnail and they don't feel like they can practice and here he is trying to gut it out.
"... We appreciate his competitiveness."
There's a former NFL quarterback who thinks the sky is the limit for Williams.
Trent Dilfer, appearing on the Ryen Russillo podcast (42:24 mark) Thursday, said Williams could be one of the next great quarterbacks to catch the eyes of scouts.
"There's a kid at Wyoming -- I don't even know his name -- he split time last year," said Dilfer, who was talking about the plethora of stellar quarterback play at the college level. "He played in a bowl game after his freshman year. He's -- Josh Allen. He's 6-foot-4, 225 pounds and is a freak athlete. He can throw the ball wherever he wants. He's not super accurate right now, but he's a freak. And he's splitting time at Wyoming."
Williams and two-year starter Sean Chambers have been battling it out at the quarterback spot all spring. Bohl has said repeatedly that those two have distanced themselves from the pack. He has also said there have been some inconsistencies, especially when it comes to accuracy.
All Williams is looking for is a fair fight. One he feels like he is very much getting from Polasek and Co.
"Yeah, I do. I really do," he said. "I feel like coach Polasek is a really honest guy. He's going to play the best guy. He's going to play the hot hand. He talks about it all the time -- getting hot. So, I'm going to do everything in my power to be the best quarterback for this team to help us win a Mountain West championship."
LOOK: Historical Wyoming License Plates Since 1914