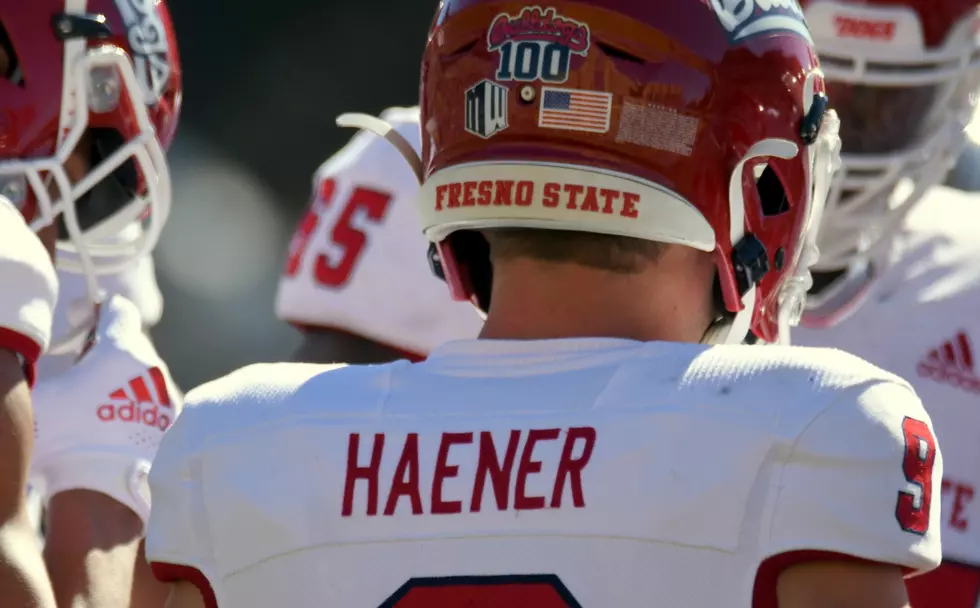 Mountain West preseason nods: How I voted
Fresno State QB Jake Haener is my selection for the Mountain West Offensive Player of the Year in 2022./ DJ Johnson photo
LAS VEGAS, Nev., -- With the ever-changing landscape of college football and unprecedented player movement, this year's preseason All-Mountain West selection process was, um, different.
Some of the options listed by the league have never even played in the league. Others, like Colorado State's Tory Horton, for instance, was a standout wide receiver at Nevada a season ago. Quarterback Chevan Cordeiro also made the intra-conference move from Hawaii to San Jose State.
Around these parts, we know all too well about the signal-caller swap between Wyoming and Utah State. Levi Williams, last season's Famous Idaho Potato Bowl MVP is now an Aggie. Andrew Peasley, Utah State's opening-day starter in 2021, is now vying for that same honor in Laramie.
Weird times indeed.
So, I did my best. Here are my preseason selections:
Quarterback
* Jake Haener - Fresno State
This one was a no-brainer. The former Washington transfer has thrown for 6,117 yards and 47 touchdowns during his two seasons in the valley. After briefly entering the NCAA Transfer Portal this offseason, Haener decided to remain at Fresno State and should be the best QB in the league this fall.
Running backs
* Titus Swen - Wyoming
* Brad Roberts - Air Force
Homer pick? Call it what you want, but I truly feel Swen is the best back in the Mountain West. The Fort Worth native averaged nearly six yards per carry in 2021 in a reserve role and showed he has a nose for the end zone, scoring seven touchdowns on the ground. Swen, standing 5-foot-11 and weighing in at 206 pounds, has a special combination of power and speed. He showed last fall he can run through you and by you. Looking at you, Utah State. Roberts rushed for 1,356 yards and scored 13 times for the Falcons. Air Force backs are known to do that from time to time. He's a good one.
Wide receivers
* Tory Horton - Colorado State
* Jalen Cropper - Fresno State
* Dante Wright - Colorado State
Jay Norvell brought a guy -- or 13 -- with him from Nevada, including Horton, who snagged 52 passes for 659 yards and five touchdowns from Carson Strong a season ago. He knows CSU's new signal caller, Clay Millen, who was a true freshman in Reno in 2021. This guy can fly and he's no longer in the shadow of Romeo Doubs. He will be the Rams' go-to guy. Cropper, Haener's top target, hauled in 85 balls for 899 yards and 11 scores last season. He could've easily been a first-teamer on this list, I just think the Rams are going to throw the ball -- a lot. Speaking of, Wright should be on the receiving end of plenty of those targets. The 5-foot-9 Florida native caught 554 yards worth of passes last year. He gets open.
Tight end
* Tanner Arkin - Colorado State
The league gave us one option to choose from at the tight end spot. It's this guy, the proud owner of one grab for nine yards a season ago. Weird, right? What we do know about Arkin is he is replacing Mackey Award winner Trey McBride. Good luck, bud.
Offensive linemen
* John Ojukwu - Boise State
* Alama Uluave - San Diego State
* Frank Crum - Wyoming
* Leif Fautanu - UNLV
* Aaron Frost - Nevada
Just trust me, these guys are all legit, but let's talk about the local guy, Crum. The 6-foot-7, 315-pound Laramie native has gotten better each season. He went from redshirting during the 2018 campaign, to making five starts the following year, all six the next (COVID-19 season) and all 13 last fall, earning an Honorable mention nod from Pro Football Focus. The big man has held down the left side of the Cowboys' offensive front, but has also carried on the long tradition of opening gaping holes for UW tailbacks. Wyoming's staff is expecting big things from Crum in 2022.
Defensive lineman
* Cade Hall - San Jose State
* Keshawn Banks - San Diego State
* Cole Godbout - Wyoming
* Villiami Fehoko - San Jose State
Once again, all the players above are deserving, and there's others, but let's focus on the Cowboys' junior nose tackle. Godbout, a Wisconsin native, tallied 70 tackles and a team-high five sacks last season. In fact, Godbout's 70 stops was the fourth most in the nation by an interior lineman. Only New Mexico's Joey Nobel, Rice's Elijah Garcia and CSU's Scott Patchen had more. Godbout was named a Second Team All-Mountain West selection by Pro Football Focus in 2021. Don't be surprised one bit to see Godbout move up a team in the postseason voting. You know, the selections that really matter.
Linebackers
* Caden McDonald - San Diego State
* Easton Gibbs - Wyoming
* Kyle Harmon - San Jose State
* Dequan Jackson - Colorado State 
If these picks were based on stats, this honor goes to Harmon all day long. San Jose State's linebacker tallied 134 tackles -- 11.1 per game -- last season. That was the third-best average in the country just ahead of a guy named Chad Muma. However, McDonald got the First-Team nod from the media and coaches. San Diego State's senior finished with 50 stops and 3.5 sacks. He led the Aztecs to the No. 12 overall defense in the nation, allowing just 324.4 yards per game. CSU's senior racked up 84 tackles and forced a fumble. Gibbs is being handed the keys to the Cowboys' defense in Laramie. He is replacing Muma, who now cashed checks signed by the Jacksonville Jaguars. That guy replaced Logan Wilson, who played in the Super Bowl last February. Gibbs is making the move to the middle and, from all accounts, that transition is going smoothly. The California kid finished the '21 campaign with 89 tackles, a pair of sacks and knocked down four passes.
Defensive backs
* JL Skinner - Boise State
* Evan Williams - Fresno State
* Jerrick Reed - New Mexico
* Patrick McMorris - San Diego State
This Boise State safety is a thumper. At 6-foot-4, 218-pounds, the senior from San Diego hammered out 92 tackles. Skinner also has a knack for stealing the football. He forced two fumbles and picked off a pair of passes. He also scooped up three fumble recoveries and batted down three passes. Williams got his hands on three picks and finished with 90 tackles en route to First Team All-Mountain West honors in 2021. Reed tallied 89 stops and snagged an interception and McMorris had four picks to go along with 90 tackles. He was also a First Teamer.
Placekicker
* Daniel Gutierrez - UNLV
The senior from Los Angeles connected on 16-of-18 field goals last season to earn All-American honors and finish as a finalist for the Lou Groza Award. UNLV's most accurate kicker has made 16 consecutive kicks and hit all 25 of his extra points. Really nice weapon for the Rebels.
Punter
* Aaron Rodriguez - New Mexico
This junior averaged 42.8 punts per game for the Lobos last fall after leading the nation with 81 punts. Rodriguez had a long of 61 and dropped 16 kicks inside opponents' 20-yard lines. New Mexico punts a lot. I'll take Rodriguez.
Punt/ kick returner
* Jordan Byrd - San Diego State
When you join Rashaad Penny in any category, let alone when it comes to the return game, you are earning this honor. Byrd is the only other returner in San Diego State history to earn First-Team All-Mountain West honors. Byrd was named to the Paul Hornung Award Watch List for the most versatile player for a second straight season. This guy is dangerous.
Offensive Player of the Year: Jake Haener - Fresno State
Defensive Player of the Year: Cade Hall - San Jose State
Special Teams Player of the Year: Jordan Byrd - San Diego State
My predicted order of finish:
Mountain Division
1. Boise State
2. Air Force
3. Utah State
4. Colorado State
5. Wyoming
6. New Mexico
West Division
1. Fresno State
2. San Diego State
3. San Jose State
4. UNLV
5. Nevada
6. Hawaii
Results were revealed Wednesday morning in Las Vegas. The only difference is the voters selected Nevada to finish one spot ahead of UNLV in the West Division.
Why did I pick the Cowboys to land No. 5 in the Mountain? One word -- unknown.
MORE UW FOOTBALL STORIES:
University of Wyoming's Top 50 Football Players
The rules are simple: What was the player's impact while in Laramie? That means NFL stats, draft status or any other accolade earned outside of UW is irrelevant when it comes to this list.
This isn't a one-man job. This task called for a panel of experts. Joining 7220's Cody Tucker are Robert Gagliardi, Jared Newland, Ryan Thorburn, and Kevin McKinney.
We all compiled our own list of 50 and let computer averages do the work. Think BCS -- only we hope this catalog is fairer.
Don't agree with a selection? Feel free to sound off on our Twitter:
@7220sports
- #Top50UWFB
- University of Wyoming's Top 50 Football Players