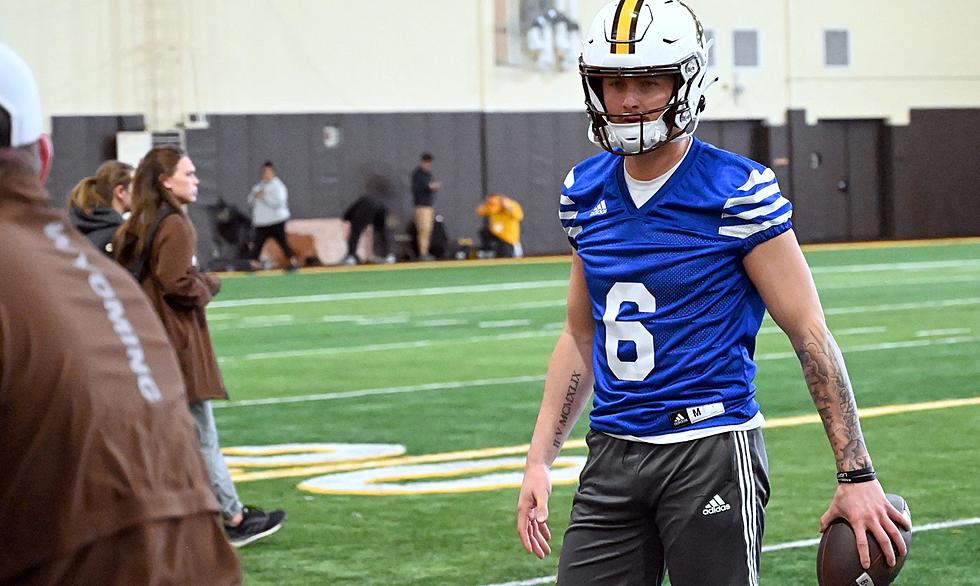 Peasley looking to bring confidence to young Wyoming roster
Wyoming QB Andrew Peasley goes through drills during the Cowboys first practice of the spring Tuesday afternoon in Laramie./ DJ Johnson photo
LARAMIE -- Got any plans Oct. 22?
Andrew Peasley does.
Wyoming's newest quarterback will welcome some old friends into War Memorial Stadium for a Saturday meeting between the Cowboys and the defending Mountain West champion Utah State Aggies.
Just another game on the schedule? Hardly.
Peasley, who inked with the Pokes back in February, was the starting signal caller in Logan last season. He played in parts of nine games, completing 54.9% of his passes while throwing for 415 yards and three touchdowns. The Oregon native also carried the ball 25 times for 161 yards and 59-yard scamper for a score in a win over North Dakota.
The 6-foot-2, 200-pound dual-threat QB entered the NCAA Transfer Portal Dec. 23. Just 21 days later, he inked with the Aggies' Mountain Division rivals.
"It definitely won't just be a football game," Peasley said moments after wrapping up his first spring practice in a UW uniform. "There's going to be some emotion for me, and, you know, other players -- obviously. It's going to be a good time."
"Other players" is code word for Levi Williams, Wyoming's former quarterback who bolted for Logan after rushing for a bowl-record 200 yards and four touchdowns in a 52-38 rout of Kent State last December inside Albertsons Stadium in Boise.
Is this situation, you know, awkward?
Peasley says no. In fact, he leaned on Williams to find out what kind of situation he was walking into in Laramie.
"We talked on the phone a little bit when I was going through the recruiting process," he said with a smile. "You know, he said really good things. He just wanted a different environment and that's what he got. That's what I wanted."
MORE UW FOOTBALL COVERAGE:
* Wyoming safety TJ Urban leaves practice with knee injury
* By the numbers: Wyoming football jerseys
* Trey Smith: 'I got a chance to live out my dream'
* 5 burning questions ahead of Wyoming's spring season
Peasley attempted just two passes in a late November meeting as the Williams-led Cowboys stunned Utah State 44-17 inside Maverik Stadium. Williams connected on 12-of-15 throws for 242 yards and a pair of touchdowns in the win.
Peasley tossed an interception into the awaiting arms of UW safety Isaac White.
He's been on the other side of this rivalry for the previous four years. He has held Jim Bridger's Rifle. He witnessed the Cowboys' players snag the coveted traveling trophy, too.
Just how weird has this transition been for Peasley?
"I was a little nervous at first," he admitted. "Maybe they'd be like, 'Oh, he's from the Aggies. Screw this guy.' Everyone has been super welcoming. I came here for a reason, and that's to win. That's all I wanted, so I'm here now.
"... I'm starting to fall in love with it and I'm having a great time."
Who will UW's starting quarterback be when the team kicks off the 2022 campaign against Illinois Aug. 27 in Champaign? That's what everyone wants to know.
Wyoming head coach Craig Bohl won't be naming that guy anytime soon, adding Tuesday that the two new arrivals -- Peasley and Evan Svoboada -- have plenty of work ahead of them, learning a pro-style offense and taking snaps from under center.
Peasley insists he's not worried about job status. Not yet, anyway.
"That's not really what I'm focused on, honestly," he said. "Hank (Gibbs) and I look at this as competition. You know, we looked at each other yesterday and I just nodded. I told him, 'we make everyone else better and we make each other better.' That's kind of what the QB position does. If the QB's don't get along, how's the team going to get along?
"So, I just kind of told him that and he agreed. We're just ready to compete."
His focus instead, Peasley said, is working on accuracy and timing. He can run. You don't need to comb through much tape to figure that out. The junior can also toss the long ball.
He completed a 72-yard touchdown pass to Deven Thompkins late in the fourth quarter of a 49-45 victory inside Falcon Stadium last September. Peasley finished 10-of-15 for 195 yards and three touchdown strikes in that back-and-forth affair.
He also connected on a pair of 45-yarders in wins over Washington State and Hawaii.
Peasley said another goal is to instill confidence to this young team, one that underachieved with a veteran roster a season ago, finishing 7-6 overall.
Maybe a little swagger, if you will.
"We could do better, but It's like, you have to act like it," he said. "You have to be about it all the time. If I can't carry myself like that then they can't either."
University of Wyoming's Top 50 Football Players
The rules are simple: What was the player's impact while in Laramie? That means NFL stats, draft status or any other accolade earned outside of UW is irrelevant when it comes to this list.
This isn't a one-man job. This task called for a panel of experts. Joining 7220's Cody Tucker are Robert Gagliardi, Jared Newland, Ryan Thorburn, and Kevin McKinney.
We all compiled our own list of 50 and let computer averages do the work. Think BCS -- only we hope this catalog is fairer.
Don't agree with a selection? Feel free to sound off on our Twitter:
@7220sports
- #Top50UWFB
- University of Wyoming's Top 50 Football Players