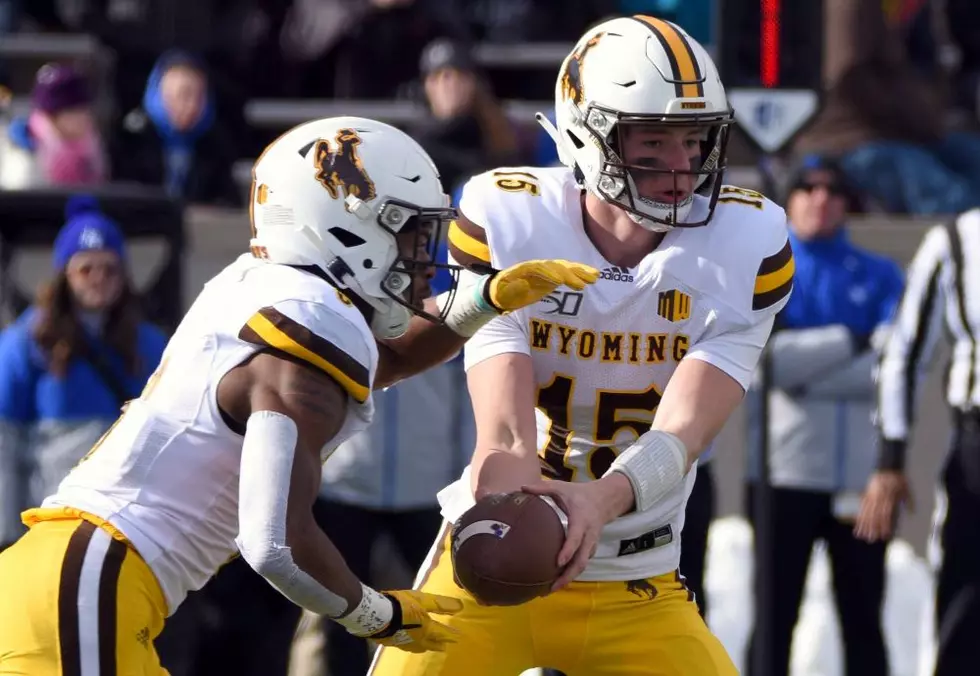 Pokes, Longhorns set to battle in 2023
LeviAFcropUSE
LARAMIE -- Wyoming needed to land a non-conference road game in 2023.
Thursday, the school did just that.
The Cowboys will travel to Austin, Texas, Saturday Sept. 16 to take on the Texas Longhorns of the Big XII Conference.
This will be the sixth time in program history that these two schools meet. The Longhorns have won the previous five meetings. Wyoming played at Darrell K Royal Stadium back in 2012, falling to the home team, 37-17.
Colt McCoy and the 'Horns came to Laramie in 2009.
The first meeting between the two came back in 1974. Fritz Shurmur's Cowboys fell to Royal's Longhorns, 34-7.
Series history:
1974: Texas 34, Wyoming 7
1978: Texas 17, Wyoming 3
2009: Texas 41, Wyoming 10
2010: Texas 34, Wyoming 7
2012: Texas 37, Wyoming 17
Wyoming will open the 2023 campaign with another Big XII school from the Lone Star State. The Texas Tech Red Raiders will pay a visit to War Memorial Stadium in the season opener, Sept. 2.
Extra Points
The Cowboys' 2019 recruiting class featured seven Texas players, including quarterback Levi Williams (Canyon Lake) and running back, Titus Swen (Fort Worth). Currently, nine players on the roster come from Texas. Two players from the early signing day are also from Texas, cornerback Cameron Stone (Rosharon) and defensive end, Oluwaseyi Omotosho (Houston).
Before the 2010 meeting in Austin, the Showband of the Southwest, the marching band at the University of Texas, lined up for its typical pregame show.
A familiar tune rang out -- "Ragtime Cowboy Joe."
The home band played Wyoming's fight song as a photo illuminated on the jumbo tron. It was a photo of Ruben Narcisse, a freshman linebacker, who was killed in a car accident four days prior.
It's hard not to think about former Wyoming and Texas coach, Fred Akers, when these two teams get together.
Akers coached in Laramie from 1975-76 before accepting the same position in Austin. Akers' Pokes finished 2-9 during his first season. The following year, they won the conference and played in the Fiesta Bowl. In 2016, that 1976 squad was inducted into the Wyoming Athletics Hall of Fame.
Akers went on to coach at Texas from 1977-86. He went 60-19-1 in Austin, including three trips to the Cotton Bowl. He also coached a guy named Earl Campbell, who went on to win the school's first Heisman Trophy in 1977.
You can find the rest of the Cowboys' future football schedules right HERE.
Cody Tucker talks future football schedules in Roaring Repeater: Episode 14