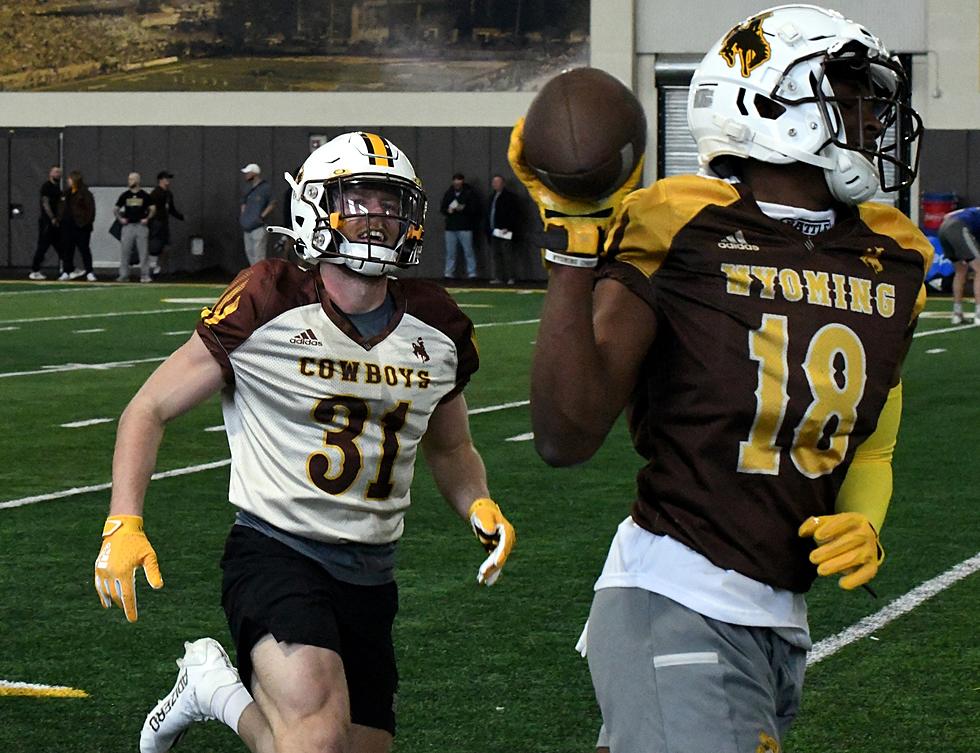 Pokes Practice Report: Bohl not 'completely happy' with Thursday's outing
Tyrese Grant (No. 18) runs away from Wyett Ekeler during a punt return drill Tuesday afternoon in Laramie./ DJ Johnson photo
LARAMIE -- Wyoming players tossed on full pads last weekend. Thursday night, the real hitting began.
Well, sort of.
Craig Bohl joked that practice sounded more like a bunch of guys running into each other with pillows on than actually blasting one another at the point of attack. But before passing too harsh a judgement, Bohl said he wants to review the film.
"I wasn't real pleased with that," UW's ninth-year head coach said. "Sometimes the tape is not as bad as you thought or sometimes not as good."
As far as the quarterback battle, Bohl said it was hit or miss. Mostly the latter.
"There were some good things and some bad things. There were some errant throws today that I wasn't pleased with. We were missing some long balls," he said. "So, we didn't make as much progress as what I'd like.
"Overall, the head ball coach wasn't completely happy with the day, but not every day is going to be a chamber of commerce day out there."
Here are some other tidbits from today's practice inside the indoor practice facility.
* Isaac White, the Cowboys sophomore free safety, left practice Thursday with a hamstring injury. Bohl said he expects the Colorado product to miss the rest of the spring season. Wide receiver Joshua Cobbs also didn't make it through practice after sustaining a "slight calf pull," per Bohl. "Losing Isaac is going to put us back some," Bohl said. "Like I said, I'm going to anticipate -- I don't want to be negative here -- but it's just my experience with that injury, he's probably going to miss several weeks." Fullback Caleb Driskill is still sidelined with a hamstring injury and running back Dawaiian McNeely has also been held out of practice (hip).
* Hank Gibbs in the hunt for starting QB job in Laramie
* Pokes bust out the pads for Week 2 of spring practice
* Gibbs next man up at 'coveted' middle linebacker spot
* Pokes Practice Report: Youngsters beginning to emerge
* Miles Williams has been impressing the staff so far this spring. One of just four listed seniors on this roster, Williams has been manning the free safety spot alongside White. In a limited role last fall, the Oxnard, Calif., product registered five tackles and picked off a pass in a road victory over Northern Illinois.
* Though Cobbs didn't complete Thursday's workout, Bohl said the 6-foot-4, 196-pound San Antonio native has become a vocal leader. UW's head coach also pointed out Cobbs' intensity. "He's a harsh critic of himself, though, which some guys are," he said. "When something doesn't go right, or if for some reason he doesn't make a great contested catch, we have to pump him up a little bit. I'd rather see that than a guy that would just blow it off." Cobbs caught 25 passes for 245 yards and a touchdown in 2021.
* Who will play outside linebacker next to Easton Gibbs this fall? Bohl said that is to be determined though Connor Shay and Shae Suiaunoa seem to be the frontrunners.
*  Michigan State transfer Cole DeMarzo is another guy battling for a linebacker spot. Bohl, who gave a game ball to freshman linebacker Nic Talich on Tuesday for snagging a pick six, said DeMarzo almost earned that honor today. Almost. "He had a good play today, but there were no game balls that were posted today," Bohl said with a smile. "He came close, but he didn't quite make it."
* Make sure to download our free 7220sports.com mobile app for all the latest up-to-the-minute University of Wyoming sports news. It's available on Apple and Android. You can also sign up for our daily newsletter right HERE.
* Make sure to follow us on Facebook and Twitter @7220sports
* The Cowboys annual spring game is scheduled for April 30 at 2 p.m. inside War Memorial Stadium.
UW vs. NIU September 11, 2021