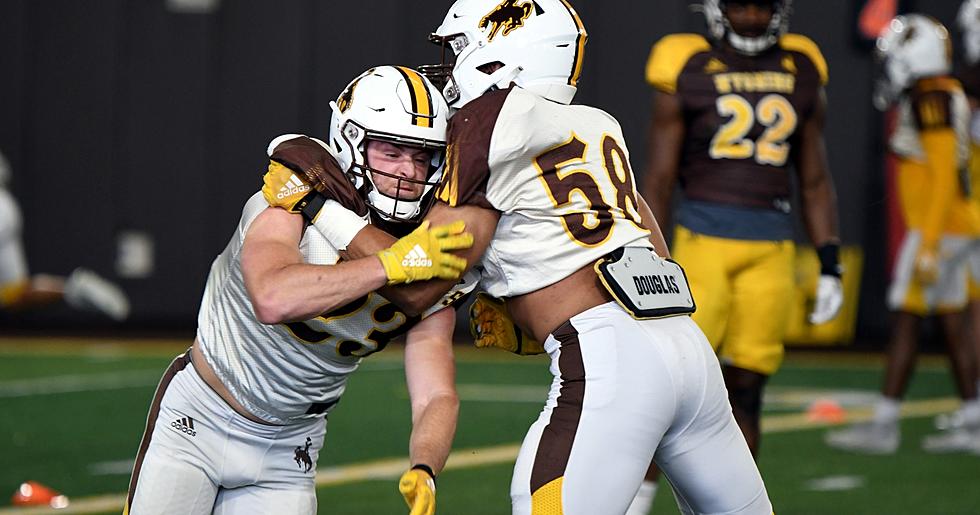 Pokes Practice Report: Youngsters starting to emerge
Wyoming safety Wrook Brown (from left) takes on linebacker Micah Young during a special teams drill Tuesday night in Laramie./ DJ Johnson photo
LARAMIE -- A 94 mile per hour wind gust was recorded today just 43 miles west of Laramie.
It wasn't all that bad in the Gem City though. It only hit 46.1, also known as gale force.
"If the wind would ever stop around here, I think everybody would fall down," Wyoming head coach Craig Bohl joked. "So, we went inside and we got some good things done."
There were many reasons Bohl conducted business inside the indoor practice facility today, one being his evolving passing game, a category that hasn't exactly been a strength for his program since 2016. You might recall who was under center that season.
The Cowboys ranked 117th in the nation in passing offense a season ago, averaging just 162.7 yards per outing. Twice, Levi Williams and Sean Chambers failed to hit the century mark in a game.
The wind blew harder in Arlington today than the amount of yards that were racked up through the air against New Mexico and Colorado State.
Andrew Peasley, the incoming QB transfer from Utah State, and Hank Gibbs, the redshirt freshman from Fayetteville, Ark., feel like this could be their job to lose. Bohl, however, pointed out the performance of Evan Svoboda on this day.
"He's still in a learning process, but he really has an unbelievably strong arm," he said of the 6-foot-5, 240-pound Snow College (Utah) transfer. "We have to keep moving him along. He's a ways away from from the other guys, but he does have some pretty good ability."
Here are some other tidbits from today's practice:
* On the injury front, Bohl said defensive tackle JJ Uphold has an "issue with his shoulder" after being involved in a serious car accident. The 6-foot-5, 295-pound redshirt freshman is a three-star recruit from Bakersfield, Calif. UW was in full pads today but Bohl said he will start integrating full contact Thursday.
* Practice game ball? Yes, Bohl said that is a thing. Today, that honor went to redshirt freshman linebacker Nic Talich, son of former Wyoming standout, Jim Talich. "He got a pick six, the ol' Cody Bronc," Bohl said with a smile. "Everybody jumped up and down. They were excited about that."
* Bohl once again brought up the camp the Cowboys young defensive ends are having, specifically pointing out the performance of sophomore Sabastian Harsh. "He's really got some movement that is hard to coach," he said about the 6-foot-3, 237-pound Scottsbluff, Neb., product. "You saw that with him covering kickoffs last fall and it's starting to transition with the defensive end position."
* Titus Swen averaged 5.9 yards per carry last fall. Bohl thinks he could be even better in 2022. "He is really improving his game as a running back," he said of the junior from Ft. Worth, Texas. "Last year, as you guys know, his yards per carry was exceptional, particularly yards after contact. He's becoming more of a complete back and some of the things that we are asking him to do, whether it be pass protection or things in route running, I think he's really taking ownership of that." Swen rushed the ball 132 times for 785 yards and a team-high seven touchdowns in '21.
* The outside linebacker spot -- like so many across the board -- is up for grabs. Bohl said Shae Suiaunoa and Connor Shay are "scrapping it out" but the staff will continue to look at that spot. Michigan State transfer Cole DeMarzo is another name to keep an eye on. Old habits apparently die hard. Though Easton Gibbs has made the move to the middle, Bohl joked that he lined up in the wrong spot today at practice.
* Wide receivers wanted. Bohl said Joshua Cobbs has taken a vocal leadership role in the wide out room, but is in hopes that others start to emerge. "I think by committee," he said. "We're going to need to have guys that run precise routes. We're going to raise the bar as far as what we're doing in the passing game ... That whole group, we got to have better play and more production out of."
MORE UW FOOTBALL NEWS:
* Wyoming's DQ James ready to 'break ankles' on Saturdays
* Wilson on Muma: 'He can definitely play at that level'
* LOOK: Pads popping in snowy Laradise
* Peasley looking to bring confidence to young Wyoming roster
* Cole Godbout has put together quite the career in Laramie. Last fall, the junior nose tackle tallied 70 tackles, which ranked him third on the team behind only Gibbs (89) and Chad Muma (142). "He's one of these guys that has owned his work," Bohl said about the 6-foot-4, 285-pound Wisconsin native. "When you watch him, you're looking for this quick twitch kind of movement like a water moccasin. That's not exactly the case, but he has been productive and he's done a really good job leading." Bohl said when the UW defense has been at its best over his eight-year tenure, it has all started up front. He's not ready to put Godbout in the "wreck shop" category, but added all the guy does is make plays.
* Speaking of the defensive front. Will Ravontae Holt ever play football again in Laramie? The senior has suffered three season-ending ACL tears. Twice he's come back. He's currently working on a third, though Bohl admitted he needs to have a serious conversation about the future with the big tackle. "I know he wants to play again," Bohl said. "It'll be interesting."
* I asked UW cornerbacks coach Benny Boyd if the new guys -- Jakorey Hawkins and Deron Harrell -- are frontrunners for the starting gigs this fall. In short, he's pleased with the Ole Miss and Wisconsin transfers, but said the No. 1 job, as of right now, belongs to young Cameron Stone. "Cam Stone is the leader in the room," he said emphatically. That's good news for a position that has struggled to find depth over the last three seasons.
* Make sure to download our free 7220sports.com mobile app for all the latest up-to-the-minute University of Wyoming sports news. It's available on Apple and Android. You can also sign up for our daily newsletter right HERE.
* Make sure to follow us on Facebook and Twitter @7220sports
* The Cowboys annual spring game is scheduled for April 30 at 2 p.m. inside War Memorial Stadium.
Wyoming Spring Football