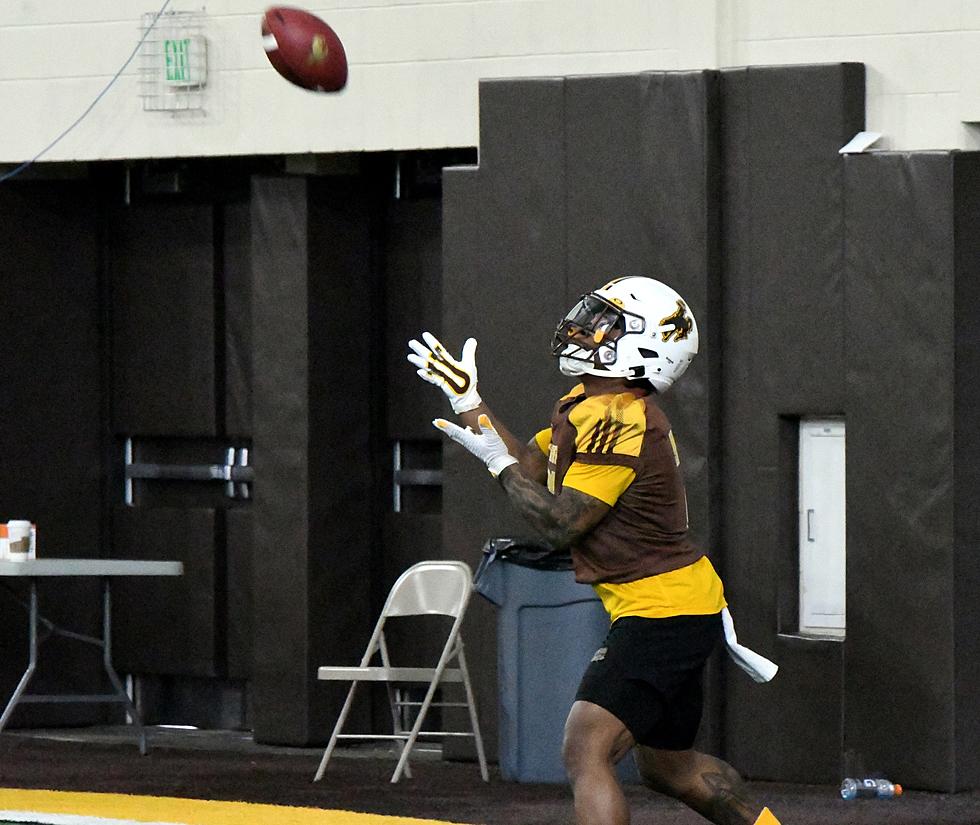 Wyoming's DQ James ready to 'break ankles' on Saturdays
Speedster DQ James hauls in a punt at the start of practice Tuesday inside the indoor practice facility./ DJ Johnson photo
LARAMIE -- Garrett Crall paused. He was looking for a way to sugarcoat it.
He just couldn't.
"He has broken everyone's ankles," he said bluntly, adding a grin as he spoke about running back DQ James.
Admittedly, Crall didn't know much about the 5-foot-7, 172-pound freshman last season. He was on the other practice field, taking reps with the backups. Crall, a super senior defensive end, was fully entrenched in the starting lineup. Aside from getting to quarterbacks, it was his job to shut down runners named Xazavian Valladay, Titus Swen, Trey Smith and Dawaiian McNeely.
He didn't know much about James initially, but early in fall camp, he got an embarrassing introduction.
"We go to the first fall camp scrimmage and the first play they put them out there," Crall recalled. "I was like, 'what?' So they do a fake one way and just have DQ sprint the other way. They flick it to him and I was over there. I go running after him and I think, 'how do I tackle him?' So I didn't really tackle and then he just goes boom and jumps. I looked like an idiot. He sidestepped me and got past me."
The film -- and his teammates -- weren't kind to Crall.
"Everyone kind of gave me crap," he joked. "And then every one of those SOB's missed him at some point during the season. Even Chad (Muma), (Esaias) Gandy -- every one of us. He got every one of us."
Crall, along with six other Wyoming seniors, were in Laramie last week to get measured and take part in drills for NFL scouts from 29 teams at the school's annual pro day.
Worrying about tackling James is now a thing of the past.
MORE UW FOOTBALL NEWS:
* Senseless tragedy, doubters motivate Wyoming's DQ James
* Wilson on Muma: 'He can definitely play at that level'
* Pokes Practice Report: Spring depth chart? Not likely
* Peasley looking to bring confidence to young Wyoming roster
Smith spent last season in the running back room with James. He said aside from his break-neck speed and shiftiness, the Texas product also has a grasp of the Cowboys' pro-style offense. That, according to Smith, makes him even more dangerous.
"He's so explosive in the hole," said Smith, who also just completed a workout for NFL personnel. "I was able to watch his game and take some of his game and implement it into mine.
"It's just a nice time to watch young guys come up."
Jordon Vaughn is another redshirt freshman, who like James, is hoping to steal some carries this season behind Swen and McNeely. While Vaughn is the prototypical power back, standing 6-foot-2 and weighing 230 pounds, James likes to emulate his favorite rusher of all time, Barry Sanders.
"If he's not the fastest, he's one of the fastest players on the team," Vaughn said. "He's breaking everyone's ankles on defense. You can't do anything but laugh and cheer for him."
What James lacks in stature, he more than makes up in personality.
When asked if he might return kicks this season, a wide smile creased his face followed by his right pointer finger touching his lips.
"That's a secret," he said with a laugh.
Something that is no longer confidential is the legend he is building on the practice fields in Laramie.
"It feels amazing, I'm not going to lie to you," he said when asked about juking some of the top tacklers in the Mountain West. "It shows that hard work really pays off. It gives you an opportunity to play at the next level."
Wyoming head coach Craig Bohl also lauded James' speed and sudden change of direction, but he isn't committing to a returner anytime soon.
James, a former Hawaii commit, said starting at any position, though that's the goal, is not a top priority right now.
Patience.
That's one trait he took from Valladay and Smith.
Patience.
That's something he had to put into action after not seeing the field one time last fall despite being told he could see the ball in the Famous Idaho Potato Bowl.
It was a tough learning lesson, he added, but one that just made him more hungry. He joked that he wants to score three-to-four touchdowns and average 100 yards per game this season. Those are lofty goals with the stable of capable running backs in this program. If that doesn't happen, James said he will lean on that one word again -- patience.
"Actually, I learned to stay dedicated, stay patient and listen to your elders because they know more than you do," he said of the veteran backs. "They've been through a lot. They tell you that you can't go fast, you have to slow it down. I learned a lot, though. To just take my time."
Wyoming Spring Football