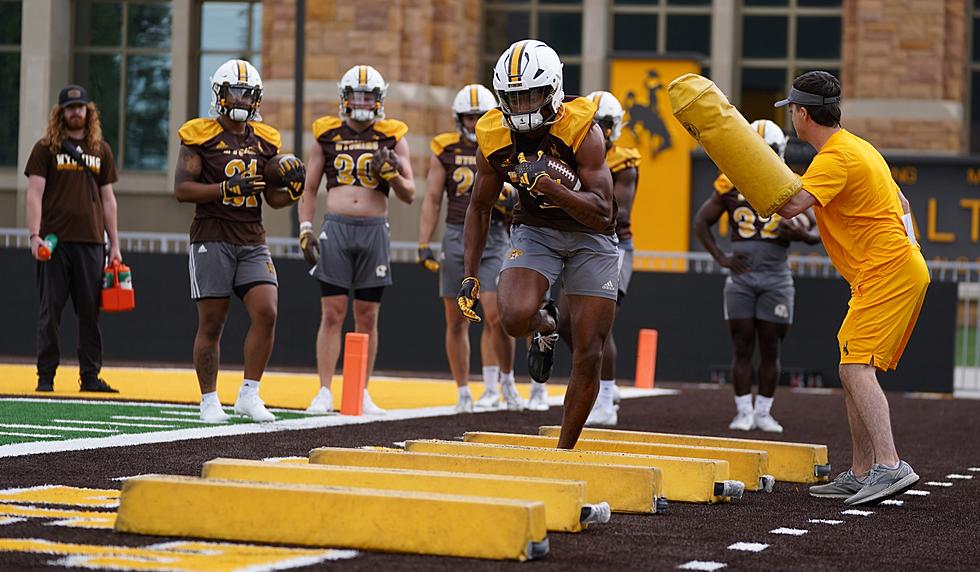 Pokes Practice Report: Hello, My Name is …
Wyoming running back Dawaiian McNeely competes in a drill during the Cowboys first practice of the fall Wednesday afternoon in Laramie./ UW courtesy photo
LARAMIE -- Craig Bohl isn't busting out the athletic tape and Sharpie quite yet.
The 65-year-old did admit, however, getting to know 118 players, many of them new faces, can be a challenge. Following the first day of fall camp in Laramie, Wyoming's head coach smiled, paused and pulled a folded up piece of paper out of his left back pocket.
A cheat sheet, if you will.
"Every day our equipment guy gives me a roster," Bohl said. "When you see me out there looking (at this piece of paper), I go up and can tell the guy's name."
Bohl said he was heading to the lunch room at the conclusion of his press conference. There, he chats with players and gets to know them on a more personal level. After the 2021 season, double-digit numbers walked off his roster and into the NCAA Transfer Portal. Many of those were starters.
One of the loudest complaints on the way out the door was the lack of a relationship with their head coach.
That's a thing of the past.
"That is a challenge as a head coach," he said of getting to know everyone on the team. "That's one of the things that I have missed about being a coordinator or a linebacker coach is just your contact ... It's hard and particularly when you are a freshmen and you walk down the hall and and every once in a while -- I've got a sheet of paper with all their pictures and everything else on there -- but names do count. They are important as opposed to 'Hey, 56.' You know, it doesn't make you feel real good."
MORE UW FOOTBALL NEWS VIA 7220SPORTS:
* Scouring some changes on the Cowboys '23 roster
* Ethan Drewes no longer with the Wyoming football program
* Wyoming football kicks off fall camp Wednesday in Laramie
* Preseason recognition continues to roll in for Easton Gibbs
* Jordan Bertagnole Named to the 2023 Outland Trophy Watch List
* Missed opportunity fuels Wyoming RB LJ Richardson
* Wyoming center Fia Tulafono has said goodbye to the fries
* Wyoming's Kolbey Taylor has a brand new mentality in '23
* How long does Craig Bohl plan to coach at Wyoming?
* PODCAST: What we learned at MW Media Days 
* Harrison Waylee to miss 'first couple games' due to injury
* Wyoming releases first depth chart of 2023 season
Bohl isn't putting names on the back of jerseys anytime soon. Sounds like the same can be said for names on the front of helmets in training camp.
Here are some other news and notes from the Cowboys' first practice of fall camp:
* What happens if John Hoyland gets injured? Wyoming's placekicker, who Wednesday was named to the Lou Groza Watch List, has not missed a game since he was called up on an emergency basis in the 2020 opener in Reno. Since then, the now junior has connected on 45-of-53 field goals. What if the worst-case scenario happens? "Yeah, there's a player to be named off of waivers," Bohl joked. "That's coming." There are currently no other kickers listed on the Cowboys' 2023 roster.
* Bohl started off his press conference today by saying his team "looks more mature." The Cowboys were the third-youngest team in the FBS a season ago. Now, it is one of the oldest. Wyoming returns 17-of-24 starters this season, including 10 on defense. It shows. "I'm encouraged by what I've seen," Bohl said. "I think our strength-and-conditioning staff has done a really good job over the course of the summer. And then, you know, we've added more resources in nutrition. We just look better on the hoof, so I'm encouraged about that. It's a good place to start."
* What are some observations Bohl had Wednesday? Andrew Peasley has some added zip on his passes. He said the graduate quarterback put on some weight in the offseason. Peasley also will play this season without the bulky black knee brace that was on his right leg. Dawaiian McNeely, who was listed as the No. 1 running back on UW's initial depth chart, also impressed, Bohl added. Same goes for the defensive front, though Bohl said they are looking for a fourth guy in the middle and on the edge.
* Bohl said he was "particularly pleased" with transfers Ayir Asante (Holy Cross) and Devin Boddie Jr. (Vanderbilt). Those two receivers were not here for spring camp, instead opting to stay at their original schools in order to graduate on time. Bohl said that was an agreement he made and stands by, but since June it has been a cram session for these two to get up to speed with the offense. "I was cautiously optimistic about what they would add today," he said. "Both of them are intelligent, and that's encouraging because they've been able to translate that intelligence to more execution with the playbook."
* Junior running back Jamari Ferrell was another name Bohl mentioned Wednesday. The 5-foot-8, 190-pound transfer from Saddleback Community College (Calif.) was a late addition to the roster. Ferrell led his team in rushing, rolling up 453 yards on 101 carries in nine games. He also added three rushing touchdowns while averaging 4.5 yards per carry. He was named First Team All-National Division for the Southern League as an all-purpose back. Ferrell was teammates with tight end Colin O'Brien and safety Brenndan Warady at Mission Viejo High School.
* Bohl said the energy and enthusiasm Wednesday is what he has come to expect during his four decades of coaching. He added guys were "amped up," but said the real test comes after practice No. 14 or 15. "We did talk about that in our team meeting today though about being a good teammate and encouraging one another to be able to push through that. But there was a lot of camaraderie today. Guys were taking care of themselves. They competed hard, but they were not individual acts."
* We ask the same question around this time every year: Will any true freshman play this fall? Some years Bohl answers that question, names and all. Not this time around. It's all about a position of need, he said, and right now those positions could be at cornerback and in the defensive trenches.
* Deron Harrell was not at practice today. Bohl said the senior cornerback is still rehabbing at home in Denver after an offseason hip surgery that the coach called "pretty significant." Harrell is listed as a starter on the Cowboys' first depth chart of the season.
* Quarterbacks Carson May and Kaden Anderson won't play this fall, but both were on the practice fields Wednesday in Laramie. May, an Iowa transfer, is not eligible in 2023 because he spent a semester at Coffeyville Community College (Kan.). Anderson is still recovering from offseason ACL surgery and took part in individual passing drills. Bohl is high on both, but said Anderson has used his time in Laramie to dive into the playbook. "The future looks extremely bright for him," he said.
* Wyoming practiced both inside War Memorial Stadium and the indoor practice facility Wednesday morning. Bohl was asked about the new turf on Jonah Field, which was just completed last week. "Well, it's pretty impressive," he said. "My back's doing a little bit better than it normally does."
* The Cowboys will be back at it Thursday morning at 9:20 a.m. All practices are closed to the public and media.
University of Wyoming's Top 50 Football Players
The rules are simple: What was the player's impact while in Laramie? That means NFL stats, draft status or any other accolade earned outside of UW is irrelevant when it comes to this list.
This isn't a one-man job. This task called for a panel of experts. Joining 7220's Cody Tucker are Robert Gagliardi, Jared Newland, Ryan Thorburn, and Kevin McKinney.
We all compiled our own list of 50 and let computer averages do the work. Think BCS -- only we hope this catalog is fairer.
Don't agree with a selection? Feel free to sound off on our Twitter:
@7220sports
- #Top50UWFB
- University of Wyoming's Top 50 Football Players