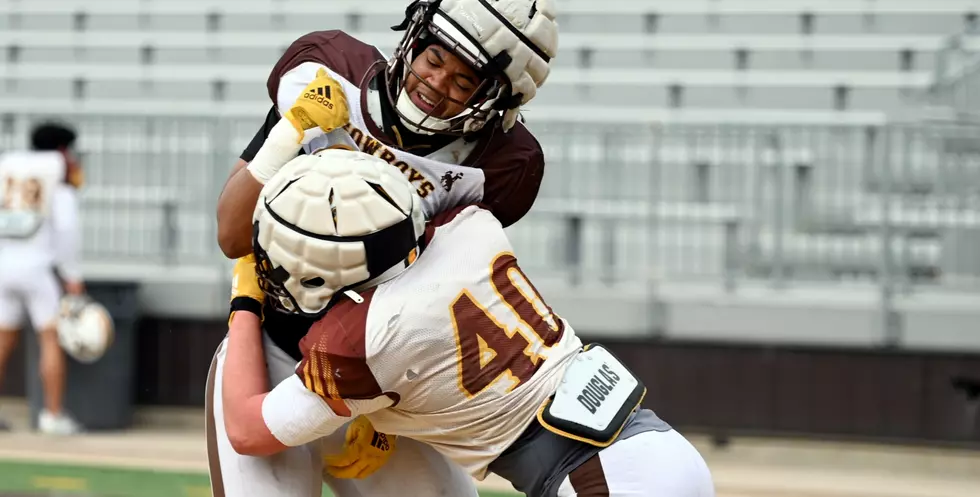 Pokes Practice Report: White and Gold game?
Redshirt freshman defensive end Tyce Westland (No. 40) goes through a tackling drill Tuesday afternoon inside War Memorial Stadium./ DJ Johnson photo
LARAMIE -- There's going to be a brown team and a gold team Saturday afternoon inside War Memorial Stadium.
Just don't expect to see a team in brown jerseys.
"We're going to blame it on COVID," Craig Bohl joked Thursday afternoon in Laramie. "We have brown jerseys, we couldn't get them back in time."
One team will sport the gold tops the Cowboys busted out in the 2021 season opener against Montana State. The other, all white.
"We look like Missouri," UW's ninth-year head coach continued. "... I don't want any cat calling from the peanut gallery afterwards about what the hell's going on."
MORE UW FOOTBALL COVERAGE:
* Wyoming's Gavin Beerup now in at ... wide receiver?
* Pokes Practice Report: Force feeding with a fire hose
* Bertagnole: 'My mindset is to just keep my motor going'
* Frank Crum relishes new leadership role
The roster -- and coaching staff -- has been split up for Wyoming's annual spring game. Like last year, Bohl said, he is allowing each team to come up with one trick play. "Midnight rider," a trick play run last May by first-year offensive coordinator Tim Polasek, was not a popular one. You might remember that was an attempted reverse pass to 6-foot-6, 313-pound offensive tackle Alonzo Velazquez.
Keyword: attempted. It was ugly.
"The guys have some fun," Bohl said.
Here are some other news and notes from this week at camp:
* Bohl is starting to sound like a broken record at these bi-weekly press conferences. And that's not necessarily a bad thing. Once again, he talked about the emergence of a young defensive ends unit led by Sabastian Harsh. The battle for the punting job between incumbent Ralph Fawaz and Clayton Stewart has been a heated one. DQ James has been up to his old tricks, breaking ankles in practice and scrimmages. The 5-foot-7 running back should see plenty of work Saturday.
* Ever notice that no player has worn the No. 1 jersey during Bohl's tenure in Laramie? Titus Swen told me Tuesday that was his desired number. He ended up with No. 2. Why? Well, you know by now how the head man rolls. "No, I don't want anyone to be No. 1," he said. "You're part of a team. We have no names on the back of our jerseys and we have no No. 1." Swen had a pretty solid reason for wanting that digit. He was born on Jan. 1, 2001 (1/1/01).
* Speaking of James. He doesn't really fit the typical UW running back profile. His size, however, adds another unique element to a proven backfield. Position coach Gordie Haug said the staff tries to recruit different types of backs. James is definitely different. "We looked and said, 'is he a tough guy? Is he going to be able to have an extra gear that maybe we don't have?' He checked off those boxes," Bohl said of the shifty redshirt freshman from Lancaster, Texas. "He was a guy in Saturday's scrimmage that made a whole bunch of plays."
* What position group is the head coach most eager to watch Saturday? That's an easy one. "I'm excited to see our quarterbacks play," Bohl said. "You know, they've made progress." Andrew Peasley, the Utah State transfer with 16-career FBS games under his belt, has caught on to the playbook quickly. Bohl also said Snow College transfer Evan Svoboda has been impressive.
* Nofoafia "Fia" Tulafono, a sophomore from Victorville, Calif., has slid from the guard to the center spot this spring. Bohl said he's been "pretty good." Standing 6-foot-2 and weighing in at 325 pounds, Tulafono will be attempting to step in for former Freshman All-American Keegan Cryder, who decided to declare for the NFL Draft this offseason.
* Wyoming currently has 18 players on its roster who hail from the Lone Star State. Big names, too. Swen, Joshua Cobbs, Cam Stone and plenty of others. Bohl and Co. have had recent success in Texas. He thinks this is just the beginning. "What we have found is our brand in the state of Texas is well received by high school coaches," he said. "Much more so than I thought. I think some of it is, some players in Texas are used to seeing pickups and cowboy boots, and the lure of playing in the west where there aren't urban cowboys but real cowboys. It's kind of been a great match." There's another reason, too -- Oscar Giles. "I don't know if there's a high school in the state of Texas that if Oscar walked in, they're not going to know who Oscar Giles is," Bohl said of UW's new defensive tackles coach. "So, I think that's going to help us also."
* Bohl isn't totally clear which players will miss Saturday's game due to injury. Safety TJ Urban, an Air Force transfer, was lost for the season with a torn ACL in the opening minutes of the first practice of the spring. Fellow safety Isaac White, Bohl said, won't play either. Buck Coors, a redshirt freshman from Loveland, Colo., suffered a broken arm and also won't suit up. Bohl has said that linebacker Easton Gibbs and Swen will be limited, too. That is strictly for preservation purposes.
* Make sure to download our free 7220sports.com mobile app for all the latest up-to-the-minute University of Wyoming sports news. It's available on Apple and Android. You can also sign up for our daily newsletter right HERE.
* Make sure to follow us on Facebook and Twitter @7220sports
* The Cowboys annual spring game is scheduled for Saturday, April 30 at 2 p.m. inside War Memorial Stadium. There will be no online streaming or television for the game.
UW vs. NIU September 11, 2021