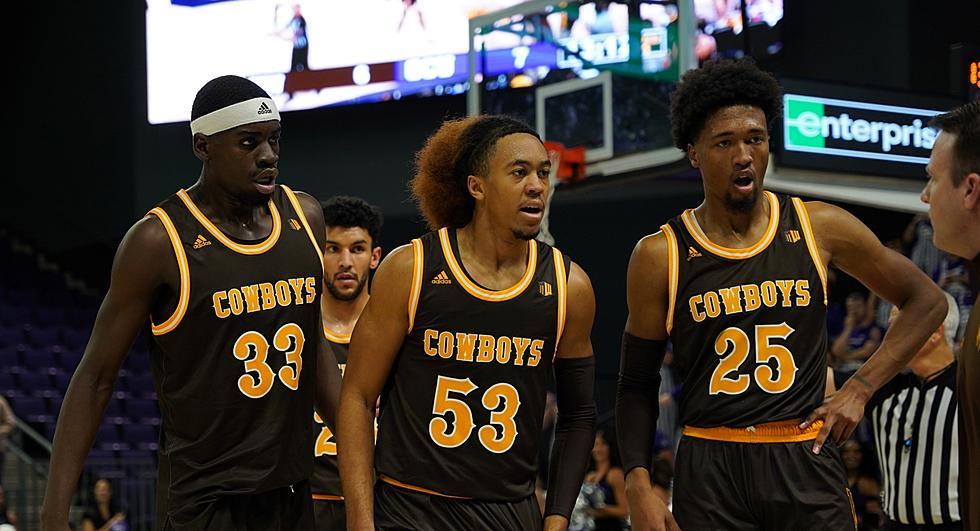 Quick takes: Pokes deliver knock-out punch late, move to 4-0
Graham Ike (from left), Xavier DuSell and Jeremiah Oden huddle up around head coach Jeff Linder during a 68-61 victory over Grand Canyon Monday night in Phoenix./ UW courtesy photo
LARAMIE -- "Everyone has a plan until they get punched in the mouth."
Jeff Linder attributed that quote to boxer Mike Tyson. He really said that, too.
Just before facing Evander Holyfield in June of 1997, a reporter asked him if he was concerned about his opponent's fight plan. He wasn't. You might recall that bloody battle in Las Vegas. Tyson bit off a chunk of Holyfield's ear late in the third round.
One round later, he did it again.
Instead of losing their cool like Iron Mike when the going got tough inside a raucous GCU Arena in Phoenix Monday night, Linder's Cowboys absorbed a few body blows midway through the second half while landing a few quick jabs of their own.
Just enough to stay in the fight.
Grand Canyon went on a 7-0 run and eventually took a 45-44 lead with 10:04 remaining. Jovan Blacksher got hot, pouring in a pair of 3-pointers and sinking 3-of-4 from the free-throw line. The junior guard netted 15 in the second half. His buddy Gabe McGlothan scored 14 in the frame, eight of which came from the charity stripe.
Still, Wyoming never let the 'Lopes lead climb above three.
Much of that credit goes to Hunter Maldonado.
Wyoming's Mr. Do Everything continued to find his way to the rim. He dipped under, spun, leapt and drove. Whatever it took, Maldonado did it. If the ball didn't go in the hoop, the Colorado Springs product was toeing the line.
GCU didn't have an answer.
Neither did Washington. Or Arkansas Pine-Bluffs. Or Detroit Mercy.
After a Blacksher three extended the 'Lopes lead to 52-49 with 7:45 to go, Maldonado struck back, laying one up and in and drawing the contact. Sean Miller-Moore nailed a pair of free throws to give GCU a two-point lead moments late.
Maldonado answered with yet another layup.
Miller-Moore hammered down a two-handed jam with 5:11 to go. The lead, once again, was two. He even added a free throw to bump the lead up one more point just 24 seconds later.
Guess who responded with another layup?
Maldonado scored 15 of his 17 points in the second half. He chipped in with four rebounds and the same number of assists.
It was time for his friends to join in the brawl. Boy, did they.
Jeremiah Oden added an easy lay in off a Maldonado miss. Graham Ike, who netted just four of his 13 points in the second half, hit a jump hook in the lane. Then came the biggest shot of the night.
Drake Jeffries, with 2:16 remaining, did this:
The Cowboys never trailed again. That shot sparked an 8-0 run that was punctuated by a two-handed jam from Arizona native Xavier Dusell, who strolled off the court with a smile and a wave directed at the GCU student section.
Remember, this 'Lopes squad earned a spot in the NCAA Tournament last spring. Its roster also features six seniors.
"Hell of an effort by our guys," Linder said. "I mean, I can't say enough about how we scratched and clawed and found a way to win in one of the toughest environments in college basketball.
"... We told our guys, it's like going to the club. Our goal at the end of the day was to hopefully make the people go home and shut down the club. We did a great job of finding a way to finish that game."
By no means was it perfect.
The Cowboys were outclassed on the boards, 51-33. On the offensive glass, Wyoming didn't have a single rebound in the first half. GCU had an 11-0 advantage at the break, 22-7 overall. That work in the paint led to plenty of second-chance points, too. The 'Lopes won that battle, 15-4.
Those kind of numbers won't get it done most nights, especially on the road. Despite those lopsided digits, one constant has remained for the Cowboys over the first four games -- 31.1%.
That's field-goal percentage defense.
GCU shot 30% on the dot Monday night.
"Every guy that played really contributed from a defensive standpoint," Linder said. "I mean, they're one of the better offensive teams. For us to hold another team under 30%. I'm not sure if there's anybody else's country better than us in terms of field-goal percentage."
Statistically there is one team that is better in that category. That's Indiana and they are suffocating teams at a rate of 30.3% per outing.
Wyoming hasn't played its best basketball yet. In fact, the Cowboys haven't scratched the surface on offense. DuSell has hit just six 3-pointers through four games. Hunter Thompson netted his first tonight. Maldonado, for all the damage he's done so far in this young season, has just one triple.
This team averaged 10 per night in 2020-21.
"It was our first time playing against a team of that level this season, so I think it was a good challenge," said GCU junior power forward Yvan Ouedraogo. "Really physical. In the second half, we came back much better and put ourselves in a position to win. But at the end of the game, they executed and we didn't."
Like any good boxer, though, Wyoming keep finding a way. No matter what it takes.
"Luckily, when we got punched in the mouth, we got back up and we just keep pushing forward," Linder said.
Wyoming 68, Grand Canyon 61 
DON'T EVEN TRY
GCU entered the night the No. 2 team in the country in 3-point field-goal percentage at 47.8.
In a 91-64 victory over Prairie View A&M last Wednesday, the 'Lopes flushed a program-record 17 triples. Tonight, they went 7-of-24. That equates to just 29%.
Linder will be the first to tell you, his teams at Northern Colorado were some of the best at defending the three-point line. Linder, though known for offensive mind, goes with a defense-first approach.
It has been showing so far this season.
"You never never rise to the occasion, you always fall back on your training," Linder said. "So, our guys, they're really understanding what we're trying to do from a defensive standpoint they really understood the game plan. Not just from a conceptual standpoint, but a personnel standpoint."
Wyoming has allowed just 24 triples on 107 attempts so far this fall. That's good enough for fourth in the country out of 350 Division-I programs.
And don't forget, the Cowboys are still playing without one of their top defenders, Kenny Foster, who is sidelined with a high-ankle sprain.
Not too shabby.
WE'RE OPEN FOR BIZ
Linder raved about the atmosphere in Phoenix Monday night.
He compared it to Viejas Arena in San Diego and even "The Kennel" at Gonzaga.
That's lofty stuff.
Wyoming's second-year head coach joked that GCU has "more money than God," but he couldn't find a glass of water in the Arizona desert. His voice didn't crack during his postgame interview, but he did make a plea to you, the fan.
Get to the Arena-Auditorium and check out his unbeaten squad.
"The character this team has and what they're doing, hopefully we can start seeing the Double-A full with people in the stands for these guys," he said. "I mean, the Double-A, at one point, was one of the toughest places to play in college basketball and it needs to be. This team, if (fans) come out and shows, it's going to help us take it to another level. We need that support.
"We need students to come out and we need the fans that come from all over because this team is worth watching."
True story.
Your next chance is Friday night in Laramie when the Pokes host Hastings (Neb.) at 7 p.m.
UW: University of Wyoming Cowboys' Greatest Games From the First Decade of the 2000's