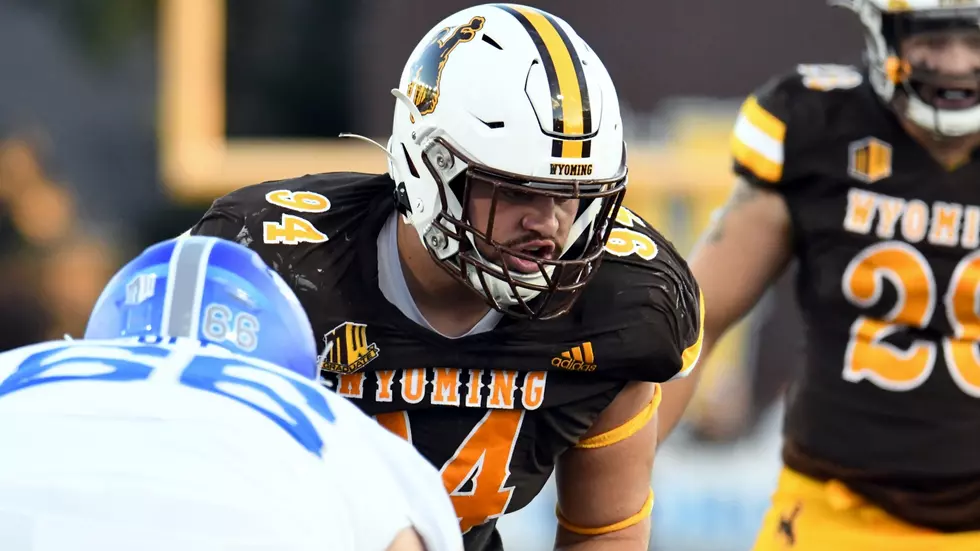 Report Card: Bertagnole, Godbout hold down the fort
Wyoming nose tackle Cole Godbout led the Cowboys with nine tackles in Friday night's 17-14 victory over Air Force./ DJ Johnson photo
LARAMIE -- In this series, we'll assign a grade to all of Wyoming's position groups during the 2022 football season.
Craig Bohl's Cowboys exceeded all expectations last fall, finishing second overall in the Mountain Division behind Boise State.
UW (7-6, 5-3) fielded the third-youngest roster in the nation. At times, it showed. But there were plenty of bright spots, too.
There was the upset over Air Force, a four-game winning streak, including road victories at New Mexico, Hawaii and Colorado State and eventually a berth in the Arizona Bowl, the program's fifth postseason appearance since 2016.
Let's start the breakdown on the defensive side of the ball.
DEFENSIVE TACKLES: B
This position group was supposed to be the strength of not only this young defense, but the team as a whole. Cole Godbout and Jordan Bertagnole were all that was advertised, too. At least through the first six games of the fall. Godbout, who already had 33 tackles and a pass breakup, was essentially lost for the season with a lower-leg injury in a 33-16 home loss to San Jose State. Aside from 258-yard rushing day in the opener at Illinois, UW's defensive tackles held Tulsa to 61 rushing yards. Northern Colorado finished with 15 and Air Force's high-powered option attack was held to just 171, 156 below its season average. Bertagnole also battled injuries late in the season but still managed to tally 50 tackles, including five sacks and two forced fumbles. Gavin Meyer and Caleb Robinson were forced into duty. Those two responded with a combined 53 tackles. Meyer also finished with 3.5 sacks and a forced fumble. Even UNC transfer Ethan Drewes and Ben Florentine saw time late in the season.
Explanation
Once again, this would've been an easy A. Injuries are the main culprit. A healthy Bertagnole and Godbout gives Wyoming one of the best inside tandems in the nation. If there's one bright spot to those setbacks, it's the emergence of Meyer and Robinson. Playing time will no longer be foreign to Drewes and Florentine, either. The Cowboys were owning the line of scrimmage until Godbout went down. You might recall New Mexico jamming back-to-back first-quarter drives right down the visitor's throat in Albuquerque to take an early 14-0 lead. Godbout made a valiant effort to play in the Arizona Bowl. He finished with one tackle before leaving the game with an unknown injury.
Position coach
Oscar Giles - Entering second season
Returners
Cole Godbout (6-foot-4, 285 pounds, senior); Jordan Bertagnole (6-foot-4, 283 pounds, junior); Gavin Meyer (6-foot-4, 279 pounds, junior); Caleb Robinson (6-foot-2, 300 pounds, junior); Jaden Williams (6-foot-4, 248 pounds, redshirt freshman); Ben Florentine (6-foot-1, 259 pounds, redshirt freshman); Ethan Drewes (6-foot-3, 282 pounds, junior)
Newcomers
Dante Drake (6-foot-3, 267 pounds, Robinson, Texas); Lucas Samsula (6-foot-4, 255 pounds, Plano, Texas); Jayden Williams (6-foot-3, 270 pounds, Bryan, Texas)
Departures
N/A
2023 Outlook
This Wyoming defense has the potential to be one of the best units in the Mountain West next fall. That all starts up front, particularly with Bertagnole and Godbout. A healthy duo equals a scary duo. When those two are taking a blow, the blows won't stop for opposing offensive fronts. Meyer proved to be disruptive. Just ask the Lobos. The nose tackle from Wisconsin rolled up two sacks that night in the desert and added six tackles. Robinson is a load in the middle at 300 pounds and by all accounts is really starting to put it all together. Oscar Giles also snagged three incoming freshmen from his home state of Texas. Those guys already have the size to make an impact early on.
MORE UW FOOTBALL NEWS VIA 7220SPORTS:
* Group of Five guys with Wyoming football ties
* Report Card: Wyoming's inexperienced edge rushers impress
* Cowboys in the NFL: Wildcard Round
* Wyoming's Logan Wilson has Bengals fans crooning in his honor
* Former UW Quarterback has NFL's top-selling jersey in 2022
* Titus Swen accepts invite to NFLPA Collegiate Bowl in LA
PRESS PASS: Roaming The War
Wyoming Cowboys vs. Montana State Bobcats
-PRESS PASS: Roaming The War