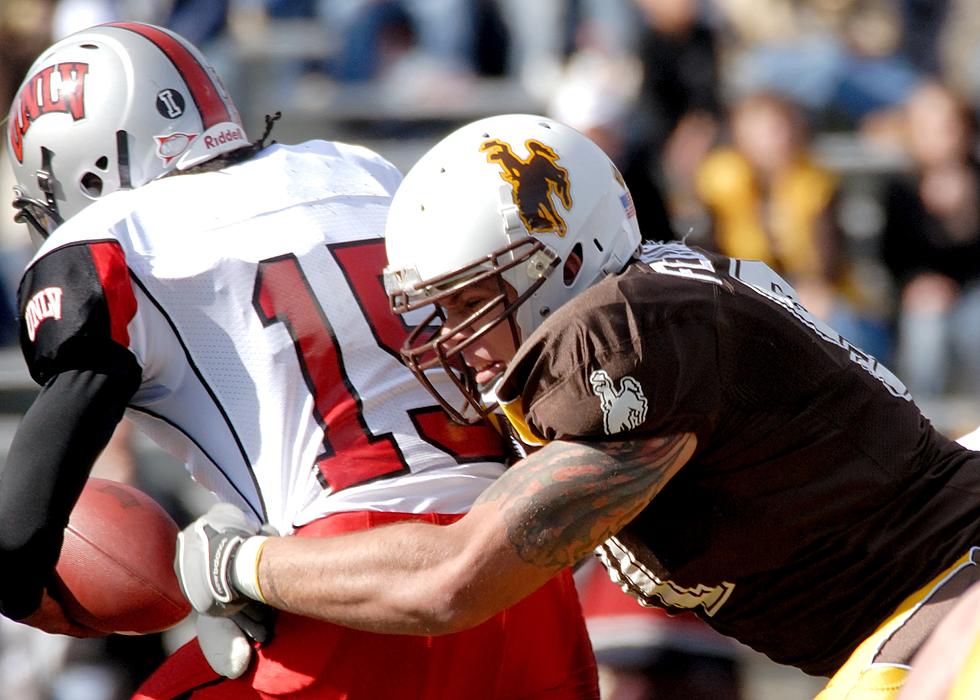 Show us your picks: Week 8
Former Wyoming defensive end John Fletcher joins us this week to make game picks./ UW courtesy photo
LARAMIE -- We all thought Colorado State would waltz into Albuquerque and take care of business against the Lobos.
They did. And then some.
The Rams held New Mexico to just 69 yards of total offense -- yes, you read that right -- in a dominating 36-7 victory to move to 2-0 in Mountain West play.
We also thought Nevada would keep on rolling against the Rainbow Warriors. The Wolf Pack did just that. The panel picked San Diego State to knock off San Jose State and Georgia to knock off Kentucky.
That happened, too.
Guest picker Jason Knick and Mat Murdock had little faith the Cowboys would get in the win column against Fresno State last Saturday in Laramie. They were right. Wyoming fell 17-0 to the Bulldogs, aided by five turnovers.
Here's how we fared after last week's picks:
Mat Murdock: 10-2
Kyle Sedar: 9-3
Robbie Duncan: 9-3
DJ Johnson: 9-3
Jen Kost: 9-3
Jared Newland: 8-4
Jason Knick: 8-4
Cody Tucker: 7-5
Here's how the yearly standings now look for us regulars:
Johnson: 66-18
Sedar: 64-20
Newland: 63-21
Kost: 63-21
Murdock: 58-26
Tucker: 57-27
All eight of us think Wyoming turns the tide this Saturday at home against New Mexico. The glaring stats above, along with the fact the Lobos are also in search of consistency at the quarterback position, gives us plenty of confidence.
Craig Bohl is also looking for a signal caller this Saturday that won't gift the other team with takeaways. Wyoming is a minus-2 in that category since being a plus-5 after a Week 3 win over Ball State.
Here are this week's Mountain West games -- and a couple of others -- and the money lines from BetMGM: (Subject to change):
New Mexico (+20) at Wyoming
San Diego State (+3) at Air Force
San Jose State (-6) at UNLV
Colorado State (-3) at Utah State
New Mexico State (+18) at Hawaii
Nevada (+3) at Fresno State
Wisconsin (-3.5) at Purdue
Clemson (+3.5) at Pitt
USC (+7) at Notre Dame
Oklahoma State (+7) at Iowa State
LSU (+9) at Ole Miss
Oregon (+1.5) at UCLA
This week we are joined by former Wyoming defensive end John Fletcher.
The big man from Erie, Colorado had 10.5 quarterback sacks back in 2007. That's the ninth-best single season in UW football history. Fletcher registered 3.5 in a win over UNLV. That's tied for third all time with Josh Biezuns.
Fletcher's most impressive stat comes in the tackles-for-loss category. From 2005-09, he racked up 36 of those. That's just three less than Eddie Yarbrough, who is the program's all-time leader.
Our other guest picker is Branden West, a big Pokes fan from Cheyenne.
Good luck, fellas.
Here's our best bet this week:
LOOK: Pokes' unis through the years