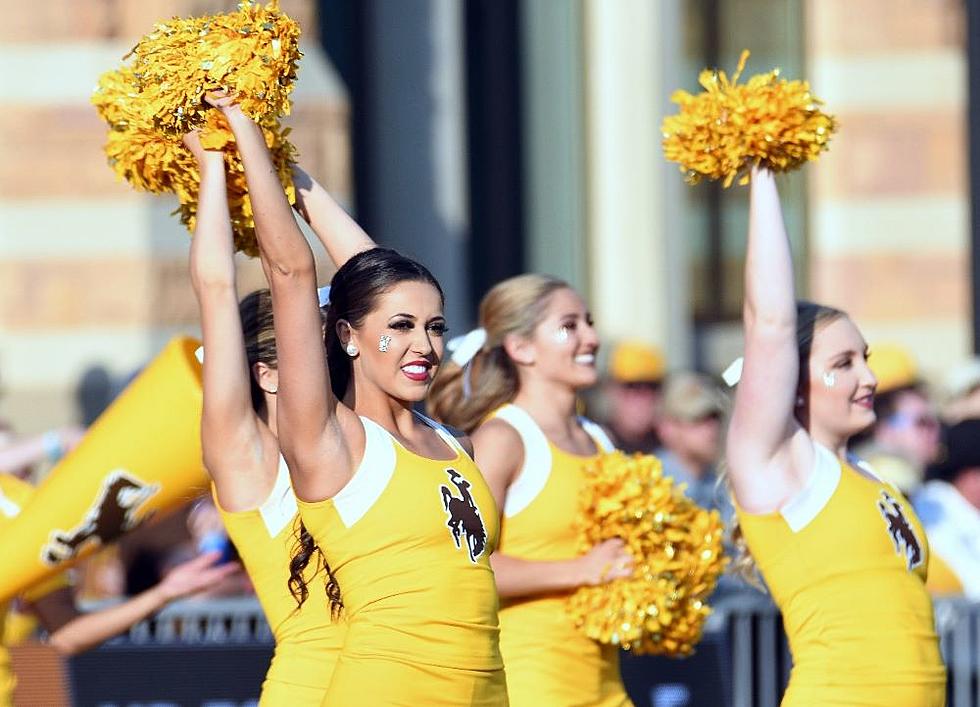 cheerle2USE
TULSA, Okla., -- DJ Johnson has been introducing us to a new member of the Wyoming spirit squad each week in this series "Spirit spotlight."
This week we want to showcase:
Allie Telgenhoff
Denver, CO
Senior (5th Year)
Elementary Education/Early Childhood
Q: What is your favorite part of being a member of the University of Wyoming's Spirit Squad?
A: The most fun that I have is actually traveling with the team. We have had numerous opportunities to go out on the road with the teams and travel to some great locations…I've got to travel to two football bowl games (in San Diego, CA and Boise, ID), cheering nationals, and also to the Las Vegas for the Mountain West Conference Finals for basketball.
Q: There are a lot of children who aspire to cheer at the collegiate level. If you were to give advice to a 12-year old about what it takes to cheer at the collegiate level, what would it be?
A: I would definitely stress the need for them to be committed and work hard to achieving that goal, in every single thing that they do. Whether that be working hard in any activity that they participate in school, getting really good grades, participating in various sports, as well as simply being a good person, both inside and out.
Q: So, I heard that you have a sibling who is also a member of the Spirit Squad. Explain to me what it means to have your little sister on the team with you.
A: Yes, my little sister is on the team, she's a freshman. Both of my parents came to school here at Wyoming, and ever since I came to school here, my little sister has been coming to all of the games and watching me cheer for the last couple of years; therefore, she wanted to continue the tradition and she ended up coming here as well. It's really nice to have here, and it also gives me the opportunity to give her that hometown feeling while we're away from our parents, and I can also show her the ropes of what it takes to be a cheerleader and help her make good decisions!
Q: What is your favorite thing about living in Laramie?
A: I absolutely love how much pride there is in the town, and how the entire town gets so excited into the University of Wyoming and backs them in every thing they do. Coming from Colorado, there are several D1 schools, such as the University of Colorado and Colorado State University, as well as numerous other D2 schools, and the state is so divided in who that support. With UW being the only four-year, D1 school in the state, it's great to have all of the support from everyone throughout the state.
Q: What sport do you enjoy cheering for the most, and why?
A: Undoubtedly, I'd have to say football. There are so many fans that attend the games and that electric vibe that is present is incomparable.
Q: If I were to give you two plane tickets anywhere in the world, where would you go and who would you take?
A: I'd take my sister, because she's my best friend. Since she's been here in Laramie, we've had the opportunity to get even closer, so I'd definitely take her. We'd probably go to Hawaii, because I absolutely love the beach and sitting by the ocean.
Q: Music is always a favorite topic during interviews. Taking it a step further, do you sing karaoke and if you do, what is your go-to song? If you don't, what song do you wish you could sing on a karaoke stage?
A: No, I don't sing karaoke, and wouldn't sing. I'd just dance, since I have a dance background.
My favorite food is ice cream
My favorite animal is a dog
My favorite quote is "Don't take any day for granted, you never know what could happen, so just live everyday with everything you have."
The one thing that I can't live without is my cell phone
Do you know how to ride a horse? No
Do you know who Chancey Williams is? No