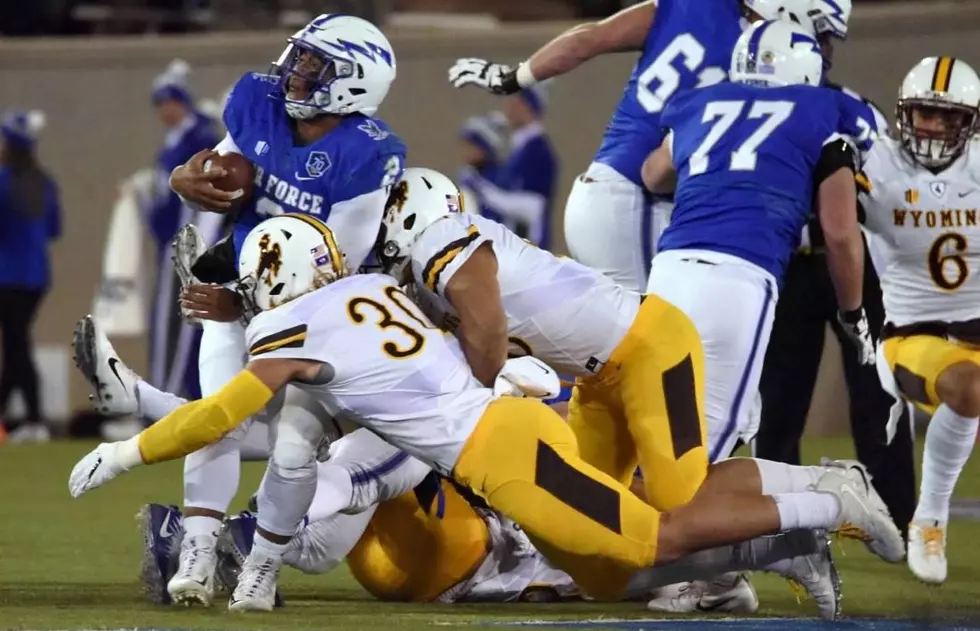 This date in UW football history: Wyoming 48, Air Force 45
AFcropuse
LARAMIE -- With one tick remaining on the game clock, Wyoming placekicker Sean Fleming calmly swung his right leg back and booted through a 27-yard game-winning field goal through the uprights.
It's the fact that even came down to a Fleming kick that makes this tale so unreal.
The Cowboys trailed by 21 points, 38-17, heading into the fourth quarter on that 1988 fall day in Colorado Springs. And it was the unlikeliness of players that became a legend because of it.
Fifth-year senior Randy Welniak and his surgically repaired right arm, completed 28 of 43 passes for 359 yards and three touchdown against the Falcons. The former wishbone quarterback from middle-of-nowhere Nebraska also gashed the home team for 108 yards on the ground on just 11 carries.
That 467-yard performance was a school record. That day, Welniak became only the third signal caller in NCAA history to gain 300 yards passing and eclipse the century mark with his feet.
The "Wizard of Ord" was born.
"That was a strange game; it was like it didn't happen," Welniak told the Los Angeles Times back in '88. "The fourth quarter was like a dream. I hope I'm never put in that situation again. It was just one of those once-in-a-lifetime things."
The season prior, Welniak suffered a potential career-ending injury during an indoor pickup football game. He underwent rotator-cuff surgery. The weakness and pain in his arm left him doubtful he could ever be productive on the field again. It also scared the media, which picked the defending Western Athletic Conference champions to finish fifth in the preseason polls.
A three-inch screw was inserted in Welniak's right shoulder.
Could've fooled Air Force. And every other team in the league.
"I'm not sure (Wyoming) knew he was going to be that good a player," SDSU coach Denny Stolz told the Associated Press. "He flat-out won the Air Force game for them. That's the kind of quarterback you need to win."
Wyoming outscored the Falcons 31-7 in that final frame.
With 90 seconds remining in regulation, Cowboy running back Steve Bena punched it in from nine yards out. A Fleming point-after attempt gave the visitors the 45-45 tie.
Considering what the Cowboys had to do to overcome that deficit, a tie was likely welcomed. But it didn't last.
Dee Dowis, the Academy's standout quarterback, ran a naked bootleg with just 45 seconds remaining. Unfortunately for him, he ran right into the awaiting arms of Wyoming All-American and two-time Defensive Player of the Year, Mitch Donahue.
Donahue stripped the ball and it was recovered by Ron Dean. The Pokes were in business at the Air Force 42-yard line.
"I could tell he was going to wind back," Donahue told 7220sports back in 2019. "I took a step up and let the tackle run by me. The quarterback came right to me. I swatted the ball out and caused a fumble."
Wyoming would win its first 10 games and claim its second straight conference championship under head coach Paul Roach. The Pokes finished 11-2 overall after falling to Barry Sanders and Oklahoma State 62-14 in the Holiday Bowl.
Eight Cowboys were named to the All-WAC team: Welniak, Donahue, Dabby Dawson, Grant Salisbury, Pat Rabold, David Edeen, Eric Coleman and Mike Schenbeck. Welniak was named the WAC Player of the Year after tossing 21 touchdowns and tallying 2,633 passing yards.
Read more about that game and the players involved right here:
An honorable mention
"It was a poor performance by our football team. We got whipped
up front offensively and defensively. Michael coming in gave us a
spark, but it wasn't enough. Turnovers hurt us and the muffed punt was inexcusable."
Before Ed Orgeron was busy hoisting a national championship trophy at LSU, he was a first-year head coach at Ole Miss back in 2005.
His first outing wasn't ideal. For the Rebels anyway.
Wyoming waltzed into SEC country and walked away with a dominating 24-14 victory in Oxford. The score doesn't even begin to tell the tale of what happened on that rain-soaked night inside Vaught-Hemingway Stadium.
Wynel Seldon led the way for the visitors, racking up 124 yards on 21 carries. He also caught four passes for 78 yards. The freshman also scored from five yards out to put the Cowboys on the board in the second quarter.
Quarterback Corey Bramlet torched the Rebels to the tune of 220 yards while completing 17 of 33 passes. The Wheatland product tossed a pair of touchdowns to Jovon Bouknight and Wade Betschart.
The Cowboys forced four Ole Miss turnovers on the night. Austin Hall, Derrick Martin and Ron Rockett all picked off a pass. Three of those turnovers came on the Rebels' first trio of possessions to start the third quarter.
Did we mention this was the second straight season the Cowboys topped Ole Miss?
"It was pretty similar to what happened last year," Bramlet
said of the 37-32 victory in Laramie. "This win felt good and our emotions were running high. Once we got the running game going, we knew were going to make it hard for them to get us."
Wyoming was sitting at 4-1 after the big road win. Unfortunately for Joe Glenn's Cowboys, they would garner just one more win that season the following week against UNLV. The Pokes dropped six straight to end the season and finished 4-7 overall.
Other games on this date
In 1927, George McLaren's Cowboys opened the season with a 31-6 win over Black Hills State in Laramie.
Bowden Wyatt's 1949 squad traveled to Albuquerque where they hammered the Lobos, 41-14. The Cowboys would go on to finish 9-1 that season.
Wyoming met Montana halfway back in 1955. Phil Dickens' team knocked off the Grizzlies 35-6 that afternoon in Billings. That season, Wyoming would go on to win the Sun Bowl over Texas Tech. It was just the second bowl game in program history.
One of the best teams in Wyoming history took Arizona State to the woodshed on this day in 1966. Lloyd Eaton's Pokes crushed the Sun Devils 23-6 inside War Memorial Stadium. That team would go on to knock off Florida State 28-20 in the Sun Bowl.