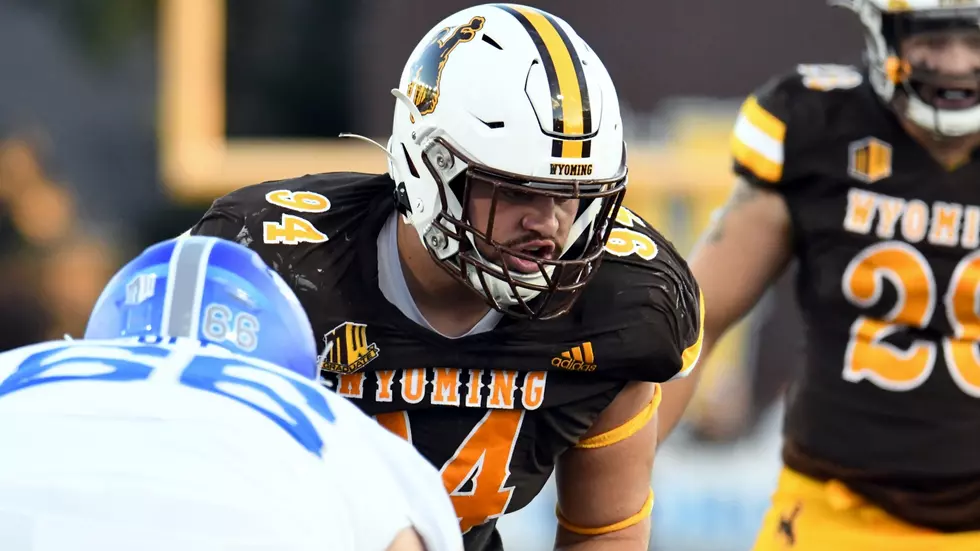 Three stars of the game: Pokes vs. Falcons
Wyoming nose tackle Cole Godbout led the Cowboys with nine tackles in Friday night's 17-14 victory over Air Force./ DJ Johnson photo
LARAMIE -- Wyoming head coach Craig Bohl handed out just one game ball after the Cowboys 17-14 upset victory over Front Range rival Air Force Friday night inside a raucous War Memorial Stadium.
That went to team doctor Matthew Boyer, the man responsible for "getting Easton right."
By now you probably know the story. Sophomore linebacker Easton Gibbs spent Thursday night hugging the porcelain inside the bathroom of his Laramie hotel room. Wyoming's leading tackler said he lost 12 pounds in a 24-hour span. Even scarier, the California product landed a fever on game day. That temperature eventually pegged at 104.
MORE UW FOOTBALL NEWS FROM 7220SPORTS:
* Tuck's Takes: Not all heroes wear capes
* Behind the numbers: Wyoming vs. Air Force
* Pokes ground Air Force, pull off 17-14 stunner
* Rants & Raves: Air Force Edition
* Turning point, unsung hero and what's next for UW football
Gibbs spent the day hydrating, aided by IV's. His chances of suiting up against the Falcons looked bleak. In fact, Bohl said he resigned to the fact his star linebacker would not be in the lineup at all.
That, of course, all changed a few plays into Wyoming's opening defensive series. Gibbs capped his night with six tackles, including three of the solo variety. He even tacked on a tackle for loss on his second play of the night.
Gibbs' heroics definitely earns him a spot on a list like this one. In fact, that's a forgone conclusion. But here are three other guys who made a big impact in lifting the Cowboys to their third-straight win and a 1-0 mark in Mountain West play:
1st star: Cole Godbout - Nose tackle
"It starts with that, how you play up the middle."
That was Jay Sawvel's top key to limiting Air Force's potent triple-option attack Friday night in Laramie. Wyoming's defensive coordinator felt comfortable that he has one of the best in the business manning the nose-tackle spot.
That man is junior Cole Godbout. His task was to clog up the middle and make life miserable for Falcons' fullback Brad Roberts, who had the fifth most rushing yards in the country coming into the Mountain West opener.
Easier said than done.
The 6-foot-4, 285-pound Wisconsin product was a monster in the trenches, tallying a team-high nine tackles, including one for loss, and two quarterback hurries in the victory.
Entering the night, the Falcons led the nation in rushing, averaging more than 508 yards per game on the ground. The Cowboys held them to just 171. Roberts came to Laramie with 288 rushing yards and four touchdowns through two games. The senior gained just 54 more on 16 attempts.
Godbout's running mate, Jordan Bertagnole, finished with six tackles on the night.
"I called both those two guys in at the beginning of the week and told them, 'this game is going to come down to your play,'" Bohl said postgame. "Joe Schmo up in the stands may not understand it but, knowing Air Force, that was going to be a really, really important part of the game. So, our defensive tackles really played well."
2nd star: Titus Swen - Running back
Defense hasn't been the issue for the Cowboys in their previous two meetings with the cadets, scoring has. In those two losses, both of which took place inside Falcon Stadium, the visitors managed just 20 points and 482 yards of total offense.
Just 228 of those came on the ground. No Cowboy running back eclipsed the 100-yard mark, either.
That all changed in a big way Friday night.
Titus Swen carried the ball 19 times and rolled up 102 yards and a touchdown. The junior from Fort Worth, Texas, has been dealing with a nagging rib injury he sustained in the season opener at Illinois. And despite scoring a career-high three touchdowns in last Saturday's victory over Northern Colorado, has not necessarily looked like himself yet this season.
Swen showed glimpses of why he is one of the top rushers in the country against the Falcons, especially on the final drive of the game when cut back against the grain and picked up 17 yards on a crucial 3rd-and-13.
"I didn't even know they were going to call a run play on 3rd-and-13," Swen said with a smile. "I was like, 'OK, we're going to pass the ball, we're going to get the first down and we're going to keep rolling.' Boom, they call a run play and I was like, 'OK, OK, OK -- it's me.' I got down and I was like, 'yeah, it's over with now.'"
You have to love the confidence, right? And if you didn't see this, check out Swen's postgame interview with CBS:
To come away with a victory Friday night, Titus Swen needed to look like, well, Titus Swen. He did just that, hitting the century mark for the first time in 2022. It likely won't be his last.
3rd star: Braden Siders - Defensive end
Who?
The redshirt freshman from Thornton, Colo., had never appeared in a college football game until late August in Champaign. If it wasn't for a season-ending knee injury for Sabastian Harsh, Braden Siders' debut might have been delayed even further.
For two years, the former two-star recruit from Ralston Valley High School rode the pine and patiently waited his turn.
It appears his persistence has paid off in a big way.
In the win over Air Force, the 6-foot-3, 240-pound defensive end registered six tackles, all of the solo variety. He contained the edges against the Falcons' lightning quick wing backs and didn't allow himself to get fooled by all the motion and nonsense at the line of scrimmage.
Siders entered this one with five-career tackles. He also has one sack to his credit this fall. It was a big one, too. It came on Tulsa's opening offensive possession of overtime in Week 2. Siders hunted down Davis Brin with the Golden Hurricane threatening at the 6-yard line and facing a 2nd-and-2.
An incomplete pass followed and Tulsa was forced to settle for a field goal. Wyoming would eventually hold on for the 40-37 victory in double overtime.
UW vs. NIU September 11, 2021