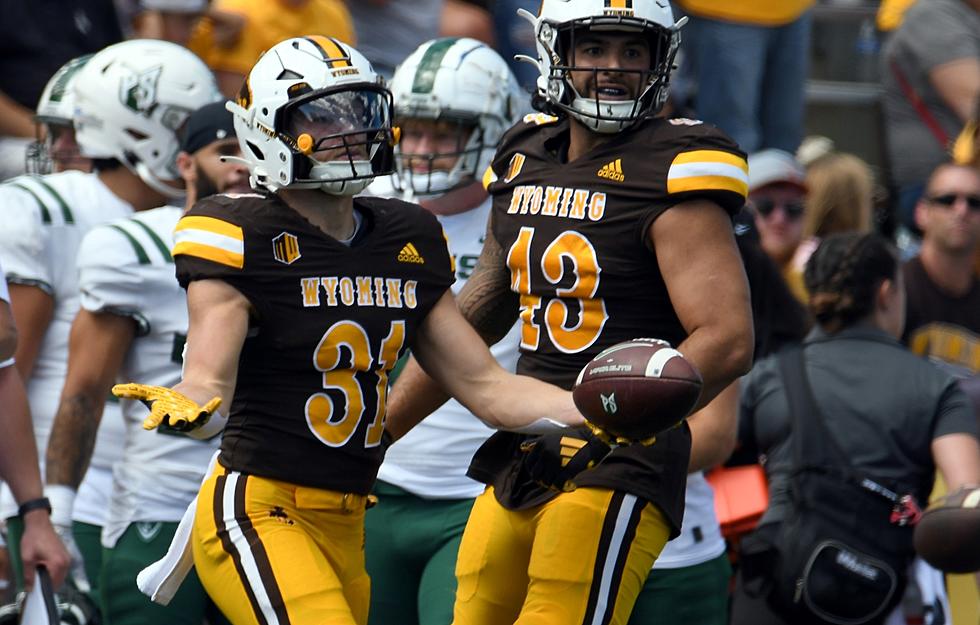 Turning point, unsung hero and what's next for UW football
Wyoming safety Wyett Ekeler is in disbelief after dropping a would-be interception in the first quarter of the Cowboys 31-17 victory over Portland State Saturday in Laramie./ DJ Johnson photo
LARAMIE -- Wyett Ekeler, both arms extended, hands on either side of the podium, took a deep, exaggerated breath and simply shook his head.
"I literally had it in my hands," Wyoming's safety said. "I shouldn't have dropped it."
Ekeler, a junior from Windsor, Colo., was referring to a Dante Chachere first-quarter throw that hit him right between the 3 and the 1 on his brown jersey. An interception right there could've buried Portland State, a 28-point underdog, that was already trailing 7-0.
Instead, it harmlessly fell to the ground, Ekeler left clutching both sides of his helmet in disbelief.
The bright side of this equation, Ekeler was already the proud owner of a pick that led to the Cowboys first touchdown of the afternoon, a one-yard plunge into the end zone, courtesy of running back Jamari Ferrell.
That was big considering Wyoming marched 53 yards on six plays before Sam Scott coughed up the ball at the Vikings' 29.
"Honestly, I like how our team fought the entire game, but you cough up balls and give them more chances - I think they got 14 points off of turnovers --and that's what happens against a good football team," Portland State head coach Bruce Barnum said. "There's 14 points we couldn't make up."
MORE UW FOOTBALL NEWS VIA 7220SPORTS:
* Tuck's Takes: Wyoming, this is your wake-up call
* 7220sports.com Kickoff Show: Fooling around with the FCS
* Gear up for game day: Portland State
* Know Wyoming's foe: Portland State Vikings
* Wyoming's Sabastian Harsh 'I was just feeling so blessed'
* Wyoming's defense throws Tech's air raid 'out of whack'
* Texas native hauls in INT that turns Tech game around
* Wyoming fullback snags memorable touchdown in win over Tech
* Wyoming-Portland State will meet for first time Saturday
* Craig Bohl's rare fourth-down call sparks comeback
Though that second would-be turnover wasn't to be, Wyoming found the end zone three plays later on a 64-yard hook up from quarterback Andrew Peasley to Ayir Asante. That was the longest connection of Peasley's career and the furthest for a UW signal caller since Tyler Vander Waal hit James Price on a 72-yarder against Boise State in 2018.
John Hoyland also calmed some fears out of the halftime locker room, stroking yet another 56-yard field goal, his second in as many weeks. That matched the career long he drilled on the first snap of the second quarter in last Saturday's 35-33 double-overtime upset of Texas Tech.
Both also came after the offense took a loss on the previous play.
Wyoming would force a PSU three-and-out on the ensuing drive before Peasley and Asante again put six on the board from 14 yards out to make this a 31-10 ball game.
Wyoming 31, Portland State 17
UNSUNG HERO
This honor is going to a number of guys. The big, mean ones in the middle of the Cowboys' defense.
Cole Godbout tallied his first quarterback sack since 2021 when he took down Chachere in the second quarter. He even got to bust out the "Cotton-Eye Joe" dance, which he said he almost got penalized for. The super senior added another half-a-sack and finished with six tackles and 2.5 for loss.
"I didn't play my best game last week, for sure," said Godbout, who finished with just two tackles against Texas Tech. "This week was pretty good. Again, I have to clean things up, I missed a few tackles. You know, that's always tough. But, it felt great. I mean, Bert and myself held that middle pretty well."
Jordan Bertagnole also added seven tackles and a sack. Gavin Meyer was credited with three takedowns, a tackle for loss and a QB hit. Ben Florentine (2) and Caleb Robinson also accounted for three tackles.
Most importantly, Wyoming held the Vikings to just 2.3 yards per carry on 40 rushing attempts. Last week, that number was 2.8.
If these guys can force teams to play one-dimensional football, look out.
QUOTABLE
"You know, I hadn't done my little dance there for a couple of years and it kind of felt good to be back. I almost got flagged. The ref talked to me about it. I was like, dang, I've been doing it for half a decade now. But it felt good. It was cool."
-- Wyoming nose tackle on doing his "Cotton-eye Joe sack dance" in the first half of the Cowboys' 31-17 win over Portland State
"Even though some guys have played a lot of football, there's an opportunity to hunker down and get better. And it's been my experience that these experiences like this, you go in on the film session on Monday, you sit and look at the tape and go, 'OK, good -- good. We're not going to have, you know, a chewing-out session, but, 'what are you doing here? How did that happen? Yeah, coach, you're right.' That gives us an opportunity to take a step forward. So, I'll address the team on Monday. I congratulated him on the win, but we have to play better."
-- Wyoming head coach Craig Bohl on the mindset of his team during this game
"My team fought to the end. Nobody quit. Everybody believed that we could win that game, up till that incomplete pass in the end zone on our last drive. Everybody. So we had, what, 58 seconds left? That's the only time that anybody on my sideline thought we were going to lose that game."
-- Portland State head coach Bruce Barnum on the confidence his team played with Saturday in Laramie
WHAT'S NEXT?
Wyoming is traveling deep into the heart of Texas, along with its 22 natives of the Lone Star State, to take on the Longhorns next Saturday night inside Darrell K Royal-Texas Memorial Stadium. Kickoff is slated for 6 p.m. MST and the game will be televised on the Longhorn Network. The 'Horn were the preseason pick to win the Big XII Conference and are currently ranked No. 11 in the AP Poll. (Texas is currently leading Alabama 13-9 in the second quarter in Tuscaloosa.)
University of Wyoming's Top 50 Football Players
The rules are simple: What was the player's impact while in Laramie? That means NFL stats, draft status or any other accolade earned outside of UW is irrelevant when it comes to this list.
This isn't a one-man job. This task called for a panel of experts. Joining 7220's Cody Tucker are Robert Gagliardi, Jared Newland, Ryan Thorburn, and Kevin McKinney.
We all compiled our own list of 50 and let computer averages do the work. Think BCS -- only we hope this catalog is fairer.
Don't agree with a selection? Feel free to sound off on our Twitter:
@7220sports
- #Top50UWFB
- University of Wyoming's Top 50 Football Players