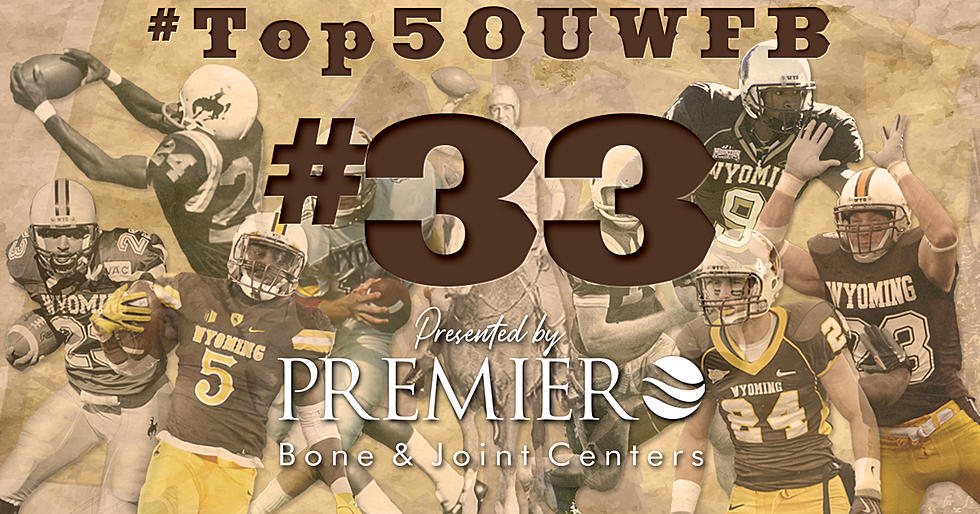 UW's Top 50 football players: No. 33
Jen Kost graphic/ UW courtesy photos
LARAMIE -- During this summer series we are going to countdown the Top 50 football players in Wyoming history, presented by Premier Bone & Joint Centers, Worthy of Wyoming.
The rules are simple: What was the player's impact while in Laramie? That means NFL stats, draft status or any other accolade earned outside of UW is irrelevant when it comes to this list.
This isn't a one-man job. This task called for a panel of experts. Joining me is Robert Gagliardi, Jared Newland, Ryan Thorburn and Kevin McKinney. We all compiled our own list of 50 and let computer averages do the work. Think BCS -- only we hope this catalog is more fair.
Don't agree with a selection? Feel free to sound off on our Twitter page @7220sports.
John Wendling
Safety, 2003-06, Rock Springs, Wyoming
Here's why: It only took 17 previous selections, but the panel was finally all together and on board for the first time in this series.
Why?
John Wendling.
This local product from Rock Springs was a freak athlete. Remember those YouTube videos showing Wendling leaping in the air with a bar full of weights? Or just "simply" doing a vertical jump onto a platform nearly as tall as him? It was actually 66 inches. That's more than five feet.
Those videos, for some reason, are no longer showing up on the web.
That's truly a shame.
After leading Rock Springs to an undefeated season and a state championship, Wendling came to Laramie in 2003. Wyoming had won just five games the previous three seasons under then head coach Vic Koenning.
Things changed when Joe Glenn got to town. Momentum also shifted when No. 23 started roaming the defensive secondary.
In 2004, for the first time in nearly four decades, the Cowboys won a bowl game. They were a two-touchdown underdog against UCLA in the Las Vegas Bowl, but managed to pull off the improbable 24-21 victory late in regulation.
That doesn't happen without the leadership of No. 23.
Wendling racked up 259 tackles during his career in Laramie. He tacked on seven interceptions. Four times he was named to an All-Mountain West team.
When I think of Wendling, I think about controlled chaos.
I think about him calling his own number and taking a direct snap on a fake-punt attempt and rumbling through Virginia's defense in steamy Charlottesville to pick up a key first down. I think about him coming around the edge and soaring into the air and right into Utah quarterback Brett Ratliff, causing a fumble.
The Utes hadn't given up a sack all season. Wyoming tallied six in the 31-15 upset.
The Buffalo Bills selected Wendling with the 184th pick in the sixth round of the 2007 NFL Draft. He played in the league for seven seasons. Mainly a special teams player, Wendling racked up 104 tackles on kick and punt return. That is still the fourth-most since 2008.
When he was a member of the Detroit Lions, he earned the title captain. He was even an alternate for the Pro Bowl in 2010.
Newland's take: John was one of the finest student-athletes that I had the pleasure of working with during my time as a development officer with the Cowboy Joe Club.
We would ask student-athletes to travel with us to certain public events throughout the state and whenever we asked John, it was a yes. He was and still is a great ambassador for Wyoming Athletics.
On the field, John was a fierce competitor and a "freak athlete" who was very fast, could jump as high as I had ever seen a guy of his size and would hit as hard as anyone I could remember. The summer heading in to his senior year, he cleared a 66-inch hurdle with a 3-step approach and became a YouTube sensation overnight.
After being a farmer in Chugwater for several years, he and his family moved to Cheyenne.
How the panel voted: Cody Tucker (38), Robert Gagliardi (22), Jared Newland (31), Ryan Thorburn (38), Kevin McKinney (47)
Previous selections: No. 50, No. 49, No. 48, No. 47, No. 46, No. 45, No. 44, No. 43, No. 42, No. 41, No. 40, No. 39, No. 38, No. 37, No. 36, No. 35, No. 34
Cody Tucker: Brand Manger and creator of 7220sports.com. Tucker has covered the Cowboys since June of 2019, but was a season-ticket holder for nearly three decades. Tucker has also covered Michigan State University Athletics for the Lansing State Journal and Detroit Free Press and the NHL's Pittsburgh Penguins during his 10-year journalism career
Robert Gagliardi: Former sports editor and University of Wyoming beat reporter for WyoSports. Gagliardi covered the Cowboys from more than a quarter century. He also covered the team at the Branding Iron, the UW student newspaper. Gagliardi also co-authored the book: The Border War: The Bronze Boot Rivalry Between Colorado State and Wyoming
Jared Newland: Currently the local sales manager for Townsquare Media SE Wyoming, Newland worked with and around Wyoming athletics for 20 years, starting as a student athletic trainer in 1990. Newland has also served in the Sports Information Office, the Cowboy Joe Club, Wyoming Sports Properties and was a UW Athletics Hall of Fame Committee Member from 2002-14.
Ryan Thorburn: Currently covering the Oregon Ducks for The Register-Guard, Thorburn also covered the Cowboys in the early and mid-90's for the Branding Iron and Casper Star Tribune. He has also written four books about Wyoming Athletics: The Border War: The Bronze Boot Rivalry Between Colorado State and Wyoming, Cowboy Up: Kenny Sailors, The Jump Shot and Wyoming's Championship Basketball History, Lost Cowboys: The Story of Bud Daniel and Wyoming Baseball and Black 14: The Rise, Fall and Rebirth of Wyoming Football
Kevin McKinney: Currently the senior associate athletics director for external affairs at the University of Wyoming, McKinney also serves as the radio color commentator for Wyoming football and men's basketball. McKinney has been involved with UW Athletics in some capacity since 1972. He was also inducted into the Wyoming Association of Broadcasters Hall of Fame in 2015.
HISTORY: 4 Of Wyoming's Oldest Things