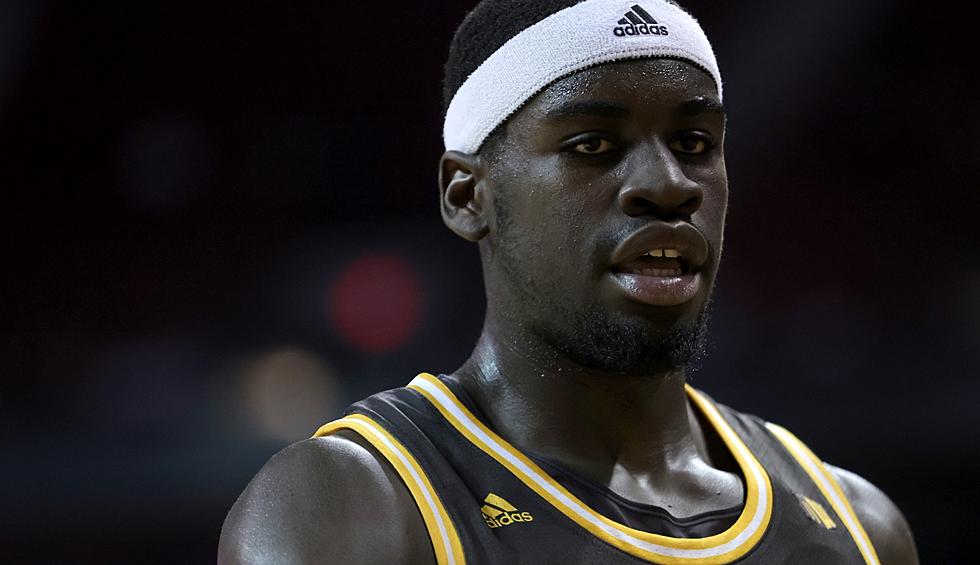 Will Graham Ike Return to Laramie Next Season?
LAS VEGAS, NEVADA - MARCH 02: Graham Ike #33 of the Wyoming Cowboys checks out of a game against the UNLV Rebels at the Thomas & Mack Center on March 02, 2022 in Las Vegas, Nevada. The Rebels defeated the Cowboys 64-57. (Photo by Ethan Miller/Getty Images)
LAS VEGAS, Nev., -- The question: Will Graham Ike be back in a Wyoming uniform next season?
The answer: "I think he'll be a Cowboy next year, I really do."
Those are words right out of the mouth of UW athletics director Tom Burman. He added he "hasn't heard any different" when it comes to the 6-foot-9 junior forward, who suffered what would be a season-ending right foot injury in October, just days before the start of the 2022-23 campaign.
Ike was voted the Mountain West's Preseason Player of the Year a season after averaging nearly 20 points and 10 rebounds while leading the Pokes to the First Four of the NCAA Tournament.
"We have to get him healthy -- and he's getting close," Burman said.
Will this roster, as a whole, remain intact?
Sundance Wicks didn't take the bait.
Wyoming's assistant head coach joked that he isn't "Miss Cleo" and doesn't have a crystal ball. He also said he is going to take the next 24 hours to decompress and spend time with his team, which fell to New Mexico 87-76 Wednesday night in the quarterfinals of the Mountain West Tournament.
"Guess what? In this world right now, everybody gets a choice. Everybody gets to make a decision," Wicks said. "It used to be if someone decided to leave, they had to sit out a year. Maybe they weighed that choice a little bit differently. Now it's free 99 for everybody. Everybody has a choice. At the end of the day that's why you have offseason meetings. You go back and sit down and reconvene. Everybody gets to talk about what's going to happen next."
Burman was transparent when asked that same question.
"No, we'll lose some guys," Burman said, adding that it's the new reality in the era of the NCAA Transfer Portal. "... In reality, I think you're going to lose 20% of your roster every year, in every sport."
Aside from Hunter Maldonado and Hunter Thompson, who both played their final game in the Cowboys uniform Wednesday night in Las Vegas, the remainder of this roster is littered with underclassmen.
Junior guard Brendan Wenzel last week confirmed he will be returning to Laramie next season. He is the only known player who has openly committed to playing for the Cowboys next fall.
Ike, along with Noah Reynolds, were not in attendance inside the Thomas and Mack Center Wednesday night. Reynolds, a sophomore guard from Illinois, was the team's leading scorer through January before being sidelined after suffering his third concussion in six months.
Senior Sendoff: Hunter Maldonado & Hunter Thompson
Today we celebrate the careers of Wyoming basketball players Hunter Maldonado and Hunter Thompson, who tonight will play their last game inside the Arena-Auditorium in Laramie