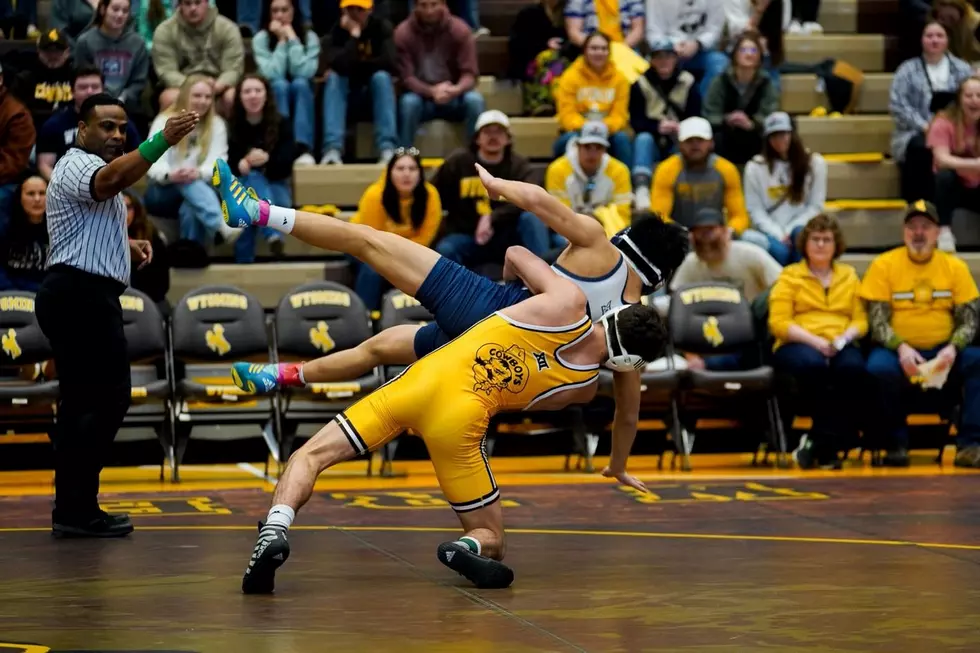 Wrestling to Host Season-Opener Social at Mingles
The Wyoming Cowboy Wrestling squad was in action on Saturday afternoon hosting Big 12 foe California Baptist inside of the UniWyo Sports Complex. Three Wyoming grapplers picked up wins against the Lancers, but California Baptist took the dual, 22-10./ UW courtesy photo
* University of Wyoming press release
LARAMIE -- The University of Wyoming wrestling team is hosting a season-opening social event. The Cowboys will be at Mingles Lounge on Nov. 4 from 6-9 p.m.
The cost to attend is $25 per person with food and drinks provided. Current WWRTC members will receive two free admissions.
The event will include a raffle. The prizes feature limited Cowboy wrestling gear, match tickets among other things.
To RSVP and purchase tickets visit this link or use the QR code provided. Further questions can be directed to bashwort@uwyo.edu.
Season tickets for the University of Wyoming wrestling team are on sale now. Visit LINK to purchase.
The home slate for the 2023-24 season features six duals and the Cowboy Shootout. The Cowboys open the regular season Nov. 5 inside the UniWyo Sports Complex against Western Wyoming Community College.
Wyoming hosts Oklahoma State on Dec. 19 in its last dual of 2023. The Cowboys battle Air Force on Jan. 12 before a slew of home matches in the month of February.
Wyoming faces South Dakota State and North Dakota State on Feb. 1 and 4, respectively. The Cowboys close their dual season at home against Oregon State on Feb. 10 prior to wrapping up the regular season Feb. 17 with the Cowboy Shootout.
MORE UW FOOTBALL NEWS VIA 7220SPORTS:
* Wyoming, Boise State kickoff time set
* Wyoming Football: News and notes ahead of bye week
* Three stars of the Game: Pokes vs. Falcons 
* Turning point, unsung hero and what's next for UW football
* Tuck's Take: Football gods MIA in disheartening loss at Air Force
* Wyoming falls late at Air Force, 34-27
* Rants & Raves: Air Force Edition
* Behind the numbers: Wyoming vs. Air Force
* 7220sports.com Kickoff Show: Kings of the Mountain?
* Know Wyoming's Foe: Air Force Falcons
* Show us your picks: Week Seven
* How do you even begin to prepare for this Air Force offense?
From Bison to Triceratops - All of Wyoming's Official Things
Every state in our nation has chosen things that represent the state in one way or another to be official state things. Like a flower, or animal.
Wyoming
is no different.
The Equality State, or the Cowboy State, depending on which state slogan you want to go with, has a state flower. But did you know we also have a state tree and a state fish? Yes, we even have a state code.
To be an official thing, a member of the state legislature must write and submit a bill to the legislature declaring that a thing will be the official state thing. Then the legislature votes to pass the bill, or not, if it passes, the governor signs the bill into law and we have a new official state thing.
Here is what we have so far, all of Wyoming's official things. Now you can win big on Wyo Trivia Night if that's a thing that exists.
Gallery Credit: Ben Kuhns
- From Bison to Triceratops - All of Wyoming's Official Things