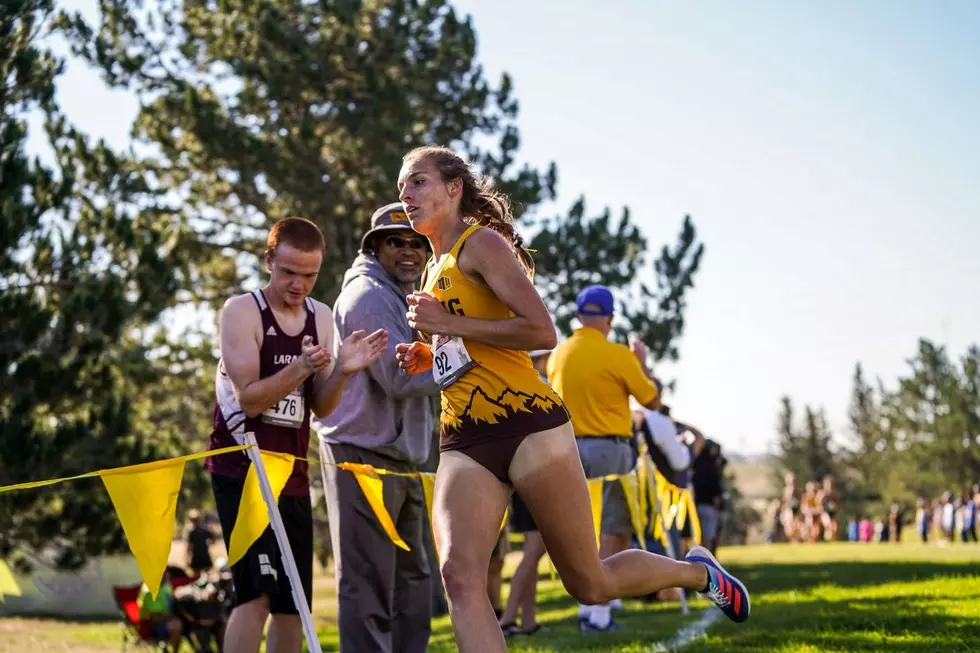 Wyoming Cross Country has Strong Performance at Weis-Crockett Invite
In the final race of the season before the 2022 Mountain West Championships come to Laramie on Friday October 28th, Katelyn Mitchem put it all together and finished in sixth place en route to leading the Cowgirls to a third place finish behind only a No. 19 ranked Cal Baptist team and host school Oklahoma State. / UW courtesy photo
* University of Wyoming press release
STILLWATER, Okla. — The University of Wyoming Cross Country teams ran impressive races at the Weis-Crockett Invitational on Saturday morning at Oklahoma State University. 
In the final race of the season before the 2022 Mountain West Championships come to Laramie on Friday October 28th, Katelyn Mitchem put it all together and finished in sixth place en route to leading the Cowgirls to a third place finish behind only a No. 19 ranked Cal Baptist team and host school Oklahoma State. 
Finishing up with 84 points the Cowgirls bested the women from Liberty, who are slotted at No. 31 in the national rankings receiving 32 votes in the latest USTFCCCA Coaches Poll. 
UW head cross country coach Scott Dahlberg said, "The women competed great. They put themselves in the right places early on and then gritted out a tough race to beat some very good teams." He continued on Mitchem's performance, "sixth place in this field of women is very impressive. Katelyn has worked so hard to put together a race like she did today."
The Top Five Cowgirls 
 6 | Katelyn Mitchem | 20:47.1
28 | Abigail Whitman | 21:29.8
36 | Kylie Simshauser | 21:36.6
40 | Leah Christians | 21:40.0
44 | Eowyn Dalbec | 21:42.6
The Cowboys led by Mason Norman and a 30th place finish took seventh place with 199 points finishing just shy of UCLA (fifth place, 186) and South Dakota State (sixth place, 193). 
From Dahlberg, "A lot of the men moved up well throughout the race but we left a little too much on the table.  It was a fine line between where we placed and moving up a few spots."
The Top Five Cowboys 
30 | Mason Norman | 24:15.2
33 | Gus McIntrye | 24:20.0
34 | Albert Steiner | 24:20.7
41 | Ryker Holtzen | 24:27.1
67 | Jacob White | 24:44.2
Note. The Oklahoma State University women and men are ranked No. 3 and No. 4 nationally. They did not race their full squads today. 
Stay up to date on Wyoming Cross Country by following @wyo_track on Twitter. 
12 Cringeworthy Things Guaranteed to Piss Off Wyomingites
There are just certain things Wyomingites don't want to see or hear. Check out these 12 things that are guaranteed to anger someone from Wyoming.
- 12 Cringeworthy Things Guaranteed to Piss Off Wyomingites