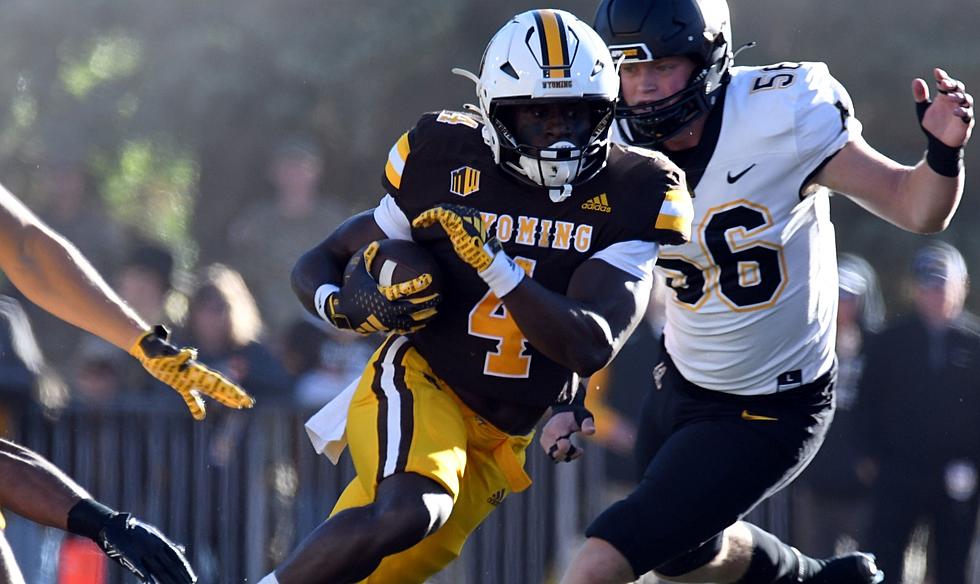 Wyoming Football Staff Punching Back in NCAA Transfer Portal
Wyoming running back Harrison Waylee rushed for nearly 2,000 yards during his three seasons at Northern Illinois./ DJ Johnson photo
LARAMIE -- Harrison Waylee is Wyoming's leading rusher with 266 yards on just 35 carries. He has also found the end zone twice and eclipsed the 100-yard mark in both games he has appeared in.
Andrew Peasley has thrown five touchdown passes through three outings, two of which were hauled in by Ayir Asante during a 31-17 victory over Portland State. Wyoming's super senior signal caller also has a pair of rushing touchdowns. Jamari Ferrell has one, too.
In last Saturday's nothing-short-of-miraculous win over visiting Appalachian State, Jakorey Hawkins scooped up a blocked field goal and blazed 63 yards down the sideline for the go-ahead score late in the fourth quarter.
Tyrecus Davis has tallied 12 tackles. The junior cornerback also has a forced and recovered fumble on his résumé. Linebacker Cole DeMarzo has four tackles to his credit in a reserve role. Wide receiver Devin Boddie Jr. has snagged three passes for 25 yards. He's added 22 on the ground.
Evan Svoboda stepped in for an injured Peasley two weeks ago in Austin, making his first-career start under center against No. 4 Texas in front of 100,000 plus inside Darrell K. Royal Stadium. The sophomore completed 17-of-28 passes for 136 yards as the Cowboys battled the 'Horns to a 10-10 tie after three quarters.
Punter Clayton Stewart pinned the Mountaineers inside their own 20-yard line three times in that 22-19 win. One of those boots died at the App State 1-yard line.
What do all of these guys above have in common? They all came to Laramie via the NCAA Transfer Portal.
"You know, we're really pleased," Wyoming head coach Craig Bohl said on Monday. "This is just part of a lay of the land."
MORE UW FOOTBALL NEWS VIA 7220SPORTS:
* Wyoming Cowboys host New Mexico on Homecoming this Saturday 
* BREAKING: DQ James dismissed from Wyoming football program
* Brown, Hawkins earn Mountain West Player of Week honors
* Game time set for Wyoming-Fresno State tilt
* Wyoming Football: News and notes ahead of New Mexico
* UW's Peasley on dismal outing: 'I just know that I need to be better'
While the focus typically surrounds who is leaving the program, Bohl and Co. were busy revamping and retooling the roster during the offseason. No classification of football is off limits, either.
Davis came from Navarro College in Texas. Defensive end Ethan Day came to the high pains from Modesto Community College (Calif.). Jevon Davis, a Casper native, spent his first three seasons in college at Black Hills State (S.D.). Farrell, along with tight end Colin O'Brien, both started their careers at Saddleback Community College (Calif.).
Boddie is a Vanderbilt graduate. Asante played four seasons at Holy Cross. Waylee rushed for nearly 2,000 yards during his three-year stint at Northern Illinois. That includes a 179-yard rushing day against Wyoming in 2021.
The sheer number of departures, though, have been troubling. Production lost? Not so much.
The Cowboys technically lost 17 players to the portal during the calendar year. That includes leading rusher Titus Swen, who eventually declared for the NFL Draft, top outside target Joshua Cobbs and starting cornerback Cam Stone. Emmanuel Pregnon, a freshman All-American at the guard spot, bolted after the spring game. He signed at USC within the week.
Ten of those players, however, rarely saw the field, if at all.
Bohl, admittedly, didn't initially embrace the NCAA's newly adopted form of free agency back in 2018.
No longer did players have to sit out a year after jumping ship. The flood gates were officially opened and the stream was flowing straight out of southeast Wyoming. The Cowboys lost numerous starters in 2021, just days after a Famous Idaho Potato Bowl victory over Kent State.
Both starting quarterbacks -- Sean Chambers (Montana State) and Levi Williams (Utah State) -- were gone. So was the team's leading rusher, receiver and sack producer. Those guys are Xazavian Valladay (Arizona State), Isaiah Neyor (Texas) and Solomon Byrd (USC), respectively. Starting cornerbacks -- Azizi Hearn (UCLA) and CJ Coldon (Oklahoma) -- left, too. Safety Rome Weber (Western Kentucky) and nickel corner Keyon Blankenbaker (Texas Tech), among others, sought greener pastures, as well.
Wyoming answered by signing Peasley (Utah State), Hawkins (Ole Miss), DeMarzo (Michigan State), Svoboda (Snow College), Jayden Clemons (Utah), Caleb Cooley (Butte C.C.), Keelan Cox (Alabama), Chase Locke (USC), Forrest Scheel (Iowa Central C.C.) and Deron Harrell (Wisconsin).
"A lot of people would say, 'Ah, coach isn't going to adjust,'" Bohl said. "I think our staff has done a good job. We've vetted guys and they have brought good value to our football team. They've meshed in with our locker room, as well."
Let's check in on the former Cowboys who left the program this past offseason:
OL - Emmanuel Pregnon - USC
The Denver product has appeared in the Trojans' first four games of the season, lining up at the left guard spot.
WR - Joshua Cobbs - Houston
The 6-foot-4 junior has four catches for 38 yards in three games this fall. Cobbs is also a starter on special teams.
DE - Oluwaseyi Omotosho - Oregon State
Omotosho, who was moved to linebacker in Corvallis, has no stats so far this season for the Beavers.
CB - Cam Stone - Hawaii
Stone, a senior from Texas, has seven tackles and four pass breakups for the Rainbow Warriors through three games. He suffered a knee injury and missed two games against Albany and Oregon. Stone has also returned eight kicks for 176 yards, including a long of 30.
OL - Mykel Janise - Louisiana Tech
Has not appeared in a game yet this season.
NB - Keonte Glinton - New Mexico State
Glinton has five tackles and three pass breakups in four games for the Aggies.
TE - Caden Becker - Nebraska
Has not appeared in a game yet this season.
RB - Jordon Vaughn - Abilene Christian
Vaughn, who was moved to linebacker, has just one tackle this season.
QB - Hank Gibbs - Northern Colorado
Gibbs has appeared in two games this season, completing 4-of-11 passes for 91 yards and a passing touchdown. He has also found the end zone on the ground.
WR - Gavin Beerup - Nebraska-Kearney
Wyoming's former quarterback-turned-wide receiver has one catch for three yards so far this season.
TE - Jagger Filippone - San Diego
Filippone has one tackle on special teams through four games this season.
Not currently playing: RB - Joey Braasch, WR - Tyrese Grant, DE - Akili Bonner, OL - Deshawn Woods, CB - Zaire Jackson
University of Wyoming's Top 50 Football Players
The rules are simple: What was the player's impact while in Laramie? That means NFL stats, draft status or any other accolade earned outside of UW is irrelevant when it comes to this list.
This isn't a one-man job. This task called for a panel of experts. Joining 7220's Cody Tucker are Robert Gagliardi, Jared Newland, Ryan Thorburn, and Kevin McKinney.
We all compiled our own list of 50 and let computer averages do the work. Think BCS -- only we hope this catalog is fairer.
Don't agree with a selection? Feel free to sound off on our Twitter:
@7220sports
- #Top50UWFB
- University of Wyoming's Top 50 Football Players