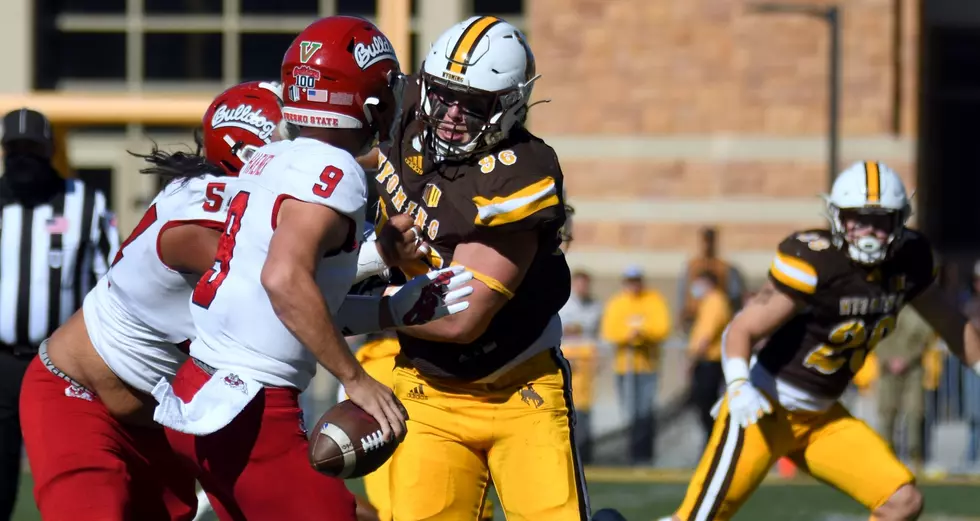 Game Time Set For Wyoming-Fresno State Tilt in Laramie
Wyoming defensive tackle Jordan Bertagnole swims past a Fresno State lineman en route to QB jake Haener during last season's meeting with the Bulldogs in Laramie./ DJ Johnson photo
* University of Wyoming press release
LARAMIE -- The Mountain West Conference and FOX Sports announced on Monday the game time for the Saturday, Oct. 7 game between the Wyoming Cowboys and the No. 25 Fresno State Bulldogs.
The game will kick off at 6 p.m., Mountain Time from Wyoming's War Memorial Stadium and will be televised on either Fox or FS2. The announcement of the exact network will be made in the near future by FOX Sports Networks.
Fresno State will host winless Nevada next Saturday inside Valley Children's Stadium. The Cowboys host New Mexico at 2 p.m. If Wyoming and FSU take care of business, this could be a meeting for the top spot in the Mountain West Conference standings.
The Cowboys will travel to Boise State Oct. 28 for a meeting with the Broncos inside Albertsons Stadium. That is the only remaining game without a determined kickoff time. That meeting will also be televised on FOX Sports Networks.
Ticket Information
Fans may order tickets online, via email or by phone at:
•Go to GoWyo.com/tickets
•Email tickets@uwyo.edu
•Call (307) 766-7220
•Stop by the UW Athletics Ticket Office on the West Side of the Arena-Auditorium on the corner of Willett Drive and 19th Street.
MORE UW FOOTBALL NEWS VIA 7220SPORTS:
* Wyoming Football: News and notes ahead of New Mexico
* UW's Peasley on dismal outing: 'I just know that I need to be better'
* Three stars of the game: Pokes vs. Mountaineers
* Turning point, unsung hero and what's next for UW football
* 'Cardiac Cowboys' escape with improbable 22-19 win over App State
* Rants & Raves: App State Edition
* Tuck's Takes: Ugly? Yes. A Wyoming Win? Also, Yes
* Behind the numbers: Wyoming vs. App State
* Gear up for game day: App State
* Know Wyoming's foe: Appalachian State
* Nation's second-leading rusher poses problems for Pokes
* Wyoming looks to move to 3-1 when App State visits Saturday
* Pokes' unproven offensive line impresses in Austin
University of Wyoming's Top 50 Football Players
The rules are simple: What was the player's impact while in Laramie? That means NFL stats, draft status or any other accolade earned outside of UW is irrelevant when it comes to this list.
This isn't a one-man job. This task called for a panel of experts. Joining 7220's Cody Tucker are Robert Gagliardi, Jared Newland, Ryan Thorburn, and Kevin McKinney.
We all compiled our own list of 50 and let computer averages do the work. Think BCS -- only we hope this catalog is fairer.
Don't agree with a selection? Feel free to sound off on our Twitter:
@7220sports
- #Top50UWFB
- University of Wyoming's Top 50 Football Players