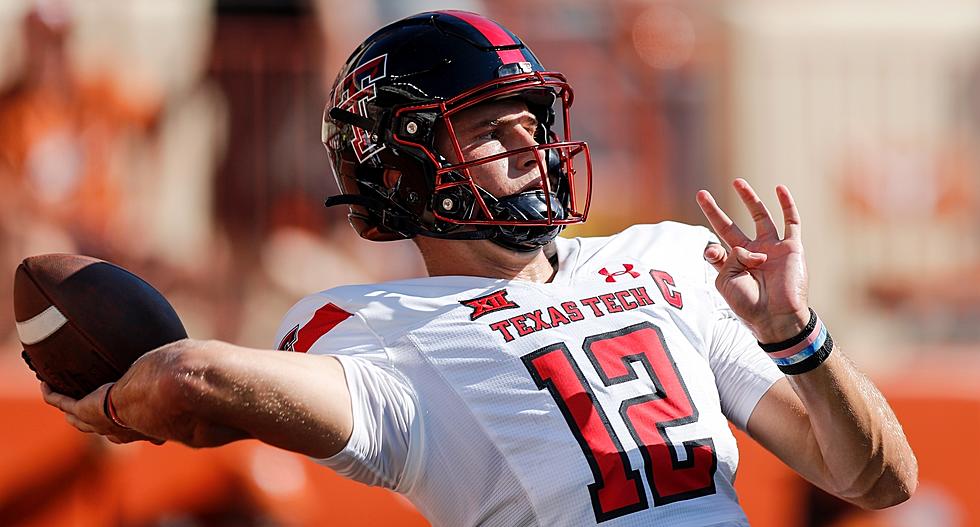 Wyoming HC on Tyler Shough: 'I Think He's Outstanding'
AUSTIN, TEXAS - SEPTEMBER 25: Tyler Shough #12 of the Texas Tech Red Raiders warms up before the game against the Texas Longhorns at Darrell K Royal-Texas Memorial Stadium on September 25, 2021 in Austin, Texas. (Photo by Tim Warner/Getty Images)
LARAMIE -- What were Benny Boyd's thoughts the first time he flipped on the film of Texas Tech's offense?
"Well, I mean, you'd have to bleep out what I thought, initially," Wyoming's cornerbacks coach joked on Monday. "They're very good."
That all starts with No. 12.
Tyler Shough has never lost a game at Texas Tech that he started and finished. That 8-0 mark includes four straight victories down the stretch last November.
The Red Raiders topped an upstart Kansas squad before taking down Iowa State on a cold evening in Ames. Then came the shootout overtime win over Oklahoma. The 6-foot-5, 230-pound Oregon transfer connected on 31-of-50 passes for a career-high 436 yards and two touchdowns.
He added 242 more yards and a touchdown through the air in a 42-25 Texas Bowl victory over Ole Miss. He found the end zone two more times with his legs in the rout and became the first Texas Tech signal caller since 1976 to rush for more than 100 yards in a game.
Not bad considering the then-senior was also dealing with food poisoning.
"I think he's outstanding," Wyoming head coach Craig Bohl said of Shough, who threw for 1.062 yards and seven touchdowns in parts of seven games last fall. "I mean, you look at his stature, he's 6-foot-5, a big guy that's got a rocket arm. He has a really good understanding of their offense and he plays with great composure. He knows where to take the ball ... When he's hot, it's really, really difficult to defend them.
"You know, we're in hopes that we can be disruptive and get him to move and cover the receivers. So, a great player and his numbers and his stature back it up."
MORE UW FOOTBALL NEWS VIA 7220SPORTS:
* Wyoming Football: News and Notes Ahead of Texas Tech
* Wyoming's young safety depth facing major test in opener
* PODCAST: Let's put a bow on Pokes training camp
* Pokes Practice Report: Texas Tech is officially on the clock
* Wyoming WR Alex Brown: 'I think this will be a big year for me'
* Throwback Thursday: Neff's rainbow turns tide for Cowboys
* UW quarterback Evan Svoboda trying to win 'race to maturity'
* Senior Bowl eyes pair of Pokes, Easton Gibbs, Cole Godbout
* Ayir Asante looking to add new element to Pokes offense
* Q&A with Wyoming DC Jay Sawvel
* Wyoming RB Jamari Ferrell sits atop initial fall depth chart
* Wyoming's proud Poly's Suiaunoa, Tulafono up for national award
* Pokes Practice Report: Sabastian Harsh nearing return
Shough, a native of Chandler, Ariz., began his career in Eugene where he helped lead the Ducks to a Pac-12 Championship and a berth in the 2020 Fiesta Bowl. Twice he eclipsed the 300-yard mark through the air in consecutive wins over Washington State and UCLA. He also tossed two touchdown passes in a 31-24 upset of USC in the conference title game.
Shough just wrapped up the sixth fall camp of his career -- third in Lubbock -- and for the fourth straight season was named the starting QB.
What makes him so special?
"He runs better than you want him to," Boyd said. "I mean, he doesn't run often unless it's designed-quarterback runs, but when he does pull that ball down, he's got some speed. He's got the arm strength. I mean, he can throw the ball the width of the field. So, he's going to make you defend it horizontally and vertically. He's obviously played a lot of football, so, you know, he's got some savvy to him."
"I think the quarterback is excellent," Wyoming defensive coordinator Jay Sawvel said. "I think based on the way that these guys operate, they present the most challenges, you know, because of the tempo to it and all the versatility they have."
Easton Gibbs, Wyoming's starting linebacker and the Mountain West's Preseason Defensive Player of the Year, said it will be imperative to get pressure on Shough. If not, bad things happen.
"We have a pretty good group of guys, I'd say, that can go get that done," he said. "It's important, you know, you don't want to let that guy -- he's got a big arm and some weapons on the outside -- just have a clear pocket and be able to just sit back there all day and let the ball go down the field."
Shough raked in plenty of preseason awards himself this summer. He was named to the Shrine Bowl 1,000 list, along with the Maxwell and Earl Campbell Tyler Rose Watch List. Those last two honors belong to the nation's best quarterback and the best player in or from the Lone Star State, respectively.
Having six receivers who snagged more than 30 passes a season ago on the current roster doesn't hurt, either.
What does hurt? Collarbone and shoulder injuries have derailed Shough's last two campaigns in west Texas. When healthy, his stats say it all.
"(We need) to supplement that with pressure that we can put on with our front four," Bohl said. "That's an X-factor. I mean, if we can get the ball to come out a little bit earlier, if we can dislodge the quarterback and get him off his mark, maybe we can get some errant throws. We will get tested on the back end."
University of Wyoming's Top 50 Football Players
The rules are simple: What was the player's impact while in Laramie? That means NFL stats, draft status or any other accolade earned outside of UW is irrelevant when it comes to this list.
This isn't a one-man job. This task called for a panel of experts. Joining 7220's Cody Tucker are Robert Gagliardi, Jared Newland, Ryan Thorburn, and Kevin McKinney.
We all compiled our own list of 50 and let computer averages do the work. Think BCS -- only we hope this catalog is fairer.
Don't agree with a selection? Feel free to sound off on our Twitter:
@7220sports
- #Top50UWFB
- University of Wyoming's Top 50 Football Players