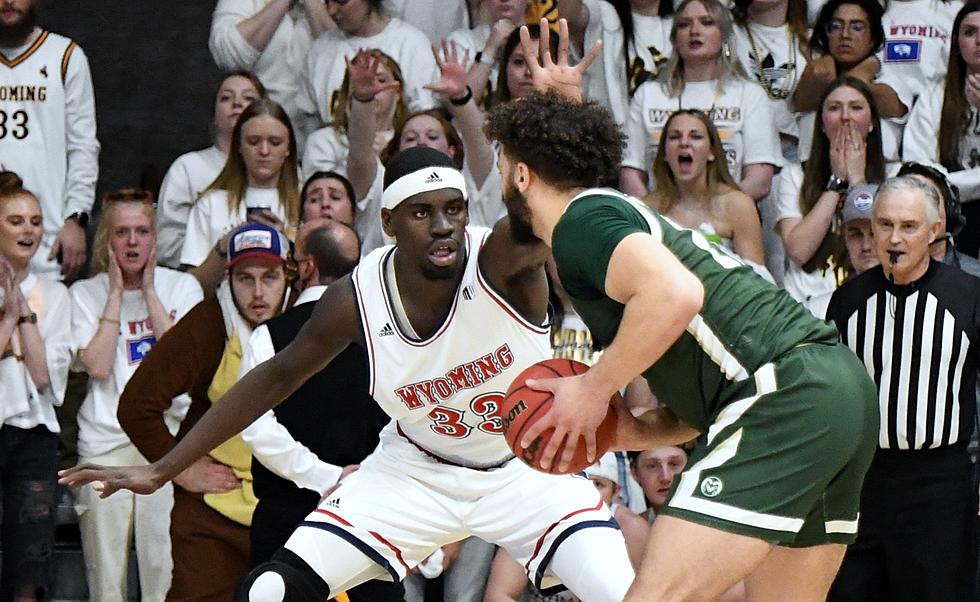 Wyoming's Graham Ike will be sidelined 'minimum of 6-to-8 weeks'
The Cowboys garnered another honor on Monday with Graham Ike being named the Lute Olson Award National Player of the Week by CollegeInsider.com./ DJ Johnson photo
LARAMIE -- The good news: Graham Ike will return to the floor this season.
The bad: Jeff Linder said don't expect to see the preseason Mountain West Player of the Year for a "minimum of six-to-eight weeks."
While Wyoming's third-year head coach didn't get into specifics, only saying Ike did not suffer a knee injury, the 6-foot-9, 255-pound forward could miss the entire non-conference slate, which begins Monday night when Colorado Christian pays a visit to the Arena-Auditorium for a 7 p.m. tipoff.
Ike suffered a torn ACL during his senior season at Overland High School. That limited the Aurora, Colo., product to just 12 games during the 2020-21 campaign.
"It's very unfortunate, especially the timing, and there's never good timing," Linder said during his Friday press conference in Laramie. "But, it's one of those things, thankfully, I think we caught early to where it didn't turn into something even bigger. So, right now, there's really not a timetable, he will be out indefinitely. Hopefully we'll have him back sooner or later, but we probably won't see him here for at a minimum of probably six weeks, eight weeks, I don't know."
Linder said the setback didn't take place during one of the team's two scrimmages or in practice. Wear and tear, according to Linder, is the likely culprit.
"We're going to make sure we're really cautious with him and make sure that he's fully healed before we bring him back," he said. "We can't risk his future. It's unfortunate, but it's reality. It's next man up and we have a lot of depth on this team."
MORE UW HOOPS NEWS FROM 7220SPORTS:
* Graham Ike to miss 'extended time' with lower-leg injury
* Wyoming guard pushes through dark times, becomes key contributor
* 'Flopping' rule change will help Pokes' cause, Jeff Linder says
* From hunter to hunted, target on Wyoming's back growing
* Ike: 'I think people are in trouble this year'
That bench will be tested with upcoming non-league tilts with Grand Canyon, Dayton, Saint Mary's, and others. Linder admitted it won't be easy replacing a player like Ike, but he thinks there are a couple of players who will be up for the challenge, including true freshman Caden Powell.
"He has been tremendous," Linder said, referring to the 6-foot-10, 206-pound forward from Waco, Texas. "He brings some things from a defensive standpoint that we haven't had."
Linder said early thoughts were to slap a redshirt on Powell. That's isn't happening. And that has nothing to do with Ike's injury.
"As the summer went on and in the fall, I mean, it became obvious that he was not going to be a guy that we could redshirt," Linder said. "I mean, just from the fact that, you know, he's so good. He's got unbelievable instincts defensively. His ability to play on the ball screens and his ability to block shots -- he's a guy that took three charges against (Northern Colorado) in the scrimmage -- He has really good instincts defensively.
"And then he's probably, in terms of just as a screener, probably the best screener I've ever coached. I don't know where he kind of learned that, but in terms of setting ball screens, screens away from the ball, I mean, he just has a special knack for it."
Powell, a three-star recruit, was rated the 39th-best center in the nation, per 247sports.com. That same recruiting website named him the No. 24 prospect in Texas. Powell was also a McDonald's All-American nominee and was named the 11-6A Defensive MVP at Midway High School.
Powell is one option to replace Ike in the paint, but Linder tossed out a number of other names, too.
Hunter Thompson, a 6-foot-10 senior, can play the five. So can Jeremiah Oden, Brendan Wenzel and USC transfer Max Agbonkpolo. Hunter Maldonado, Linder said, is another player that can make the transition down low.
"Even though maybe we're not big at the five, I mean, we definitely can be long and athletic, one through five," he said. "For lack of a better word, it sucks, but that's part of it and you have to adjust. And that's what we'll do."
Wyoming lands in 16th NCAA Tournament