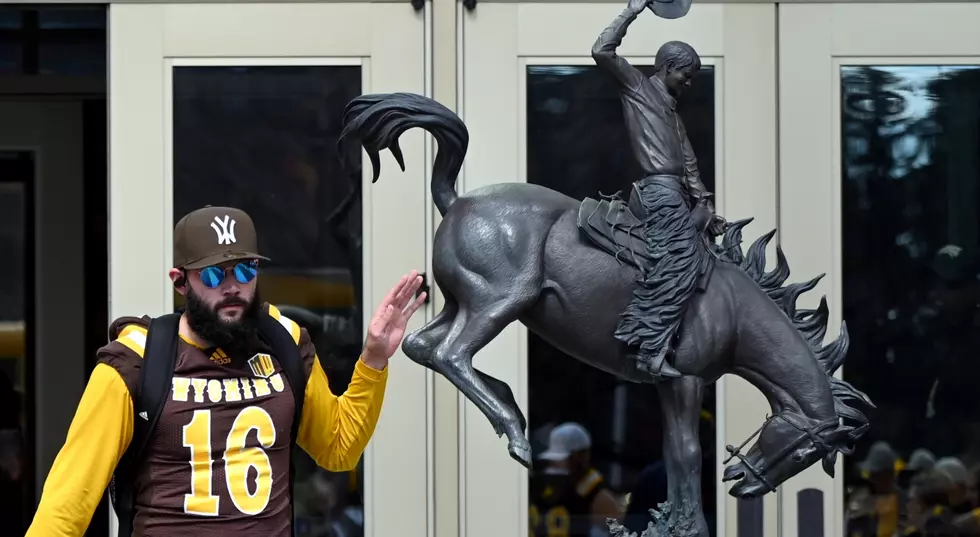 Wyoming's Gunner Gentry Eager to Make Plays, Mentor Young WR's
Wyoming wide receiver Gunner Gentry missed the entire 2021 season with a torn patellar tendon in his left knee./ DJ Johnson photo
LAS VEGAS, Nev., -- Physically, Gunner Gentry is in no rush.
Mentally, well, that's a different story altogether.
Wyoming's junior wide receiver hasn't appeared in a college football game in 584 days. In the Cowboys' third practice of the spring in 2021, Gentry's left knee gave out. He had a complete rupture of the patellar tendon. His season was toast.
Turns out, though, that was just the beginning of his nightmare.
Five months into a grueling rehab, progress was slow -- to say the least. There was a good reason for that, too. Gentry's knee, the same one, was torn again. A second surgery, not to mention more agony, was on the docket.
"Unfortunate accidents happen," Gentry said this spring. "You just have to roll with it."
Easier said than done.
To make matters even tougher for the Aurora, Colo., product, when the initial injury occurred, he was playing the best football of his career, according to UW wide receivers coach Mike Grant.
Gentry agrees, adding a slight shake of the head.
"It was the best I ever felt," Gentry said. "I was feeling really confident. I was really comfortable with the system and I was making a lot of plays."
That's something Wyoming fans have been waiting for since Gentry arrived on campus back in 2018. True, he was a three-star recruit, coming off a 5A All-State selection after snagging 81 passes for 1,314 yards and 19 touchdowns at Grandview High School.
But, let's be real, the actual reason is because of what his older brother did in Laramie from 2013-16. A current member of the Buffalo Bills organization, Tanner Gentry hauled in 180 balls in a Cowboys' uniform. He rolled up 2,815 receiving yards and hauled in 20 touchdowns.
Did Gunner feel the pressure of that success? He can't deny it.
"Yeah, I mean, when I first got here a lot of the guys that were here played with Tanner," he said. "So, I mean, the 'Little TG' comparisons were always there, and there was always the pressure of me living up to the hype that he had, but I always stay true to myself.
"I knew my time was going to come and that I was just going to play the way I've always learned to play and not really kind of try to live up to the hype of my brother."
A big difference between the brothers' careers is the guy under center.
Tanner had the luxury of having Josh Allen under center. In fact, he still does. Gunner, on the other hand, has caught passes from Tyler Vander Waal, Levi Williams and Sean Chambers. A new name -- at least one -- will join that growing list this fall.
Despite entering Year 5 on the high plains, Gentry has just eight career catches. He has racked up just 158 receiving yards. He has one touchdown grab, a 22-yarder down the sideline in an opening day loss to Nevada during a COVID-19-shortened 2020 campaign.
Aside from his desire to make more of a difference on the field, Gentry will also take on another role in 2022 -- mentor. Wyoming returns just three other wide outs -- Joshua Cobbs, Wyatt Wieland and Alex Brown -- with at least one catch under their belt at the FBS level.
That trio caught 32 balls in 2021 for just 338 yards and one score.
While those meager stats above might raise your eyebrows, Gentry looks at it as an opportunity for the next guy to emerge.
"I'm really excited," he said. "We have a lot of talented kids. We have a lot of people who haven't seen a ton of action, either, that I think will step into big roles."
Like who?
Gentry brought up names like Will Pelissier, Jaylen Sargent, Ryan Marquez and Wieland.
"We're just kind of building that depth,' Gentry said. "I'm really happy to see that we have kids who can really come in and make plays."
Gentry said he could've participated in UW's 15 practices this spring. He felt he was ready. So did Grant. But why push it? He knows the scheme. He knows the job at hand. Will it translate on the field this fall? We'll all witness that together. What we do know is Gentry's long-awaited comeback is just around the corner.
"I'm coming back," he said. "We're getting there, slowly."
MORE UW FOOTBALL STORIES:
POKES: The Seven Best Games In The History Of The Wyoming-CSU Border War Rivalry (Naturally, they were all Wyoming wins)