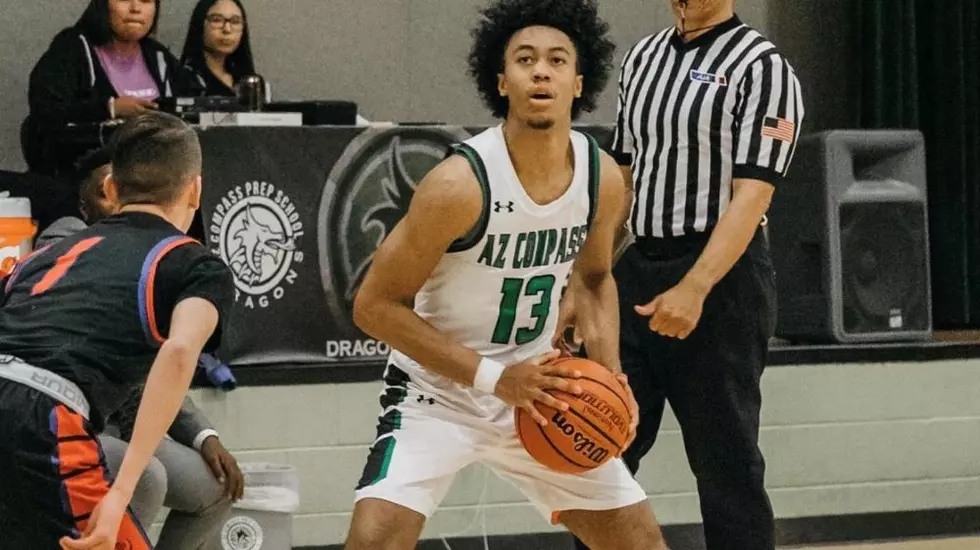 Xavier DuSell doesn't know much about Wyoming — he just wants to win
Duselluse
LARAMIE -- Xavier DuSell can't deny it -- he doesn't know a lot about Wyoming basketball.
Did you know the Cowboys have won a national championship?
Did you know Colorado State, a team that recruited you, is Wyoming's biggest rival?
Did you know the creator of the jump shot, Kenny Sailors, went to UW?
The Cowboys' latest recruit responded to all of these questions with the same answer -- "I do now."
DuSell decommitted from Northern Colorado earlier in the week after Jeff Linder accepted the job in Laramie. Unofficially, he is the first recruit of the Linder era at UW.
DuSell, a Gilbert, Arizona, native, has never been to the Cowboy State. He has been relying on YouTube videos to see where his next home will be for the next 4-to-5 years.
"It does all sound crazy, but I'm a strong believer in the Lord," DuSell said over the phone Thursday night from his home in Arizona. "I'm definitely taking a leap of faith here. I have faith in him."
Him is Linder.
DuSell had an official visit to Greeley earlier this year. He saw how Linder motivated -- and most importantly -- trusted his players. DuSell was sold on the head coach and his vision.
And apparently that doesn't matter where.
DuSell was named a three-star recruit after averaging 14 points per outing at AZ Compass Prep. He also pulled down 4.2 rebounds per game and added 3.1 assists last season. The 6-foot, 4-inch, 190-pound shooting guard calls himself a "creator."
"I don't like to toot my own horn, but you can ask people that know me, I like to get the ball up and shoot at a high clip," he said. "I can dribble, get to the basket and get my teammates' opportunities. I'll basically do whatever it takes to win."
DuSell was recruited by New Mexico, CSU, Boise State and a "team from Milwaukee." In other words, many teams have come calling, but DuSell has been focused on one.
One coach.
"I have a lot of trust in him," DuSell said of Linder. "I believe in his philosophy and how he has players fit into schemes. He will put us in a place for Wyoming to get some 'W's' on the record."
Back to this history lesson.
DuSell said CSU offered him. He didn't know the Rams were the Cowboys arch nemesis.
"We are going to get that win 100 percent," he laughed. "We've got to get that one."
And how about Sailors?
"If he is still alive, I need to shake the guy's hand," DuSell said. "I love the jump shot. I'm a huge fan of his of his work."
Sailors died in 2016.
"Well, I hope he's looking down from above," he said. "I hope we make him happy."
DuSell did know Larry Nance Jr. was a Cowboy. He also mentioned a recent NBA Draft pick from Wyoming. That guy is Justin James of the Sacramento Kings.
DuSell said growing up that classmates could sign up for a camping trip in Wyoming. He never took the plunge. He called it a "missed opportunity." He has seen the beautiful landscape and heard tales of long, cold winters. He says he isn't fazed.
The Arena-Auditorium is climate controlled.
"I'm not too worried about weather," he said. "I'll be on the basketball court, or in the dorm or doing something productive."
National signing day is slated for April 15. With the COVID-19 pandemic, DuSell said he is not sure when he will sign his letter of intent or make his first trip to Laramie.
For now, he spends his days -- and nights -- shooting on the orange double-rims of city parks in Gilbert. It's not ideal, but he says it will only make him better.
"I'm going old school a little bit," he laughed. "I shoot at 8 at night with no street lights. You will be just fine when you get to well-lit arena."